Alan Bates Pop Art
Stylish pop art print of Alan Bates.
Sir Alan Bates was not a typical leading man but part of the new wave of British film, pioneering the way with gritty kitchen-sink dramas and more daring film-making.
After some TV roles, in "Television Playhouse" with Liz Fraser & Harry H. Corbett, "Play of the Week" with George Baker, Sean Connery & Alfred Burke, and "The Four Just Men" with Fenella Fielding, Alan Bates appeared in the 1960 film "The Entertainer" with Laurence Olivier.
The two films that were to follow solidified Bates' leading man status, first in "Whistle Down the Wind" with Hayley Mills, and then "A Kind of Loving" with James Bolam & Leonard Rossiter. One of the most popular films in British cinemas that year, the British New Wave film premiered at the Warner cinema on the 12th of April 1962.
Bates went on to star in "The Running Man" with Laurence Harvey, "The Caretaker", the social-climbing black comedy "Nothing but the Best" with Harry Andrews, the Oscar-winning "Zorba the Greek", seminal 60s film "Georgy Girl" with Charlotte Rampling, "Far from the Madding Crowd" with Julie Christie & Terence Stamp, his Oscar-nominated performance in "The Fixer" with Dirk Bogarde & Hugh Griffith, Ken Russell's "Women in Love" with Bates' & Oliver Reed's famous wrestling scene, and "The Go-Between" with Michael Redgrave.
Later credits include "Royal Flash" with Alastair Sim & Britt Ekland, "The Rose" with Bette Midler, "Quartet" with Maggie Smith, "The Wicked Lady" with Faye Dunaway, "Duet for One" with Max von Sydow, "Britannia Hospital" with Graham Crowden & Mark Hamill, the 1990 film of "Hamlet" with Richard Warwick, the period ensemble film "Gosford Park" with Maggie Smith & Frank Thornton, and his last film credit "The Statement" with Michael Caine.
Just some of Bates' other television credits include "The Mayor of Casterbridge", "An Englishman Abroad", "In the Beginning" with Diana Rigg, Christopher Lee, & Martin Landau, and "Love in a Cold Climate" with Celia Imrie.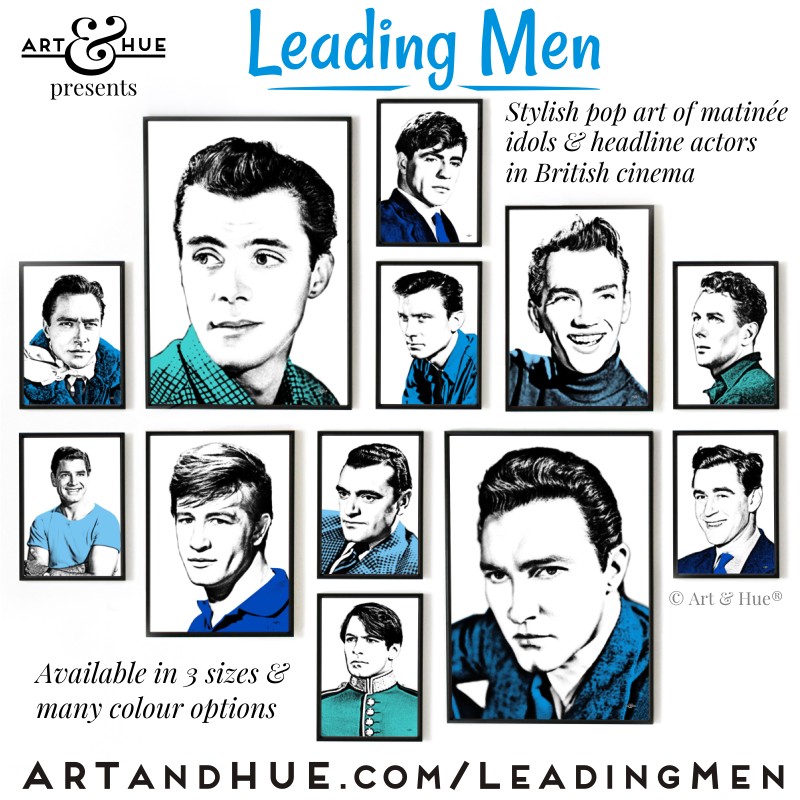 An official collaboration with Studiocanal, this print is part of the
Leading Men
pop art collection, featuring Art & Hue's signature halftone style (halftone is an age-old technique that uses dots to make up the printed image, similar to newspapers or comic books).
Exclusively by Art & Hue, the Leading Men pop art collection is available in three sizes and many colours, all printed on museum-quality archival matte card of 310gsm, made from 100% cotton, with fine-art pigment inks for longevity.
Available in A4, A3, and A2 sizes to fit standard-size picture frames. Please note that black frame is not included – for a guide on choosing a frame size take a look here.
Rewatch, or discover anew, the film on DVD from Amazon.
"A Kind of Loving" Copyright © STUDIOCANAL Films Ltd, (1962). All rights reserved.
Copyright © Art & Hue® 2021. All rights reserved.