Leonard Rossiter stylish pop art print.
From Rigsby to Reginald Perrin, Kubrick to Anderson, Leonard Rossiter was a much-admired performer whose film & television roles left a memorable body of work filled with offbeat characters.
Rossiter's film and television career was wide and varied with appearances in "Billy Liar" with Julie Christie, "A Jolly Bad Fellow" with Dennis Price, "The Long Ships" with Gordon Jackson, "Hotel Paradiso" with Alec Guinness, "The Wrong Box" with Michael Caine, Peter Sellers, Tony Hancock, Irene Handl, "The Pink Panther Strikes Again" with Peter Sellers & Herbert Lom, "Machinegunner" with Kate O'Mara, and alongside John Thaw in "Redcap" and "The Life and Death of King John", and Michael Caine in "Deadfall" and "Water", Rossiter's final film appearance.
One of the few actors to appear in one than one Stanley Kubrick films, Rossiter appeared in "2001: A Space Odyssey" and "Barry Lyndon".
He was also in The Avengers episode "Dressed to Kill" with Honor Blackman & Patrick Macnee (the plot of which was reused in a later episode of The Avengers called "The Superlative Seven" with Donald Sutherland, Brian Blessed, and Charlotte Rampling).
For some, Rossiter's most memorable role was in "Rising Damp" as the miserly landlord Rupert Rigsby. Enamoured of his tenant Miss Ruth Jones, played by Frances De La Tour, he encounters competition for her affections from a new tenant, played by Don Warrington, who catches her eye. The successful sitcom spawned a film version of the same name.
Adapted from David Nobbs' novels, "The Fall & Rise of Reginald Perrin" saw Leonard Rossiter as the eponymous office worker struggling to cope with the banality of his job and the ennui of his home life.
Whilst previous roles had cast Rossiter as bureaucratic characters, Perrin attempted to rebel against the confines of his middle-class, middle-management, middle-aged existence.
Perrins' mid-life crisis sees him daydreaming to escape his mundane routine and his dealings with his boss CJ, and later trying to sabotage his own successful company Grot as a means to instigate some change.

Rossiter also elevated advertising to a comedic art-form with his memorable, and still funny, commercials for Cinzano. Paired with the glamourous
Joan Collins
, each ad would see Rossiter inadvertently spill Cinzano over Joan in some way or another. There were 10 adverts in total featuring the pair from 1978 to 1983, by which time Joan was a huge American television star having joined the cast of "Dynasty" in 1981.
This Leonard Rossiter print is also available as a pair with his Cinzano drinking partner Joan Collins.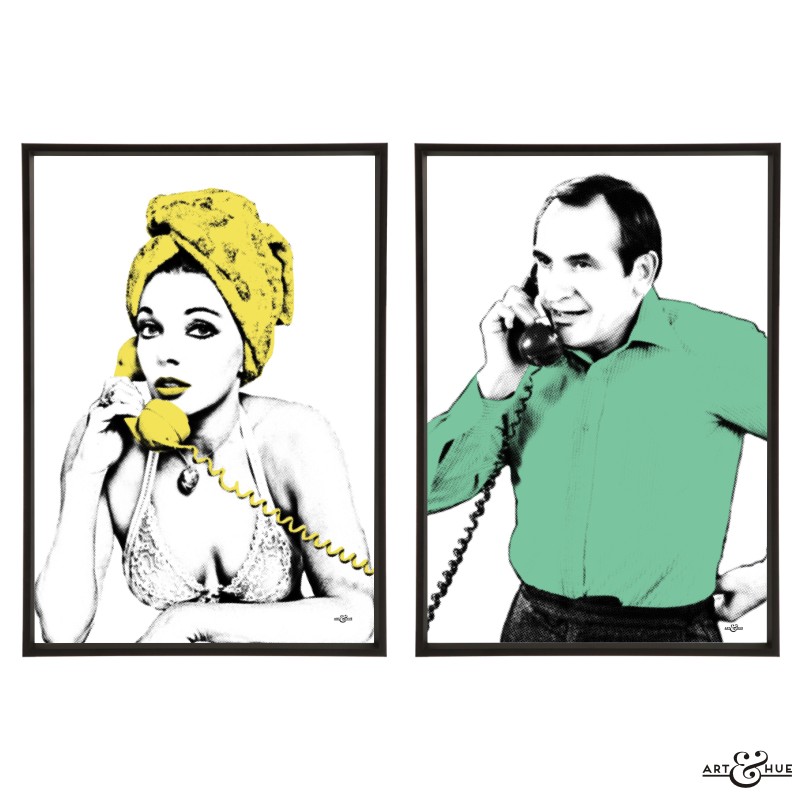 Leonard Rossiter appeared in the 1982 film "Britannia Hospital" directed by Lyndsay Anderson. Forming the final instalment of a trilogy, "Britannia Hospital" saw the return of some characters from Anderson's previous films "If…." and "O Lucky Man!".
Rossiter plays a hospital administrator trying to cope with the disorder caused by protestors on the day of a royal visit. The dark and surreal comedy has possibly the most diverse ensemble cast in British, perhaps world, film history, with Rossiter credited alongside Malcolm McDowell, Joan Plowright, Fulton Mackay, Marsha Hunt, Alan Bates, Robbie Coltrane, Graham Crowden, Liz Smith, Robin Askwith, and Mark Hamill.
Art & Hue had the pleasure to delve into the archives for the film "Britannia Hospital" to create this stylish pop art print of Leonard Rossiter, available in three sizes and 20 colours.
Leonard Rossiter Pop Art
Available in A4, A3, and A2 sizes to fit standard-size picture frames. Please note that black frame is not included – for a guide on choosing a frame size take a look here.
An official collaboration with Studiocanal, this print is part of the Funny Men collection of stylish pop art prints inspired by classic British comedians and comic actors, featuring Art & Hue's signature halftone style (halftone is an age-old technique that uses dots to make up the printed image, similar to newspapers or comic books).
"Britannia Hospital" Copyright © STUDIOCANAL Films Ltd. (1982). All rights reserved.
Copyright © Art & Hue® 2019. All rights reserved.