The Likely Lads poster pop art print
Stylish pop art print which reimagines the film poster of "The Likely Lads" starring James Bolam &
Rodney Bewes
.
The film version of the television sitcom was produced by Aida Young, also the producer of "Steptoe & Son" and "What a Crazy World", and written by the legendary screenwriting duo Dick Clement & Ian La Frenais.
"The Likely Lads" premiered at the ABC 1 cinema in Newcastle on the 8th of April 1976, attended by the film's writers & cast, except for James Bolam who was performing on stage at the Mayfair Theatre in London at the time in the play "Treats".
As well as the TV sitcoms "The Likely Lads" and "Whatever Happened to the Likely Lads", Clement & La Frenais also wrote "Porridge" with Ronnie Barker & Fulton Mackay, and "Villain" with Richard Burton.
Exclusively by Art & Hue, the 70s Sitcoms pop art collection is available in three sizes and 29 colour options, all printed on museum-quality archival card of 310gsm, made from 100% cotton, with fine-art pigment inks for longevity.
Also available as part of a group of 6 prints.
Available in A4, A3, and A2 sizes to fit standard-size picture frames. Please note that black frame is not included – for a guide on choosing a frame size take a look
here
.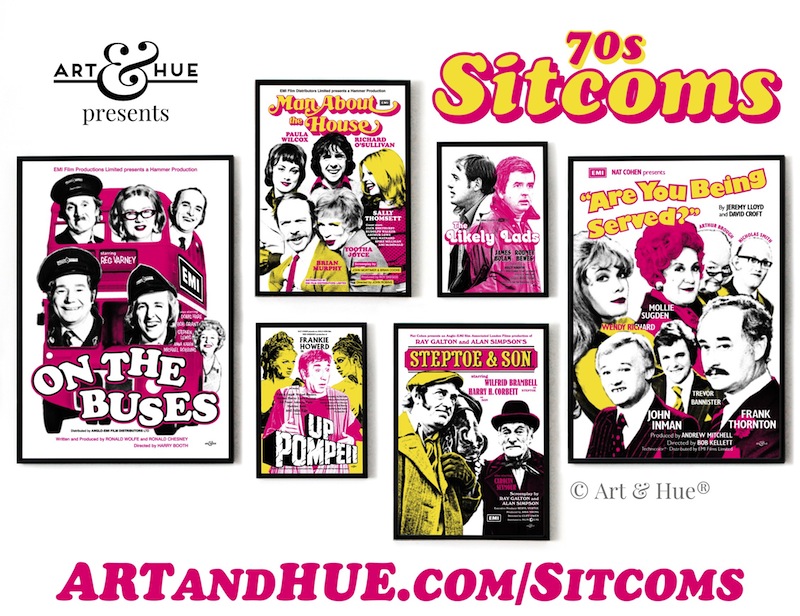 An official collaboration with Studiocanal, this print is part of the 70s Sitcoms collection of stylish pop art prints inspired by film versions of 70s TV comedies, featuring Art & Hue's signature halftone style (halftone is an age-old technique that uses dots to make up the printed image, similar to newspapers or comic books).
"The Likely Lads" Copyright © STUDIOCANAL Films Ltd. (1976). All rights reserved.
Copyright © Art & Hue® 2020. All rights reserved.