Rodney Bewes stylish pop art print.
Rodney Bewes as Arthur Crabtree in "Billy Liar"
Famous to many as Bob Ferris in "The Likely Lads", Rodney Bewes appeared in "Billy Liar" as Billy's best friend and co-worker Arthur Crabtree. Along with James Bolam, Bewes appeared in the follow-up "Whatever Happened to the Likely Lads?" and the film version.
Other film credits include "A Prize of Arms" with Stanley Baker, Patrick Magee, Stephen Lewis, Fulton Mackay & Michael Robbins; "We Joined The Navy" with Kenneth Griffith & Sid James; "Heavens Above!" with Peter Sellers, Cecil Parker, Ian Carmichael, Irene Handl & Eric Barker; "San Ferry San" with Joan Sims, Barbara Windsor & Brian Murphy; "Spring & Port Wine" with Susan George; the 1972 production of "Alice's Adventures in Wonderland" with Hywel Bennett, Dennis Price, Dennis Waterman & Richard Warwick; "The Three Musketeers" with Christopher Lee; "Jabberworcky" with Harry H. Corbett, Graham Crowden & David Prowse; "Saint Jack" with George Lazenby; "Unidentified Flyng Oddball" with Jim Dale; and "The Wildcats of St. Trinian's" with Bernadette O'Farrell.
TV credits include "Revolver" with Honor Blackman, Melvyn Hayes, Stephen Lewis, John Inman, Nicholas Smith & Julie Goodyear; "Shirley's World" with John Gregson, Una Stubbs & Yoko Tani; "Man in a Suitcase" with Billy Cornelius; "Z Cars"; "Emergency Ward 10"; "Dixon of Dock Green" with Jack Warner; Television Playhouse's "Private Potter" with Tom Courtenay; and "Dear Mother… …Love Albert", later called "Albert!", which was written and created by Rodney Bewes.
Rodney Bewes Pop Art
Art & Hue presents Billy Liar, stylish pop art inspired by the classic 1963 film of the British New Wave.
Step into the colourful world of "Billy Liar" with this new pop art collection by Art & Hue, inspired by the seminal 1963 film.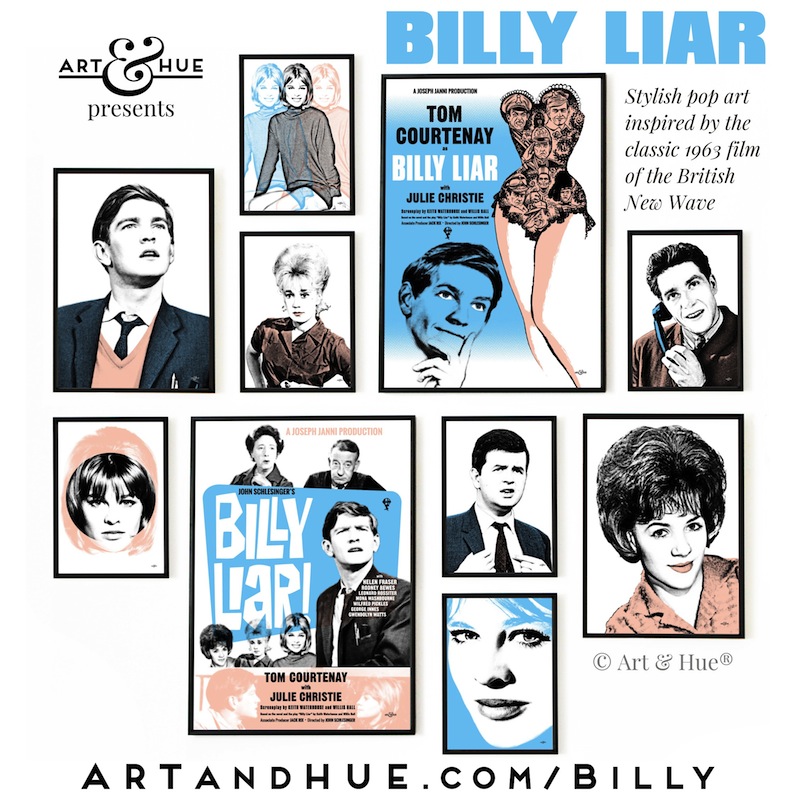 Considered one of the most significant and revolutionary films in British cinema, subverting the social realist and kitchen sink genres with its use of fantasy sequences and documentary-style location shooting, "Billy Liar" reflected the changing cultural and social landscape of Britain in the early 1960s and its influence can still be seen in contemporary cinema and television today.
Exclusively by Art & Hue, the "Billy Liar" collection is available in three sizes & many colours, printed on museum-quality archival card of 310gsm, made from 100% ethically-sourced cotton, with fine-art pigment inks for longevity.
Bring a touch of retro milk-bar chic to your home with these stylish and fun prints, perfect for any fan of pop culture or vintage cinema.
An official collaboration with Studiocanal to mark 60 years of the film's innovative storytelling and groundbreaking portrayal of Northern working class characters in 1960s Britain, Art & Hue has delved into the archives to uncover images from the iconic film "
Billy Liar
" which have been transformed into stylish pop art prints, featuring Art & Hue's signature halftone style (halftone is an age-old technique that uses dots to make up the printed image, similar to newspapers or comic books).
Available in A4, A3, and A2 sizes to fit standard-size picture frames. Please note that black frame is not included – for a guide on choosing a frame size take a look here.
"Billy Liar" Copyright © STUDIOCANAL Films Ltd, (1963). All rights reserved.
Copyright © Art & Hue® 2017-2023. All rights reserved.