On The Buses poster pop art print
Stylish pop art print which reimagines the film poster of "On The Buses" starring Reg Varney, Bob Grant, Doris Hare, Michael Robbins, Anna Karen, & Stephen Lewis.
Opening at the ABC Ardwick & Studio 2 cinemas, both in Manchester, on the 1st of August 1971, the film version of the long-running television sitcom was written & produced by Ronald Wolfe & Ronald Chesney and featured the well-known characters of the bus driver Stan Butler, his sister Olive Rudge and her husband Arthur Rudge, conductor Jack Harper, and Inspector Blake, nicknamed Blakey.
Before Blakey, Stephen Lewis was part of the experimental theatre company that created "Sparrows Can't Sing". Called "Sparrers Can't Sing" when it was originally staged at the Theatre Royal, Stratford East, in 1960, the stage play was a mix of Stephen Lewis' script and improvisation by the cast.
Also available as part of a group of 6 prints.
Exclusively by Art & Hue, the 70s Sitcoms pop art collection is available in three sizes and 29 colour options, all printed on museum-quality archival card of 310gsm, made from 100% cotton, with fine-art pigment inks for longevity.

Available in A4, A3, and A2 sizes to fit standard-size picture frames. Please note that black frame is not included – for a guide on choosing a frame size take a look
here
.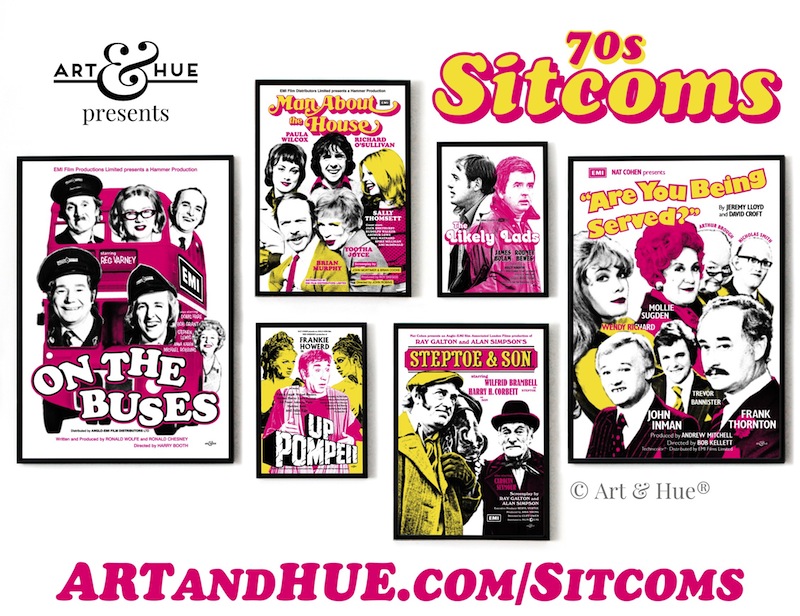 An official collaboration with Studiocanal, this print is part of the 70s Sitcoms collection of stylish pop art prints inspired by film versions of 70s TV comedies, featuring Art & Hue's signature halftone style (halftone is an age-old technique that uses dots to make up the printed image, similar to newspapers or comic books).
"On The Buses" Copyright © STUDIOCANAL Films Ltd. (1971). All rights reserved.
Copyright © Art & Hue® 2020. All rights reserved.