Irish Film Map pop art print
Stylish Irish Film Map pop art, part of the
Irish Film
collection by Art & Hue. Also available as part of a
trio
.
Irish film icons come together in this pop art print featuring a stylish map of Ireland.
Art & Hue's Irish Film Map includes Noel Purcell, Maureen O'Hara, Michael Gambon, Keiron Moore, Sinead Cusack, Richard Harris, Sam Kydd, Milo O'Shea, Constance Smith, Eddie Byrne, Valerie Hobson, Stephen Boyd, Patrick Magee, Dermot Walsh, Wilfrid Brambell, Jack MacGowran, Sheila Manahan, Cyril Cusack, Gladys Henson, Maureen Delany, John Kelly, Liam Redmond, Bernadette O'Farrell, Danny La Rue, Kathleen Ryan, Noel Willman, Colin Blakely, John Hallam, Joseph Tomelty, Beatrice Campbell, Michael Golden, and The Avengers alumni T.P. McKenna, Pauline Delaney, Ray McAnally, & James Kerry.
An official collaboration with Studiocanal, the Irish Film pop art collection is available in 3 sizes & 21 colours, printed on museum-quality archival card of 310gsm, made from 100% cotton, with fine-art pigment inks for longevity, exclusively by Art & Hue.
Available in A4, A3, and A2 sizes to fit standard-size picture frames. Please note that black frame is not included – for a guide on choosing a frame size, visit here.
Art & Hue presents Irish Film, stylish pop art inspired by classic films & actors of Ireland from Mid-century cinema.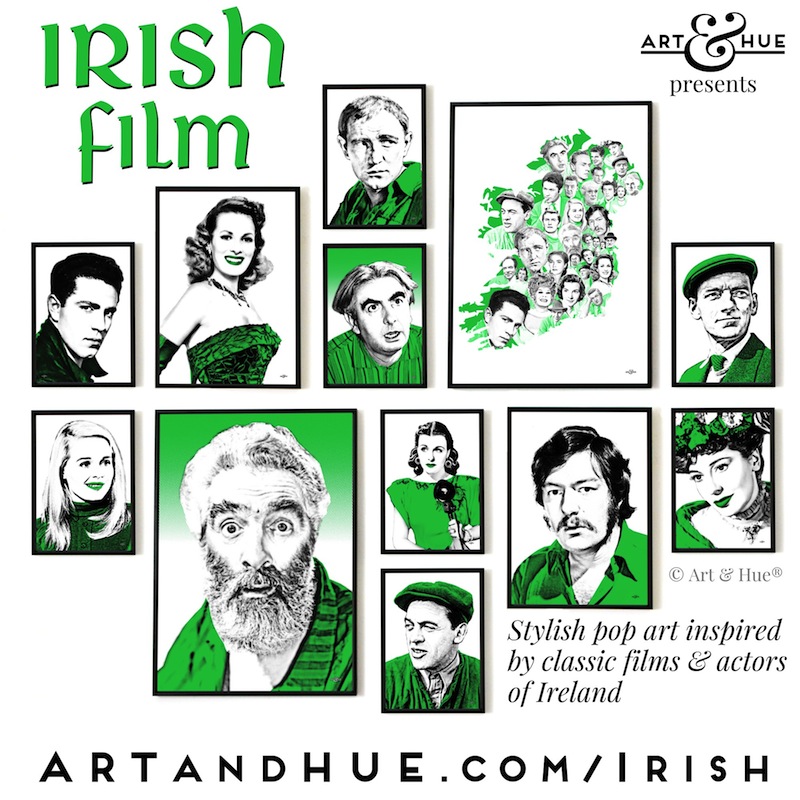 Rewatch, or discover anew, the films on DVD & Blu-ray from Amazon: "Another Shore" (1948), "The Avengers" (1961-1969), "The Beast Must Die" (1974), "Brighton Rock" (1947), "Chain of Events" (1958), "The Final Programme" (1973), "The Gentle Gunman" (1952), "The Happiest Days of Your Life" (1950), "Hoffman" (1970), "Kind Hearts & Coronets" (1949), "Last Holiday" (1950), "Loot" (1970), "The Long & the Short & the Tall" (1961), "Malaga" (1954), "The March Hare" (1956), "Moby Dick" (1956), "Murder on the Orient Express" (1974), "Our Miss Fred" (1972), "The Rainbow Jacket" (1954), "The Reptile" (1966), "Saints & Sinners" (1949), "Seven Days to Noon" (1950), "Steptoe & Son Ride Again" (1973), "The Titfield Thunderbolt" (1953), "Train of Events" (1949), "Villain" (1971), "The Yellow Balloon" (1952), Copyright © STUDIOCANAL Films Ltd. All rights reserved.
Copyright © Art & Hue® 2022. All rights reserved.