Richard Warwick Pop Art
Stylish pop art print of Richard Warwick.
The leading man that never was, Richard Warwick had the main role in the 1970 film "The Breaking of Bumbo". Also starring Joanna Lumley, the film was never released in cinemas but eventually premiered on BBC Two in 1975.
We'll never know the career Warwick could have had, if the film he headlined in was theatrically released, but he still appeared in many classic film and TV productions.
In 1968, Warwick co-starred with Malcolm McDowell in the Lindsey Anderson film "If…", after which he was cast as the lead in "The Breaking of Bumbo".
"Nicholas and Alexandra" followed in 1971 with an all-star cast including Michael Redgrave, Jack Hawkins, & Laurence Olivier, then a role in the 1972 ensemble production of "Alice's Adventures in Wonderland" which also featured Dennis Price, Peter Sellers, Rodney Bewes, and Dennis Waterman.
Warwick had a part in "Confessions of a Pop Performer" with Doris Hare, Carol Hawkins, & David Prowse; and "Sebastiane", directed by Caravaggio-director Derek Jarman who then directed the 1979 production of "The Tempest" in which Warwick also appeared.
Warwick then landed roles in American films including "My Favorite Year", "Johnny Dangerously", "White Hunter Black Heart", and "Hamlet" with Alan Bates, directed by Franco Zeffirelli who also directed the 1996 production of "Jane Eyre" which was Warwick's final film.
For many viewers, Richard Warwick may be fondly remembered for the 1971 sitcom "Please Sir!" or "A Fine Romance" starring Judi Dench & Michael Williams, in which he appeared as Susan Penhaligon's partner.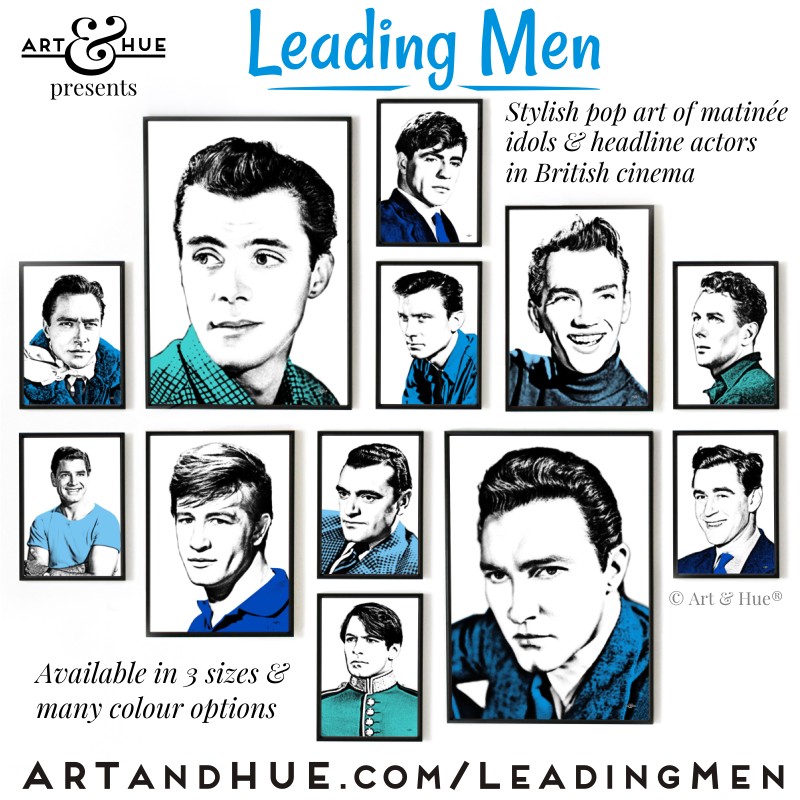 An official collaboration with Studiocanal, this print is part of the
Leading Men
pop art collection, featuring Art & Hue's signature halftone style (halftone is an age-old technique that uses dots to make up the printed image, similar to newspapers or comic books).
Exclusively by Art & Hue, the Leading Men pop art collection is available in three sizes and many colours, all printed on museum-quality archival matte card of 310gsm, made from 100% cotton, with fine-art pigment inks for longevity.
Available in A4, A3, and A2 sizes to fit standard-size picture frames. Please note that black frame is not included – for a guide on choosing a frame size take a look here.
Rewatch, or discover anew, the film on DVD from Amazon.
"The Breaking of Bumbo" Copyright © STUDIOCANAL Films Ltd, (1970). All rights reserved.
Copyright © Art & Hue® 2021. All rights reserved.