Jack Hawkins Pop Art
Stylish pop art print of Jack Hawkins.
A distinctly British matinée idol, Jack Hawkins headlined many films throughout his busy career, frequently playing authority figures such as military men and police officers.
A prolific actor, whose first role was in the 1930 film "Birds of Prey" directed by Basil Dean, Hawkins appeared in many films in a career spanning five decades.
One of the most popular leading men of British cinema, Hawkins appeared in "The Small Back Room", which opened at the Empire Leicester Square on the 20th January 1949, & "Angels One Five" (with John Gregson, Michael Denison & Dulcie Gray) which opened at the Empire also on the 19th March 1952.
Hawkins appeared in "The Next of Kin" with Mervyn Johns, Basil Radford & Naunton Wayne; "Lorna Doone" with Margaret Lockwood; and "Bonnie Prince Charlie" with David Niven & Morland Graham.
Some of Hawkins' other films are "Peg of Old Drury" with Anna Neagle; "No Highway in the Sky" with Bessie Love & Janette Scott; "Mandy" with Terence Morgan; "The Cruel Sea" with Stanley Baker, Virginia McKenna, & Meredith Edwards; "Malta Story" with Anthony Steel & Gordon Jackson; "The Intruder" with Dennis Price & George Baker; "The Seekers" with Glynis Johns & Kenneth Williams; "Land of the Pharaohs" with Joan Collins; "Touch and Go" with John Fraser, Alfred Burke, & Liz Fraser; "The Man in the Sky" with Elizabeth Sellars; "Ben-Hur" with Stephen Boyd, George Relph, & Hugh Griffith; and the classic crime comedy "The League of Gentlemen" with Richard Attenborough.
More credits include "La Fayette" with Orson Welles; "Two Loves" & "Escape to the Sun" with Laurence Harvey; "Lawrence of Arabia" with Alec Guinness; "Zulu" with Michael Caine; "Guns at Batasi" with Earl Cameron; "Masquerade" with Cliff Robertson; "Shalako" with Sean Connery & Honor Blackman; "Great Catherine" with Kate O'Mara; "Oh! What a Lovely War" with Maggie Smith, Dirk Bogarde, Cecil Parker, Michael & Vanessa Redgrave; "Monte Carlo or Bust!" with Terry-Thomas & Hattie Jacques; "Lola" with Susan George; "The Adventures of Gerard" with Peter McEnery & Claudia Cardinale; and "Jane Eyre" with Ian Bannen & Jean Marsh.
"Nicholas & Alexandra" with
Richard Warwick
, and cult film "Theatre of Blood" with
Diana Rigg
, Vincent Price,
Ian Hendry
,
Diana Dors
; &
Madeline Smith
. Hawkins' final credit is in the American TV miniseries "QB VII" with
Leigh Lawson
.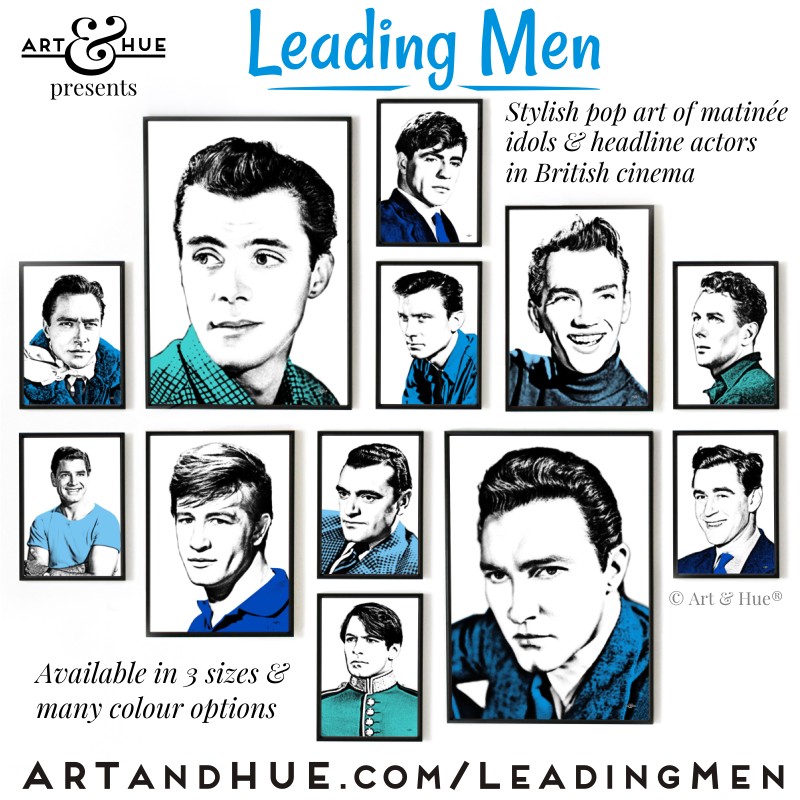 An official collaboration with Studiocanal, this print is part of the Leading Men pop art collection, featuring Art & Hue's signature halftone style (halftone is an age-old technique that uses dots to make up the printed image, similar to newspapers or comic books).
Exclusively by Art & Hue, the Leading Men pop art collection is available in three sizes and many colours, all printed on museum-quality archival matte card of 310gsm, made from 100% cotton, with fine-art pigment inks for longevity.
Available in A4, A3, and A2 sizes to fit standard-size picture frames. Please note that black frame is not included – for a guide on choosing a frame size take a look here.
Rewatch, or discover anew, the film on DVD from Amazon.
"The Small Back Room" Copyright © STUDIOCANAL Films Ltd, (1949). All rights reserved.
Copyright © Art & Hue® 2021. All rights reserved.