John Fraser Pop Art
Stylish pop art print of John Fraser.
John Fraser's dashing looks saw him once described as "the most handsome man in Britain" and it's understandable how he appeared as the love interest in so many films of the 1950s. John Fraser was more than just a beautiful matinée idol and screen heart-throb though – he had a wide range, from heroic war films to period dramas, and was a searingly-honest writer.
Fraser's first major film role was in "Valley of Song", the charming story of two rival families in a Welsh mining community, vying for prime spot in the local choir. The 1953 film, which "introduced" John Fraser and Maureen Swanson as the star-crossed lovers, also starred Rachel Thomas, along with Rachel Roberts in her first film, and Kenneth Williams' first film credit.
After "Valley of Song", Fraser went on to appear in "Loves of Three Queens" (also known as "The Face That Launched a Thousand Ships") with Terence Morgan & Richard O'Sullivan; "Touch & Go" with Jack Hawkins, Bessie Love, Liz Fraser, & Alfred Burke; and then the classic British war film "The Dam Busters" with Richard Todd, Michael Redgrave, & George Baker.
Next was the musical "The Good Companions" with Hugh Griffith, Janette Scott, Joyce Grenfell, & Carole Lesley; "The Wind Cannot Read" with Dirk Bogarde & Yoko Tani; "Tunes of Glory" with Alec Guinness, Andrew Keir, Duncan MacRae, & Dennis Price; & then "The Trials of Oscar Wilde" which saw Fraser nominated for a BAFTA.
Fraser's additional credits include "El Cid" alongside Herbert Lom; "Tamahine" with Nancy Kwan; "Waltz of the Toreadors" with Peter Sellers; "Operation Crossbow" with Richard Todd & Sylvia Syms; the cult 1965 film "Repulsion" with Catherine Deneuve, Ian Hendry, Yvonne Furneaux, & Helen Fraser; "A Study in Terror" with Donald Houston, Edina Ronay, & Barbara Windsor; "Doctor in Clover" with Joan Sims & Wendy Richard; & "Isadora" with Vanessa Redgrave.
On TV, Fraser appeared in "Kidnapped", in which his performance caught the eye of film producers; "Women in Love" with
Sean Connery
; a London-set episode of "Columbo" with
Honor Blackman
; "The Doll" with
Anouska Hempel
; and is remembered amongst fans of Doctor Who for appearing in Tom Baker's final serial, and Peter Davison's first, "Logopolis".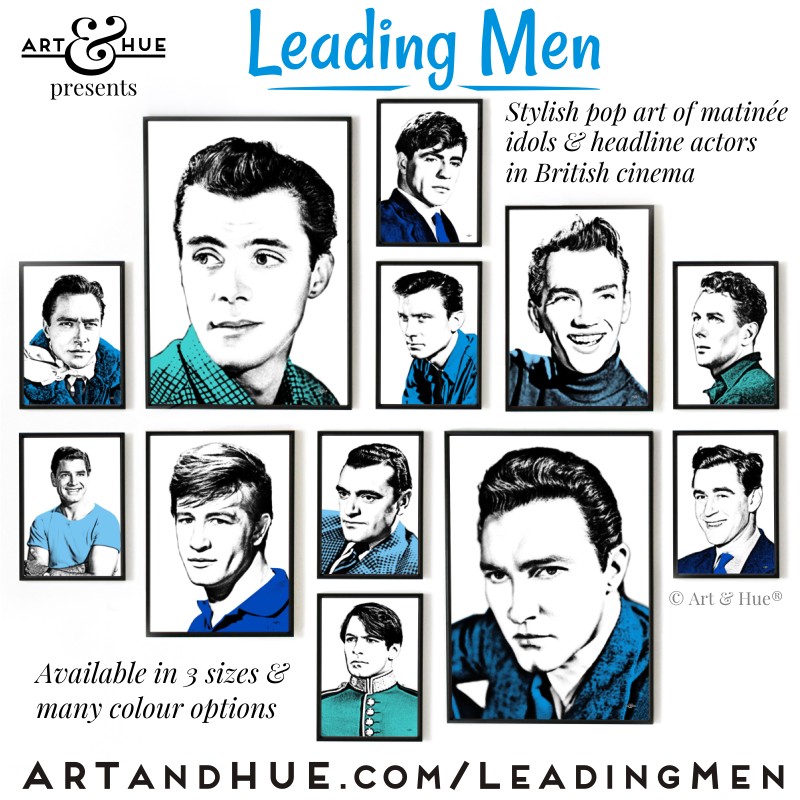 An official collaboration with Studiocanal, this print is part of the Leading Men pop art collection, featuring Art & Hue's signature halftone style (halftone is an age-old technique that uses dots to make up the printed image, similar to newspapers or comic books).
Exclusively by Art & Hue, the Leading Men pop art collection is available in three sizes and many colours, all printed on museum-quality archival matte card of 310gsm, made from 100% cotton, with fine-art pigment inks for longevity.
Available in A4, A3, and A2 sizes to fit standard-size picture frames. Please note that black frame is not included – for a guide on choosing a frame size take a look here.
Rewatch, or discover anew, the film on DVD from Amazon.
"Valley of Song" Copyright © STUDIOCANAL Films Ltd, (1953). All rights reserved.
Copyright © Art & Hue® 2021. All rights reserved.