George Baker Pop Art
Stylish pop art print of George Baker.
A mainstay of British film & television, Baker skilfully segued from leading man roles in British cinema to headlining classic television shows.
Baker's first ever role was in the 1953 film "The Intruder" with Jack Hawkins, and it wasn't long before he had his own starring role in the 1955 film "The Ship That Died of Shame" with Richard Attenborough & Virginia McKenna.
The classic war film "The Dam Busters" (with Richard Todd, Michael Redgrave, & John Fraser) led to co-starring with Diane Cilento in "The Woman for Joe", which also featured Earl Cameron; "A Hill in Korea" with Harry Andrews, Stanley Baker, Stephen Boyd, & an early film role for Michael Caine; "The Extra Day" with Beryl Reid & Sid James; "These Dangerous Years" with Carole Lesley, which premiered on the 24th of June 1957 at Liverpool's Forum cinema, "No Time for Tears" with Anna Neagle & Richard O'Sullivan; the swashbuckling adventure "The Moonraker" with Sylvia Syms; and "Tread Softly Stranger" with Terence Morgan & Diana Dors; "Justine" with Dirk Bogarde; "Goodbye, Mr. Chips" with Michael Redgrave; and "The Executioner" with Joan Collins.
Ian Fleming apparently considered Baker to be the perfect actor for James Bond but, as he was unavailable, Sean Connery made the role his own. Baker came close to the part, in a way, when he played "Jamus Bondus" in an episode of the sitcom "Up Pompeii!" with Frankie Howerd, and he appeared in three Bond films: "You Only Live Twice" with Tsai Chin; "The Spy Who Loved Me" with Roger Moore, Caroline Munro, & Valerie Leon; and, perhaps most memorably, as Sir Hilary Bray in the classic "On Her Majesty's Secret Service" with Diana Rigg, George Lazenby, Jenny Hanley, Anouska Hempel, Julie Ege, & Joanna Lumley.
Baker's career successfully traversed film and television, with roles in cult shows including the first episode of "The Prisoner" with Patrick McGoohan, "The Protectors" with Robert Vaughn, "Survivors", and "I, Claudius" with Brian Blessed. Other TV credits include "Coronation Street", "Doctor Who", "Minder" with Dennis Waterman, "Triangle" with Kate O'Mara, "Spooks", "Heartbeat", "New Tricks", & he appeared on "Lily Savage's Blankety Blank".
Perhaps the television role that George Baker is most fondly remembered for by many viewers is as Inspector Wexford in "The Ruth Rendell Mysteries".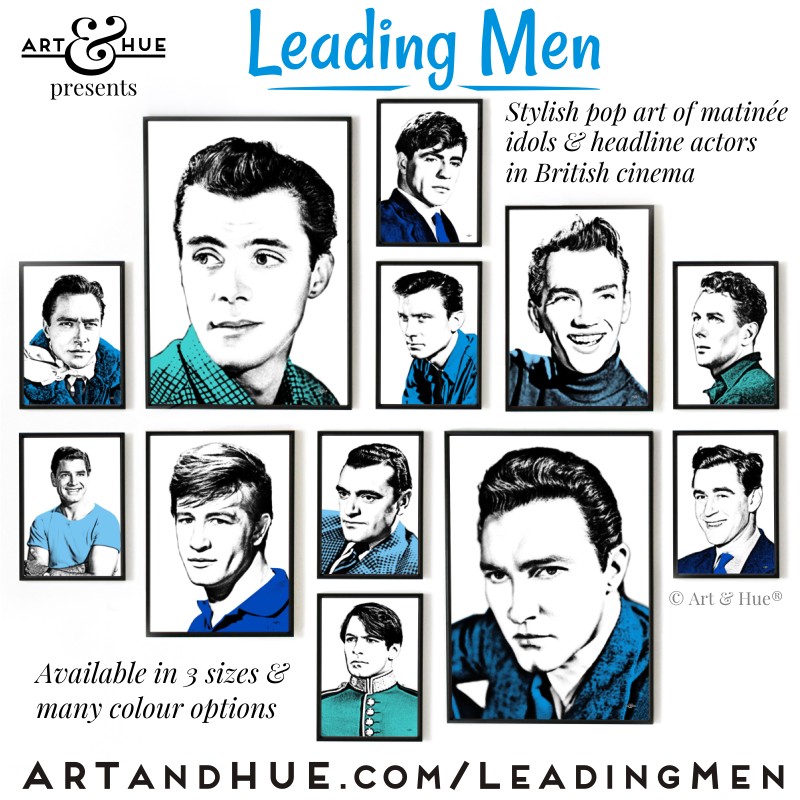 An official collaboration with Studiocanal, this print is part of the Leading Men pop art collection, featuring Art & Hue's signature halftone style (halftone is an age-old technique that uses dots to make up the printed image, similar to newspapers or comic books).
Exclusively by Art & Hue, the Leading Men pop art collection is available in three sizes and many colours, all printed on museum-quality archival matte card of 310gsm, made from 100% cotton, with fine-art pigment inks for longevity.
Available in A4, A3, and A2 sizes to fit standard-size picture frames. Please note that black frame is not included – for a guide on choosing a frame size take a look here.
Rewatch, or discover anew, the film on DVD from Amazon.
"These Dangerous Years" Copyright © STUDIOCANAL Films Ltd, (1957). All rights reserved.
Copyright © Art & Hue® 2021. All rights reserved.