On This Day: The Next of Kin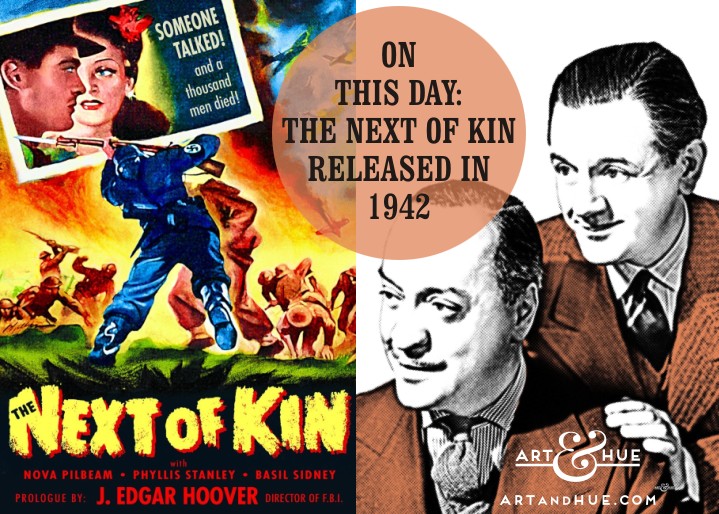 On the 15th of May in 1942, the Ealing Studios film "The Next of Kin" opened at the Pavilion Cinema in London.
When Ealing Studios were commissioned by the War Office to create a short propaganda film to warn of careless talk costing lives, the director Thorold Dickinson expanded "The Next of Kin" into a full-length film.

Successful at the time of release, the film received praise from critics whilst promoting the message to keep secrets and not to idly chatter in public spaces.
At the end of the film, Basil Radford & Naunton Wayne make a cameo appearance as two passengers talking carelessly on a train about a munitions factory within earshot of enemy agents.
The appearance referred to their first successful debut as a cinematic double act in Alfred Hitchcock's 1938 film "The Lady Vanishes" as the cricket-loving travellers Charters & Caldicott.
"The Next of Kin" is their first film appearance as characters other than Charters & Caldicott, and the duo went on to appear in other films with different names including the Ealing Comedy "Passport to Pimlico", "Dead of Night", "It's Not Cricket", "A Girl in a Million", "Quartet", "Stop Press Girl", and "Helter Skelter".
"The Next of Kin" was directed by Thorold Dickinson, the man who can lay claim to discovering Audrey Hepburn's star quality. He cast Audrey in her first supporting film role in "Secret People" and would go on to film her screen test which successfully landed her the main role in "Roman Holiday".
Contributing writers to the screenplay included Angus MacPhail, the writer of "Whisky Galore!", and John Dighton, who wrote "Turned Out Nice Again", "Kind Hearts & Coronets", and "The Man in the White Suit".
Interestingly, J. Edgar Hoover attached a prologue to the American release of the film.
If you fancy re-watching "The Next of Kin", or discovering the film anew, it's currently only available on Region 1 DVD from Amazon which will require a compatible DVD player, and occasionally shown on the wonderful Talking Pictures channel on British TVs (channel numbers Freeview 81, Freesat 306, Virgin 445, and Sky 328).