Laurence Harvey Pop Art
Stylish pop art print of Laurence Harvey.
Laurence Harvey was one of British cinema's leading men, appearing in varied productions, from romantic comedies to gritty dramas. The BAFTA- and Oscar-nominated actor's prolific career saw him star in many films including "The Long & the Short & the Tall" with Richard Todd & David McCallum, released as "Jungle Fighters" in the U.S.A.
Just some of Harvey's credits include "The Dancing Years" with Dennis Price & Patricia Dainton; "The Black Rose" with Orson Welles, Jack Hawkins, & Herbert Lom; "I Believe in You" with Cecil Parker, Joan Collins, Katie Johnson, George Relph, & Sid James; "Innocents in Paris" with Alastair Sim, Margaret Rutherford, Christopher Lee, & Kenneth Williams; "The Good Die Young" with Stanley Baxter; "Romeo & Juliet" with Mervyn Johns; "I Am a Camera" with Patrick McGoohan; "Three Men in a Boat" with Shirley Eaton; "Storm over the Nile" with Anthony Steel, Mary Ure, John Laurie, & Ian Carmichael; "The Truth About Women" with Diane Cilento; "Expresso Bongo" with Cliff Richard & Sylvia Syms; and "Room at the Top" with Ian Hendry which saw Harvey nominated for the Best Actor awards by BAFTA and the Academy.
American productions followed including "Butterfield 8" starring Elizabeth Taylor; "Walk on the Wild Side" with Capucine; "The Wonderful World of the Brothers Grimm" with Terry-Thomas; "The Manchurian Candidate" with Frank Sinatra; "The Running Man" with Alan Bates; and "The Outrage" with Paul Newman.
Harvey returned to British cinema for the Julie Christie film "Darling" with Dirk Bogarde, and a sequel "Life at the Top" starring Honor Blackman & Jean Simmons.
Films that followed included "The Spy with a Cold Nose" with June Whitfield; cult 60s film "A Dandy in Aspic"; "The Charge of the Light Brigade" with Vanessa Redgrave & David Hemmings; and a cameo in the bonkers "The Magic Christian" with Peter Sellers, Richard Attenborough, John Cleese, & Hattie Jacques.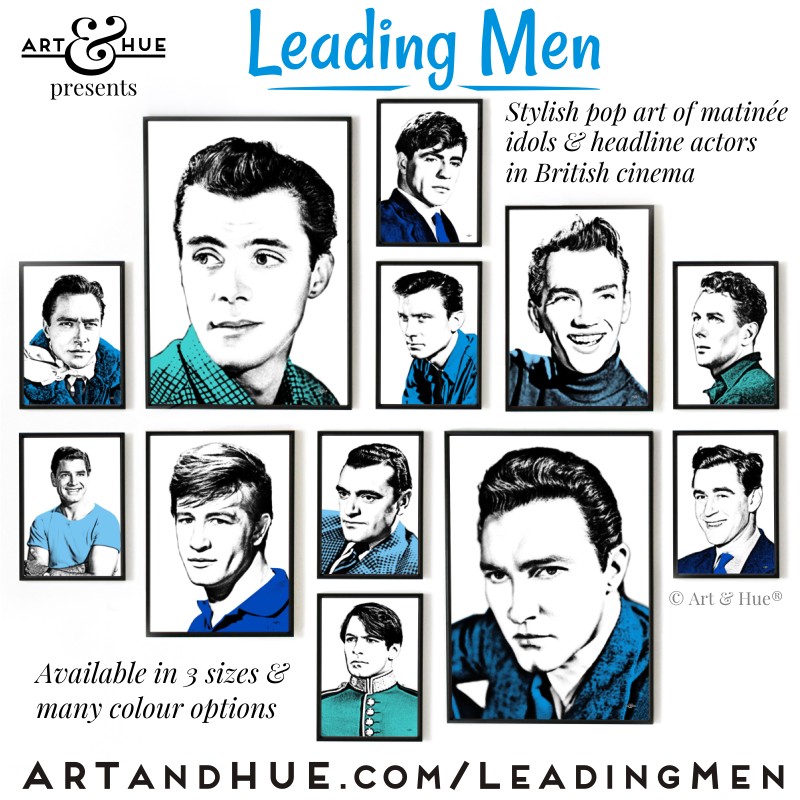 An official collaboration with Studiocanal, this print is part of the Leading Men pop art collection, featuring Art & Hue's signature halftone style (halftone is an age-old technique that uses dots to make up the printed image, similar to newspapers or comic books).
Exclusively by Art & Hue, the Leading Men pop art collection is available in three sizes and many colours, all printed on museum-quality archival matte card of 310gsm, made from 100% cotton, with fine-art pigment inks for longevity.
Available in A4, A3, and A2 sizes to fit standard-size picture frames. Please note that black frame is not included – for a guide on choosing a frame size take a look here.
Rewatch, or discover anew, the film on DVD from Amazon.
"The Long & the Short & the Tall" Copyright © STUDIOCANAL Films Ltd, (1961). All rights reserved.
Copyright © Art & Hue® 2021. All rights reserved.