John Laurie Pop Art
Stylish pop art print of John Laurie.
Cherished for "Dad's Army", John Laurie had a prolific career in film, from Shakespeare productions with Laurence Olivier to working with Alfred Hitchcock.
Just some of his many film credits include the Alfred Hitchcock films "Juno & the Paycock" & "The 39 Steps"; "As You Like It" with Laurence Olivier; "Jericho" with Paul Robeson; "Q Planes" with Valerie Hobson; "Convoy" with Mervyn Johns; "Dangerous Moonlight" with Cecil Parker; "Ships with Wings" with Morland Graham; "The Way Ahead" with Stanley Holloway; "I Know Where I'm Going" with Jean Cadell; "Jassy" with Margaret Lockwood & Dennis Price; "Uncle Silas" with Jean Simmons; "Bonnie Prince Charlie" with David Niven; "Hamlet" with Terence Morgan; "Floodtide" with Gordon Jackson, Jimmy Logan, Elizabeth Sellars, & Molly Weir; "Happy Go Lovely" with Vera-Ellen; "Laughter in Paradise" with Alastair Sim, Joyce Grenfell, Anthony Steel, & Audrey Hepburn; "Tread Softly" with Patricia Dainton; "The Great Game" with Diana Dors & Meredith Edwards; cult sci-fi "Devil Girl from Mars" with Patricia Laffan; "Campbell's Kingdom" with Dirk Bogarde, Stanley Baxter, Barbara Murray, & Sid James; "Rockets Galore!" with Duncan Macrae & Ronnie Corbett; "Don't Bother to Knock" with Richard Todd & Amanda Barrie; "Ladies Who Do" with Harry H. Corbett; "The Reptile" with Noel Willman; "The Abominable Dr. Phibes" with Hugh Griffith, Terry-Thomas, & Caroline Munro; and "The Prisoner of Zenda" with Peter Sellers.
TV credits include "The Avengers", "Steptoe & Son", and of course "Dad's Army" where Laurie played Private Frazer with his proclamations that "We're doomed!".
An official collaboration with Studiocanal, this print is part of the Scottish Cinema pop art collection, featuring Art & Hue's signature halftone style (halftone is an age-old technique that uses dots to make up the printed image, similar to newspapers or comic books).
John Laurie also features on the
Scottish Film Map
pop art print.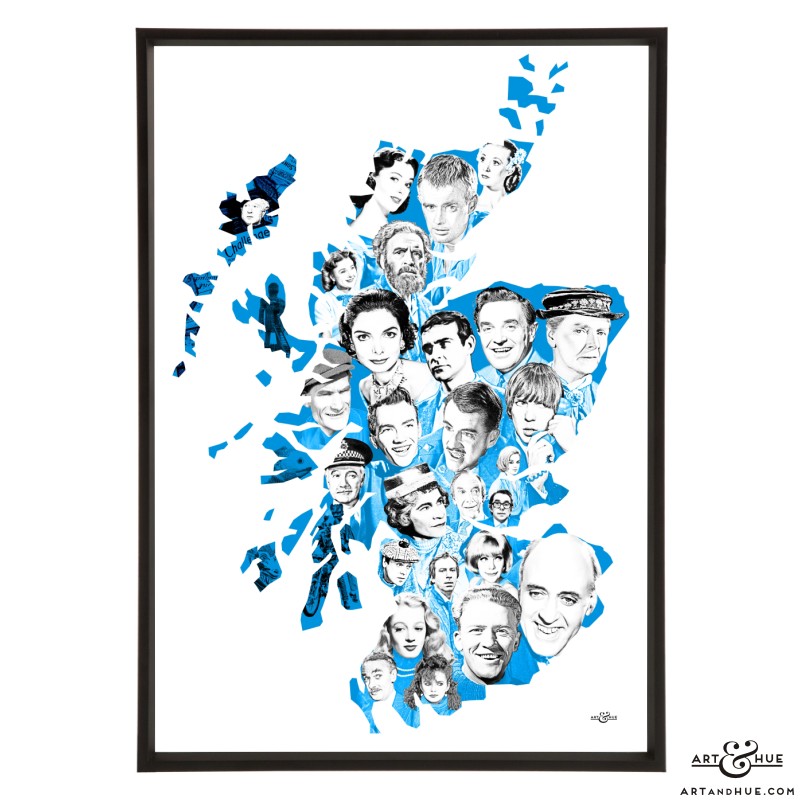 Exclusively by Art & Hue, the Scottish Cinema pop art collection is available in three sizes and many colours, all printed on museum-quality archival matte card of 310gsm, made from 100% cotton, with fine-art pigment inks for longevity.
Available in A4, A3, and A2 sizes to fit standard-size picture frames. Please note that black frame is not included – for a guide on choosing a frame size take a look here.
Rewatch, or discover anew, the film on DVD from Amazon.
"Laughter in Paradise" Copyright © STUDIOCANAL Films Ltd, (1951). All rights reserved.
Copyright © Art & Hue® 2021. All rights reserved.