Devil Girl from Mars Poster pop art print
Stylish pop art re-imagining the film poster for the camp classic 1954 British science-fiction film "Devil Girl from Mars Poster", part of the
Sci-fi
collection by Art & Hue.
Resplendent in patent pleather, Patricia Laffan's alien "Queen Nyah" lands in rural Scotland on the hunt for men. With the Martian population dying out, her mission is to take men back to Mars to repopulate the planet.
Billed as the first major science-fiction film to be made in England which, while perhaps not entirely accurate, it was certainly the first to feature a hostile alien landing on British soil.
So bad it's great, the science fiction film "Devil Girl From Mars" has achieved cult status for the high camp production and low-tech special effects.
Before going on to create his memorable "Supermarionation" productions including "Space: 1999", Gerry Anderson was the sound editor on "Devil Girl from Mars".
Also available as part of a pair of "Devil Girl from Mars" prints: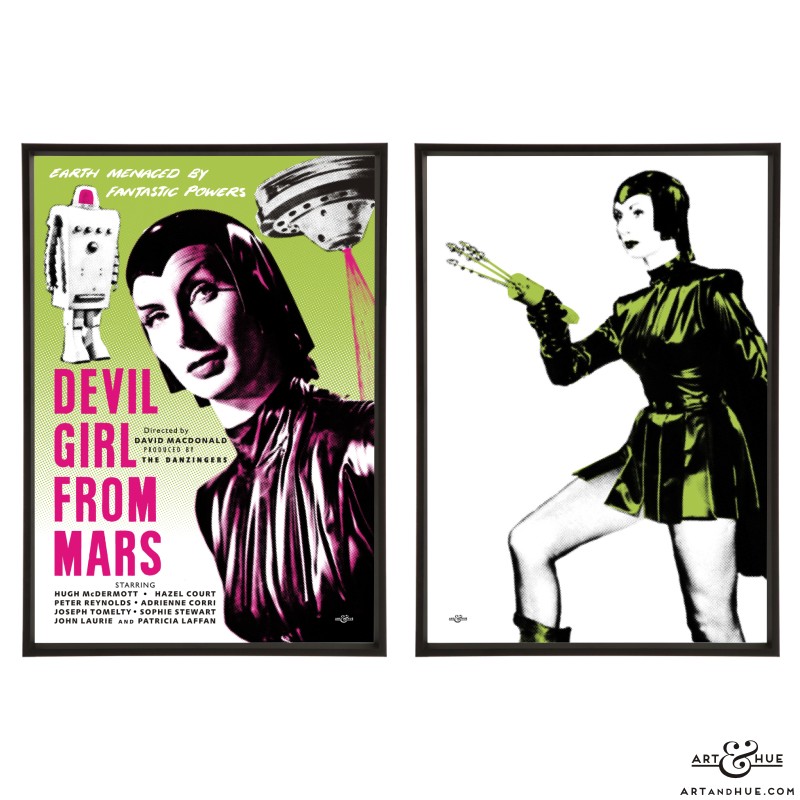 With an outfit that probably inspired Darth Vader's black helmet and cape, Patricia Laffan, the eponymous devil girl herself, also starred in "Crooks in Cloisters" with
Barbara Windsor
,
Bernard Cribbins
, &
Melvyn Hayes
, and the 1951 epic "Quo Vadis" with Peter Ustinov.
Also starring John Laurie, "Devil Girl From Mars" was first released in British cinemas on the 2nd of May 1954.
Art & Hue has reimagined the film posters of British vintage films to create the new Sci-fi collection of science-fiction pop art prints.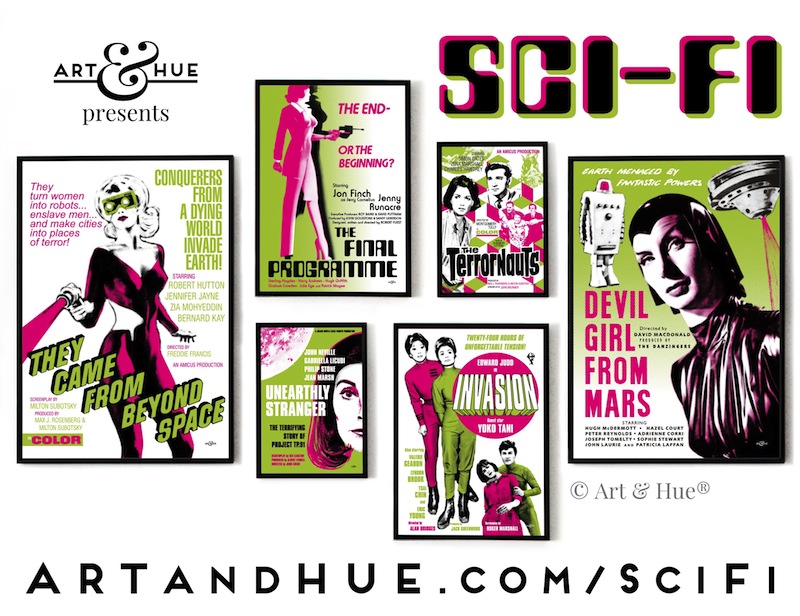 An official collaboration with Studiocanal, the Sci-fi pop art collection is available in 3 sizes & 15 colours, printed on museum-quality archival card of 310gsm, made from 100% cotton, with fine-art pigment inks for longevity, exclusively by Art & Hue.
Available in A4, A3, and A2 sizes to fit standard-size picture frames. Please note that black frame is not included – for a guide on choosing a frame size take a look here.
Rewatch, or discover anew, the film on DVD & Bluray from Amazon:
"Devil Girl from Mars" Copyright © STUDIOCANAL Films Ltd. (1954). All rights reserved.
Copyright © Art & Hue® 2020. All rights reserved.