Unearthly Stranger pop art print
Stylish pop art re-imagining the film poster for the atmospheric 1963 British science-fiction film "Unearthly Stranger", part of the
Sci-fi
collection by Art & Hue.
The film was produced by Julian Wintle and Albert Fennell who, along with Brian Clemens, also produced the classic television shows "The Avengers", "The New Avengers" with Joanna Lumley, and "The Professionals".
Fennell's other film credits include "Captain Kronos – Vampire Hunter" with Caroline Munro, and "The Innocents" with Peter Wyngarde. Wintle also produced "Crooks Anonymous" with Julie Christie and Stanley Baxter, "The Fast Lady" with James Robertson-Justice, "Play it Cool" with Billy Fury & Helen Shapiro, and "The Human Jungle" with Herbert Lom.
The film stars John Neville, Philip Stone, Gabriella Licudi, and Jean Marsh. Marsh went on to co-create "Upstairs, Downstairs", and starred in the period serial with Gordon Jackson.
Unearthly Stranger opened at the Rialto cinema in London on the 12th of September 1963.
Available in A4, A3, and A2 sizes to fit standard-size picture frames. Please note that black frame is not included – for a guide on choosing a frame size take a look here.
Art & Hue has reimagined the film posters of British vintage films to create the new
Sci-fi
collection of science-fiction pop art prints.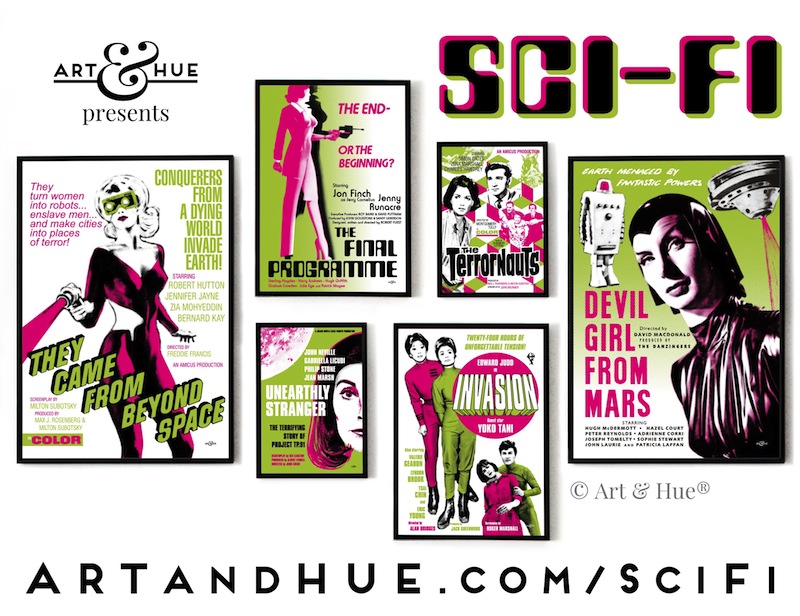 An official collaboration with Studiocanal, the Sci-fi pop art collection is available in 3 sizes & 15 colours, printed on museum-quality archival card of 310gsm, made from 100% cotton, with fine-art pigment inks for longevity, exclusively by Art & Hue.
Rewatch, or discover anew, the film on DVD & Bluray from Amazon:
"Unearthly Stranger" Copyright © STUDIOCANAL Films Ltd. (1963). All rights reserved.
Copyright © Art & Hue® 2020. All rights reserved.