Dirk Bogarde Pop Art
Stylish pop art print of Dirk Bogarde.
One of British cinema's most popular actors, Bogarde was the ultimate matinée idol in the 1950s before moving into more experimental and acclaimed film territory in the 1960s & 70s.
The BAFTA-winning actor (winning twice for "Darling" & "The Servant") had a varied career, from the "Doctor" series of comedies, produced by relations of the Carry On team, to daring work such as "Victim" and "The Night Porter" with Charlotte Rampling.
Bogarde's first ever film appearance was as an extra in the George Formby film "Come On George!", followed by an uncredited appearance in "Dancing with Crime" with Richard Attenborough, which also featured unbilled parts for Diana Dors, Patricia Dainton, & Danny Green.
Bogarde's first credited film appearance was in the 1948 drama "Esther Waters" and then the anthology film "Quartet" with Honor Blackman, Mervyn Johns, Cecil Parker, Basil Radford & Naunton Wayne.
Bogarde's performance in "The Blue Lamp" with Jack Warner was singled out for praise by critics, after which he headlined "So Long at the Fair" with Jean Simmons & Zena Marshall.
With a role in the 1952 Ealing film "The Gentle Gunman" with Eddie Byrne, Dirk was clearly being noticed as an actor. The film opened at the Marble Arch Odeon on the 23rd of October 1952.
He went on to star as the leading man in "Hunted" with Elizabeth Sellars, "Appointment in London" with Dinah Sheridan, "The Sleeping Tiger" with Hugh Griffith (Bogarde's first film with director Joseph Losey who he worked with again on "The Servant", "King & Country", "Modesty Blaise" with Monica Vitti & Terence Stamp, and "Accident" with Stanley Baker), "For Better, for Worse" with Dennis Price & Sid James, "Cast a Dark Shadow" with Margaret Lockwood, "The Spanish Gardener" with Maureen Swanson, "Campbell's Kingdom" with Barbara Murray, "A Tale of Two Cities" with Ian Bannen & Christopher Lee, "The Wind Cannot Read" with Yoko Tani & John Fraser, "The Doctor's Dilemma" with Alastair Sim, "The Password Is Courage" with Alfred Lynch, "Song Without End" with Capucine in her first film, "I Could Go On Singing" with Judy Garland in her final film, "Hot Enough for June", spy film "Sebastian" with Donald Sutherland, and his final film "These Foolish Things" with Jane Birkin.
Bogarde also starred in classic war films such as "The Sea Shall Not Have Them" with Michael Redgrave, Anthony Steel, & Joan Sims, and "H.M.S. Defiant" with Alec Guinness & James Bolam.
Bogarde appeared in the "Doctor" series of films which were directed by Ralph Thomas, the brother of Carry On's Gerald, including "Doctor in the House" with Shirley Eaton, "Doctor at Sea" with James Robertson Justice, and "Doctor at Large" with George Relph.
Dirk balanced mainstream productions with experimental films, including "The Mind Benders" with
Mary Ure
, "Despair" by Rainer Werner Fassbinder, "Death in Venice" with the emotional Mahler soundtrack, "Our Mother's House" with
Yootha Joyce
, "The Fixer" with
Alan Bates
, "Oh! What a Lovely War" with
Maggie Smith
,
Jack Hawkins
,
Michael Redgrave
&
Vanessa Redgrave
, "Permission to Kill" with
Timothy Dalton
, "A Bridge Too Far" with
Michael Caine
,
Sean Connery
, & Laurence Olivier.
One of his films that had a significant impact and proved influential was "Victim" (with Sylvia Syms, Peter McEnery, & Frank Thornton) in which Bogarde made what was considered a brave choice to play a gay character, after many other actors had turned the role down for fear of it damaging their public image. Known at the time as "the idol of the Odeons", Bogarde welcomed the new era of his career that "Victim" began, telling a reporter in 1965 "for the first time I was playing my own age. At Rank, the fixed rule was that I had to look pretty. 'Victim' ended all that nonsense."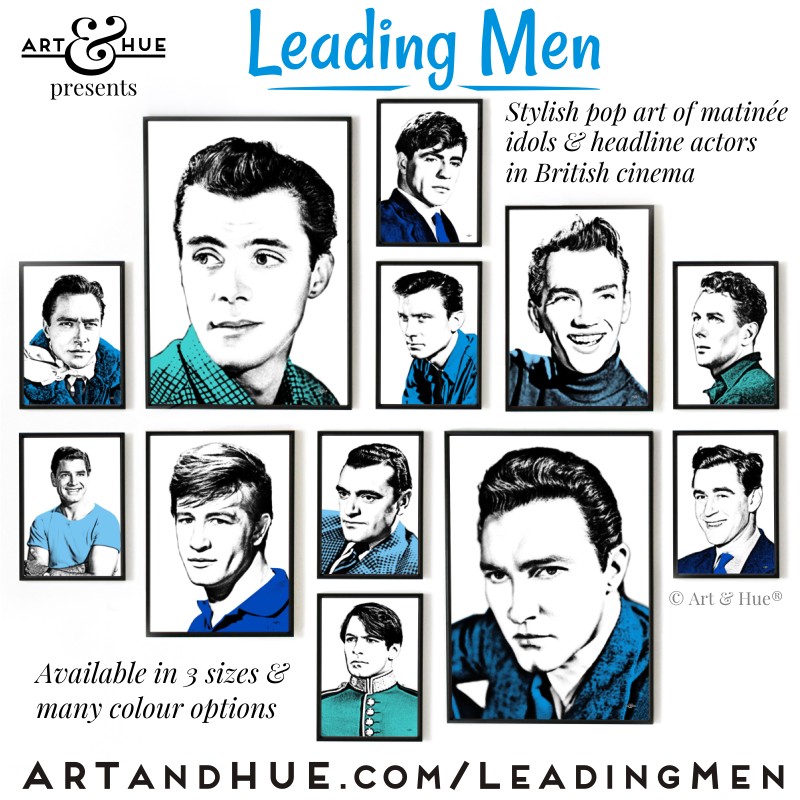 An official collaboration with Studiocanal, this print is part of the Leading Men pop art collection, featuring Art & Hue's signature halftone style (halftone is an age-old technique that uses dots to make up the printed image, similar to newspapers or comic books).
Exclusively by Art & Hue, the Leading Men pop art collection is available in three sizes and many colours, all printed on museum-quality archival matte card of 310gsm, made from 100% cotton, with fine-art pigment inks for longevity.
Available in A4, A3, and A2 sizes to fit standard-size picture frames. Please note that black frame is not included – for a guide on choosing a frame size take a look here.
Rewatch, or discover anew, the film on DVD from Amazon.
"The Gentle Gunman" Copyright © STUDIOCANAL Films Ltd, (1952). All rights reserved.
Copyright © Art & Hue® 2021. All rights reserved.