They Came From Beyond Space pop art print
Stylish pop art re-imagining the film poster for the 1967 British science-fiction film "They Came From Beyond Space", part of the
Sci-fi
collection by Art & Hue.
Meteors descend on Earth, specifically Cookham in Berkshire where the majority of the film is shot, and aliens proceed to bodysnatch humans for their own ends.
"They Came from Beyond Space" recycled sets and props from another Amicus production, "Daleks' Invasion Earth 2150 A.D.", reportedly to save costs.
Released in cinemas as a double-feature, it's claimed that there were no funds left for the film as "The Terrornauts" had gone over budget, which only goes to show how tight the financing was for both science-fiction films.
Directed by Freddie Francis, he also directed "Tales from the Crypt" with Joan Collins & Barbara Murray, and was the Award-winning cinematographer on many films including "Room at the Top" with Laurence Harvey, "Saturday Night & Sunday Morning" with Rachel Roberts, "The Elephant Man", "Cape Fear", and "The French Lieutenant's Woman".
Both "They Came from Beyond Space" and "The Terrornauts" were produced by Amicus founders Max Rosenberg and Milton Suboksy, who also co-produced "The City of the Dead" with Christopher Lee, and "It's Trad, Dad!", released in America as "Ring-a-Ding Rhythm", with Helen Shapiro, "Daleks' Invasion Earth 2150 A.D." with Bernard Cribbins, the Seth Holt film "Danger Route" with Diana Dors, Roy Ward Baker's "And Now the Screaming Starts!" with Stephanie Beacham & Herbert Lom, and "At the Earth's Core" with Caroline Munro.
The film's director of photography was Norman Warwick who worked on "The Italian Job", "The Final Programme", and the Hammer House of Horror TV series.
The soundtrack was by the avantgarde composer James Stevens, who also worked on the score for "
Sparrows Can't Sing
", and the film was edited by Peter Musgrave who started in film as the assistant sound editor on classic
Ealing comedies
"
Passport to Pimlico
" and "
Kind Hearts & Coronets
", and went on to edit productions including
Bond
films "Never Say Never Again" with
Sean Connery
& Barbara Carrera, as well as "The Living Daylights" and "Licence to Kill" with
Timothy Dalton
.
Art & Hue has reimagined the film posters of British vintage films to create the new Sci-fi collection of science-fiction pop art prints.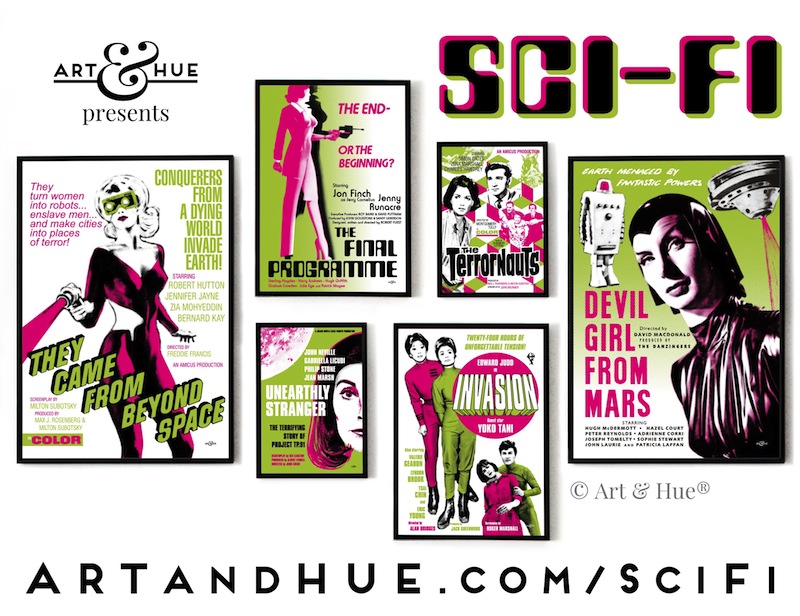 An official collaboration with Studiocanal, the Sci-fi pop art collection is available in 3 sizes & 15 colours, printed on museum-quality archival card of 310gsm, made from 100% cotton, with fine-art pigment inks for longevity, exclusively by Art & Hue.
Available in A4, A3, and A2 sizes to fit standard-size picture frames. Please note that black frame is not included – for a guide on choosing a frame size, visit here.
Rewatch, or discover anew, the film on DVD & Bluray from Amazon:
"They Came From Beyond Space" Copyright © STUDIOCANAL Films Ltd. (1967). All rights reserved.
Copyright © Art & Hue® 2020. All rights reserved.