The Final Programme pop art print
Stylish pop art re-imagining the film poster for the ambitious 1973 British science-fiction film "The Final Programme", part of the
Sci-fi
collection by Art & Hue.
Based on the novel by British science-fiction writer Michael Moorcock, "The Final Programme" introduces the character Jerry Cornelius, played by Jon Finch in the film, the first in a series of "The Cornelius Quartet", four books featuring the character.
Impactful visuals, tension-building scenes, a dangerous computerised building, glamourous set-pieces, the ambitious film sees Jerry Cornelius embroiled in the hunt for his father's mysterious "Final Programme" microfilm.
The film's writer, designer, and director Robert Fuest also directed "The Abominable Dr. Phibes" with Terry-Thomas and Caroline Munro, and some Tara King episodes of "The Avengers". He also designed many earlier episodes of "The Avengers", & "Taxi!" with Sid James.
The star Jon Finch also appeared in the Hammer film "The Horror of Frankenstein" with David Prowse & Kate O'Mara, "Death on the Nile" with Bette Davis, Maggie Smith, David Niven, and Celia Imrie, Hitchcock's "Frenzy" with Bernard Cribbins & Jean Marsh. He starred in "The Vampire Lovers" with Madeline Smith, and as Macbeth in the 1971 production with Martin Shaw.
Jenny Runacre also stars in the film along with the prolific Welsh actor Hugh Griffith, Harry Andrews, Patrick Magee, Sterling Hayden, Graham Crowden, and Julie Ege, as well as early film appearances of Sarah Douglas, Sandy Ratcliff, & Sandra Dickinson.
"The Final Programme" opened at the ABC Edgeware cinema in London on the 7th of October 1973.
Art & Hue has reimagined the film posters of British vintage films to create the new Sci-fi collection of science-fiction pop art prints.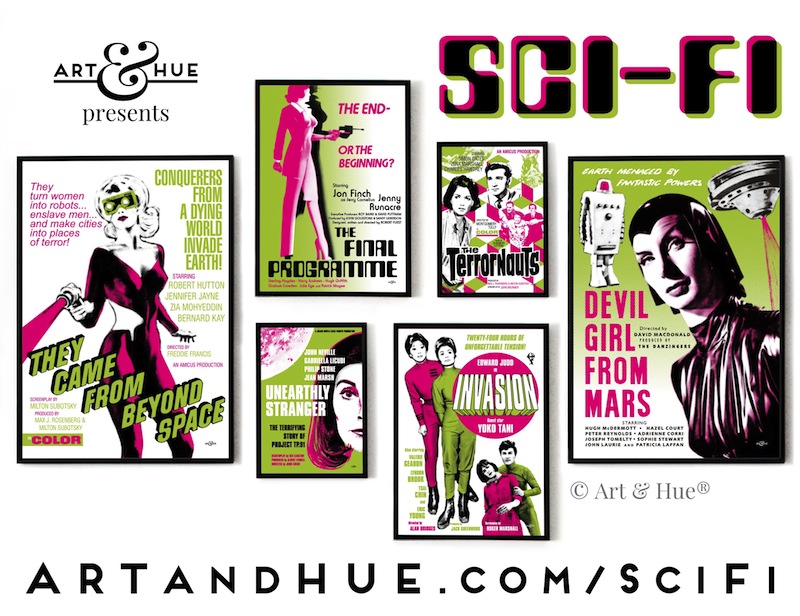 An official collaboration with Studiocanal, the Sci-fi pop art collection is available in 3 sizes & 15 colours, printed on museum-quality archival card of 310gsm, made from 100% cotton, with fine-art pigment inks for longevity, exclusively by Art & Hue.
Available in A4, A3, and A2 sizes to fit standard-size picture frames. Please note that black frame is not included – for a guide on choosing a frame size, visit here.
Rewatch, or discover anew, the film on DVD & Bluray from Amazon:
"The Final Programme" Copyright © STUDIOCANAL Films Ltd. (1973). All rights reserved.
Copyright © Art & Hue® 2020. All rights reserved.