Tony Hancock stylish pop art print.
From 1954 to 1967, Tony Hancock was one of Britain's top comedy stars, with radio and television shows bringing his unique humour into people's living rooms, as well as cinematic outings in four films, one of which was "The Punch & Judy Man".
The BBC radio show "Hancock's Half Hour" produced over 100 episodes over a seven year period and, from 1956, the radio show was joined by a television show of the same name which ran for four years.
Following "Hancock's Half Hour", there were further series with Tony as the star, including "Hancock", cherished by many for episodes including "The Blood Donor".
His unique take on the world around him, and his sometimes dour response to it, created many memorable scenes in his shows, which featured Sid James, Liz Fraser, Hattie Jacques, Kenneth Williams, Irene Handl, and June Whitfield over the years.
Hancock's debut film appearance was in 1954's "Orders Are Orders" with Peter Sellers and Sid James, and would later appear in "Those Magnificent Men in Their Flying Machines" in 1965 with Terry-Thomas, Benny Hill, and Gordon Jackson, and "The Wrong Box" with Michael Caine, Peter Sellers, Leonard Rossiter, and Irene Handl.
Tony Hancock's first film as the leading man was "The Rebel" in 1961, which was released as "Call Me Genius" in American cinemas. Alongside Tony as the tortured artist, the cast included Liz Fraser, Irene Handl, and Dennis Price.
The following year, Hancock filmed the dark comedy "The Punch & Judy Man" based on his childhood recollections of being at the seaside, as well as his marriage. With a brief cameo from
Hattie Jacques
, the film was shot on location at Bognor Regis in West Sussex.
"The Punch & Judy Man" opened at the Manchester Theatre Royal Cinema on the 31st of March 1963 before going on general cinema release on the 8th of April 1963.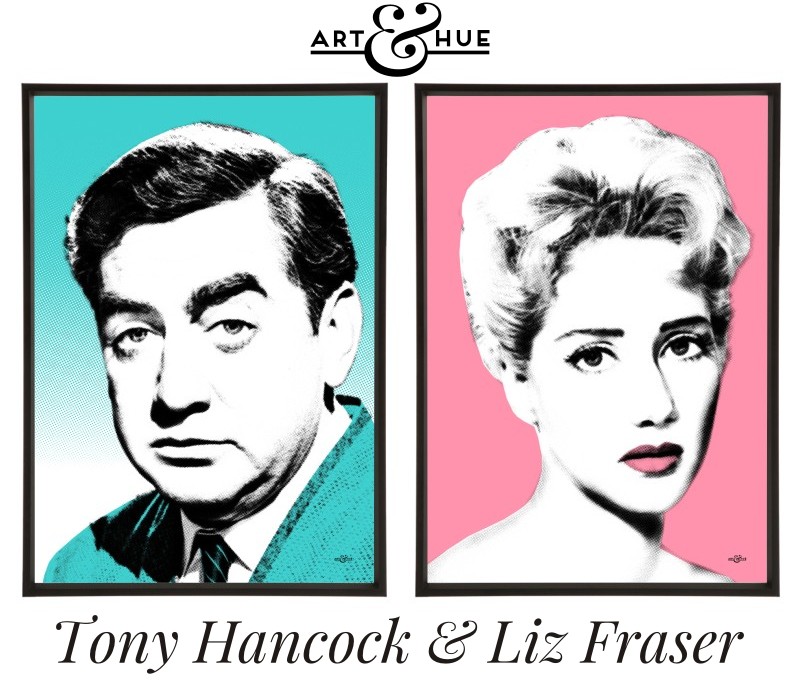 Art & Hue had the pleasure to delve into the archives for the film "The Punch & Judy Man" to create this stylish pop art print of Tony Hancock, available in three sizes and 20 colours.
Tony Hancock Pop Art
Available in A4, A3, and A2 sizes to fit standard-size picture frames. Please note that black frame is not included – for a guide on choosing a frame size take a look here.
An official collaboration with Studiocanal, this print is part of the Funny Men collection of stylish pop art prints inspired by classic British comedians and comic actors, featuring Art & Hue's signature halftone style (halftone is an age-old technique that uses dots to make up the printed image, similar to newspapers or comic books).
"The Punch and Judy Man" Copyright © STUDIOCANAL Films Ltd. (1962). All rights reserved.
Copyright © Art & Hue® 2019. All rights reserved.