Valley of Song pop art print
Stylish pop art of "Valley of Song", part of the
Welsh Ffilm
collection by Art & Hue.
Based on Cliff Gordon's radio play "Choir Practice", first broadcast on the Home Service on the 7th of March 1946 with a cast including Glynis Johns, Rachel Thomas, and Ivor Novello, "Valley of Song" is a simply charming story of star-crossed lovers and family rivalries in a community choir.
Before the story made it to film, a television adaptation was broadcast on the 30th of July 1949 with Stanley Baker, Donald Houston, and Rachel Thomas.
Filmed on location in Carmarthenshire in 1952, as well as at Elstree Studios, "Valley of Song" marks the first film appearance of Rachel Roberts and the first film credit of Kenneth Williams, both of whom worked together in Swansea repertory theatre in 1950 under the directorship of Clifford Evans, who also stars in the film along with Glynis Johns' father Mervyn.
The archetypal Welsh Mam Rachel Thomas, whose first film was "The Proud Valley" with Paul Robeson, also stars alongside John Fraser and Maureen Swanson at the start of their careers. There are also early film appearances by Ronald Lewis and Desmond Llewelyn (who would go on to play Q in the James Bond franchise).
After the initial trade screening to cinema bookers on the 26th of February 1953, "Valley of Song" had four simultaneous World premieres in Wales, opening at cinemas in Cardiff, Newport, Merthyr Tydfil, and Swansea, all on the 13th of April 1953.
Art & Hue presents Welsh Ffilm, stylish pop art inspired by classic Welsh films & actors from Mid-century cinema.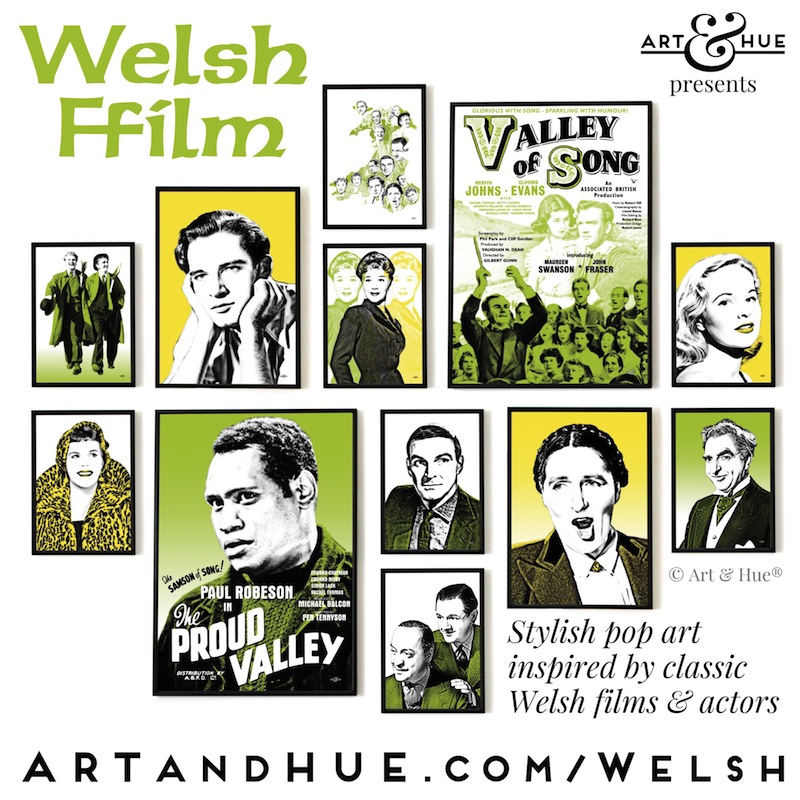 An official collaboration with Studiocanal, the Welsh Ffilm pop art collection is available in 3 sizes & 20 colours, printed on museum-quality archival card of 310gsm, made from 100% cotton, with fine-art pigment inks for longevity, exclusively by Art & Hue.
Available in A4, A3, and A2 sizes to fit standard-size picture frames. Please note that black frame is not included – for a guide on choosing a frame size, visit here.
Rewatch, or discover anew, the film on DVD & Bluray from Amazon:
"Valley of Song" Copyright © STUDIOCANAL Films Ltd. (1953). All rights reserved.
Copyright © Art & Hue® 2021. All rights reserved.