John Thaw stylish pop art graphic illustration, available in 3 sizes and 26 colour options.
John Thaw's acting career has been defined by detectives with a police thread running throughout his work.
From Detective Constable Elliot in "Z Cars" and military police investigator in "Redcap" to "Inspector Morse", it was Thaw's portrayal of Detective Inspector Jack Regan in "The Sweeney" that catapulted the actor, and his co-star Dennis Waterman, into another level of renown with British audiences.
Like Martin Shaw's career trajectory of policeman in "The Professionals" to judge in "Judge John Deed", Thaw made the progression from the station to the courtroom in "Kavanagh Q.C.".
Thaw's long list of credits include The Avengers episode "Esprit De Corps" with Honor Blackman, and "The Protectors" with Robert Vaughn.
Thaw was married to Sheila Hancock until he passed away in 2002, herself no stranger to cult projects having appeared in the classic British comedy "Carry On Cleo", and alongside Hollywood doyenne Bette Davis in "The Anniversary".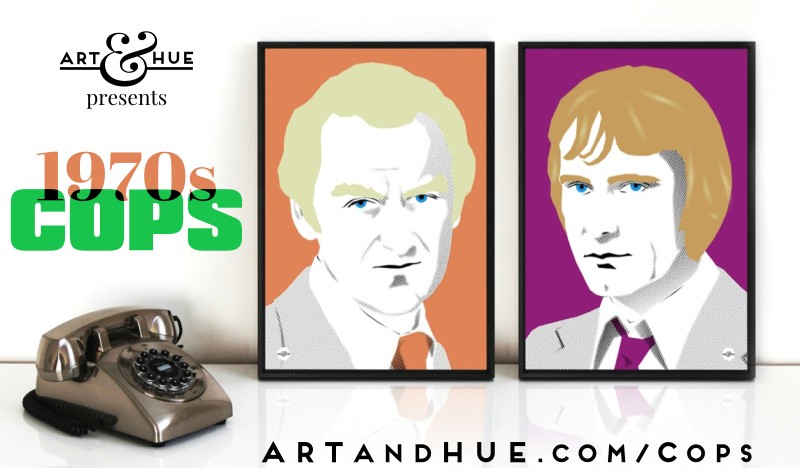 The Sweeney
"Get your trousers on, you're nicked" became a famous phrase when Detective Inspector Regan surprised a villain in the 1974 "Armchair Cinema" episode "Regan", the pilot and precursor of "The Sweeney" series which ran from 1975 to 1978.
"The Sweeney", so called because of cockney rhyming slang (Sweeney Todd, Flying Squad), initially shocked some viewers with stronger language and violence that was on TV at the time, but presented a grittier view of policing on city streets.
In contrast to the cosier representation of amiable bobbies in 1950s and 60s serials, and a world away from the cutbacks and bureaucracy of today, the 1970s saw the rough & tumble of dealing with criminality which required proactive renegades who would sometimes cross the line to get the job done.
Criticised for a vigilantism that was deemed unrepresentative of the British force, viewers responded positively to skidding cars, free-flying punches, and cocky put-downs.
Art Prints
Please note the orange in the Purple & Orange option is a brighter, almost neon, shade than the softer orange of the Copper colour option.
Available in A4, A3, and A2 sizes to fit standard-size picture frames. Please note that black frame is not included – for a guide on choosing a frame size take a look here.
This illustrated print is part of the 1970s Cops collection of stylish pop art prints, exclusively by Art & Hue, inspired by 1970s police detectives and features Art & Hue's signature halftone style (halftone is an age-old technique that uses dots to make up the printed image, similar to newspapers or comic books) along with graphic blocks of colour.
Copyright © Art & Hue ® 2018-2020. All rights reserved.