6-5 Special stylish pop art print.
Six-five Special
A spin-off film from the successful music TV show, where rock, pop, & "skiffle" acts performed their latest hits weekly, "6-5 Special" was scripted by Carry On's Norman Hudis and directed by Alfred Shaughnessy (who also directed "Suspended Alibi" with Honor Blackman & Andrew Keir).
"6-5 Special" sees a young singer, played by Diane Todd, surrounded by famous acts on a London-bound train.
With the TV show's presenters Pete Murray, Jo Douglas, & Freddie Mills, the film includes performances from Lonnie Donegan, Jim Dale, Dickie Valentine, the John Barry Seven (John Barry went on to become the composer of many Bond films), Petula Clark, Johnny Dankworth (who composed the theme for the earlier episodes of "The Avengers"), Cleo Laine, and Don Lang & his Frantic Five.
Art & Hue had the pleasure to delve into the archives for the film "6-5 Special" to create this stylish pop art print re-imagining the film poster, available in three sizes and 20 colours.
Part of the Trains pop art collection by Art & Hue.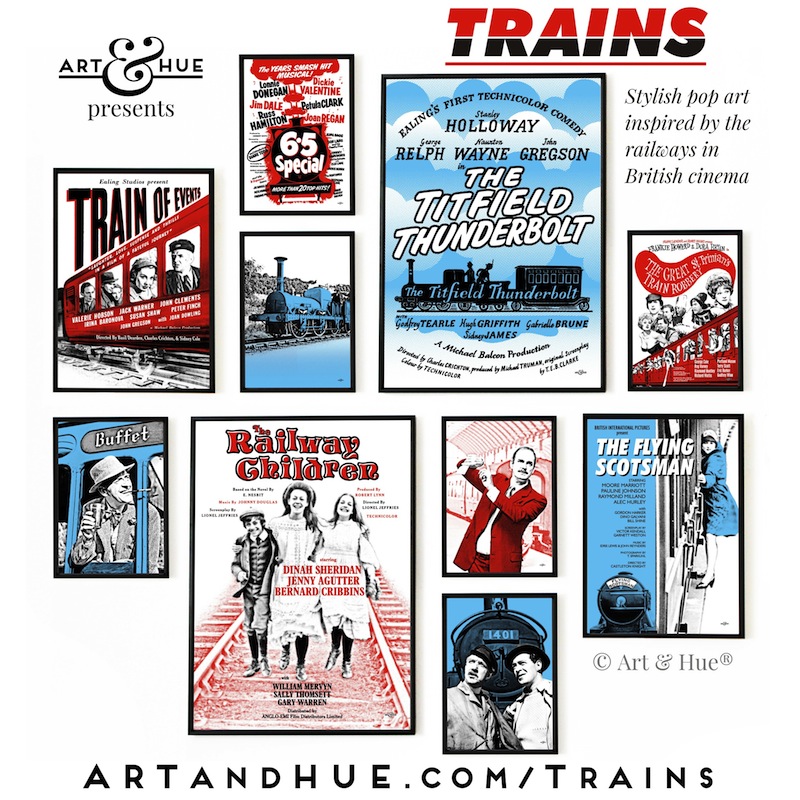 Six Five Special Pop Art
Available in A4, A3, and A2 sizes to fit standard-size picture frames. Please note that black frame is not included – for a guide on choosing a frame size take a look here.
An official collaboration with Studiocanal, this print is part of the Trains collection of stylish pop art inspired by the railways in British cinema, featuring Art & Hue's signature halftone style (halftone is an age-old technique that uses dots to make up the printed image, similar to newspapers or comic books).
"6-5 Special" Copyright © STUDIOCANAL Films Ltd. (1957). All rights reserved.
Copyright © Art & Hue® 2023. All rights reserved.