Saucy Wallpaper
Whilst there's less nudity in the saucy comedy films of the 70s than in contemporary TV shows, they must have seemed pretty racy at the time. Rated "x"-certificate at the time of release, the saucy comedies now hold a "15" classification which demonstrates how times have changed.
With a new sensual colour combination of juicy Red & Lilac, evocative of vintage lipsticks, powder puffs, and heady floral perfumes, the Saucy Wallpaper pop art print comes in three sizes & 16 colour options.

Saucy Wallpaper Pop Art
Exclusively by Art & Hue, the
Saucy Seventies
collection is available in three sizes and many colour options, all printed on museum-quality archival card of 310gsm, made from 100% cotton, with fine-art pigment inks for longevity.
Available in A4, A3, and A2 sizes to fit standard-size picture frames. Please note that black frame is not included – for a guide on choosing a frame size take a look here.
An official collaboration with Studiocanal, this print is part of the Saucy Seventies collection of stylish pop art prints inspired by Seventies glamour, featuring Art & Hue's signature halftone style (halftone is an age-old technique that uses dots to make up the printed image, similar to newspapers or comic books).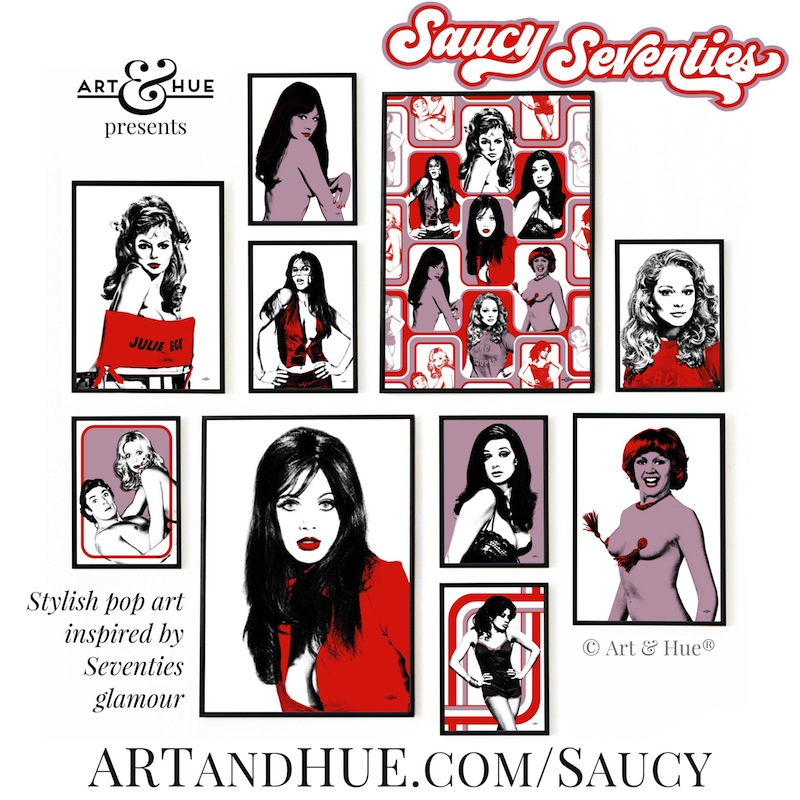 "At the Earth's Core" (1976), "Blood from the Mummy's Tomb" (1971), "Not Now, Comrade" (1976), "Percy" (1970), "Percy's Progress" (1974), "Up Pompeii" (1971), "Up The Front" (1972), Copyright © STUDIOCANAL Films Ltd, All rights reserved.
Copyright © Art & Hue ® 2019. All rights reserved.