The Titfield Thunderbolt Train stylish pop art print.
The Titfield Thunderbolt Train
A classic Ealing comedy, much-loved by film fans and train enthusiasts alike, "The Titfield Thunderbolt" was the first Ealing Comedy to be made in colour, Technicolor in fact, and the fourth to be directed by Charles Crichton.
Pre-empting the savage cuts to the railways made by Beeching's axe in the 1960s, "The Titfield Thunderbolt" sees a group of villagers attempting to keep their branch line running after it's earmarked for closure.
Inspired by the Talyllyn Railway, which was restored and preserved as a heritage railway, the charming film features a regular Ealing trope of the underdog, in this case the villagers, battling a larger bureaucratic enemy, represented by the freshly-nationalised British Railways.
A picturesque snapshot of rural England in the 1950s, the film stars Stanley Holloway, John Gregson, George Relph, Naunton Wayne, Hugh Griffith, Sam Kydd, & Sid James.
"The Titfield Thunderbolt" had its Gala Premiere at London's Leicester Square Theatre on the 5th of March 1953, as part of the British Film Academy's award ceremony, before going on general release from the 6th.
Also available as part of a
group of four
prints: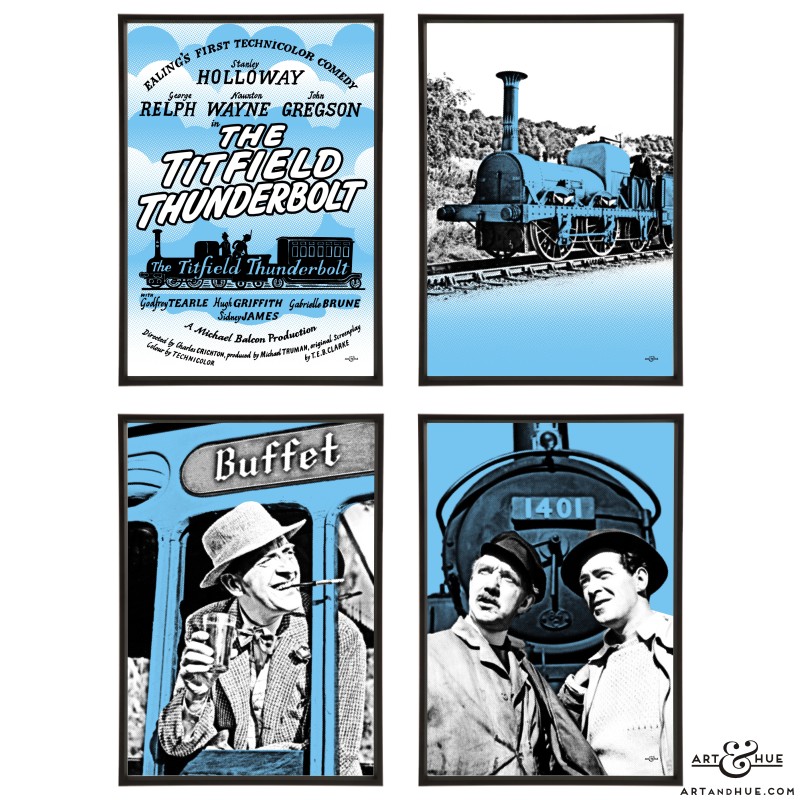 Art & Hue had the pleasure to delve into the archives for the Ealing Comedy "The Titfield Thunderbolt" to create this stylish pop art print of the train, available in three sizes and 21 colour options.
Order "The Titfield Thunderbolt" from Amazon on DVD or Bluray or watch on iTunes now.

The Titfield Thunderbolt Pop Art
Available in A4, A3, and A2 sizes to fit standard-size picture frames. Please note that black frame is not included – for a guide on choosing a frame size take a look here.
An official collaboration with Studiocanal, this print is part of the Trains & the Ealing Comedies collections of stylish pop art prints inspired by the classic British comedy films made at Ealing Studios, featuring Art & Hue's signature halftone style (halftone is an age-old technique that uses dots to make up the printed image, similar to newspapers or comic books).
"The Titfield Thunderbolt" Copyright © STUDIOCANAL Films Ltd. (1953). All rights reserved.
Copyright © Art & Hue® 2019-2023. All rights reserved.