Train of Events stylish pop art print.
Train of Events
The portmanteau film "Train of Events" brings together the many talents of Ealing Studios to present four stories linked by a train bound for Liverpool.
This Ealing anthology weaves drama and comedy amongst the stories documenting various train passengers, all leading up to an incident to change their lives.
Starring Jack Hawkins, Gladys Henson, Leslie Phillips, Joan Dowling, Valerie Hobson, Laurence Payne, John Gregson, and introducing Peter Finch in his first British film (having emigrated from Australia). the film's segments were directed by Ealing luminaries Charles Crichton, Basil Dearden, & Sidney Cole.
"Train of Events" opened at the Gaumont Haymarket cinema in Lonodn on the 18th of August 1949.
Art & Hue had the pleasure to delve into the archives for the Ealing film "Train of Events" to create this stylish pop art print re-imagining the film poster, available in three sizes and 20 colours.
Part of the Trains pop art collection by Art & Hue.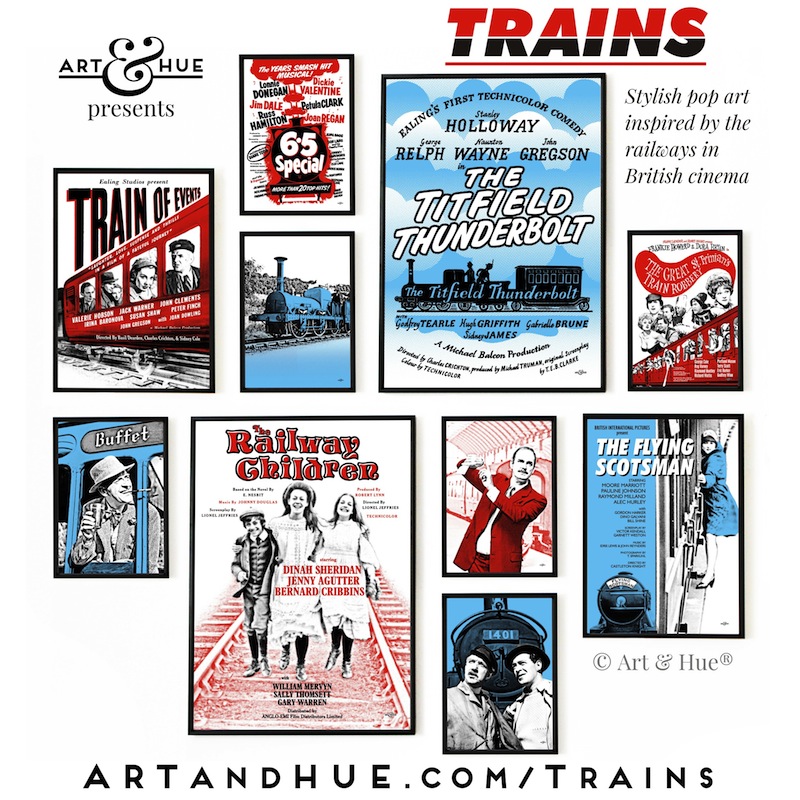 Train of Events Pop Art
Available in A4, A3, and A2 sizes to fit standard-size picture frames. Please note that black frame is not included – for a guide on choosing a frame size take a look here.
An official collaboration with Studiocanal, this print is part of the Trains collection of stylish pop art inspired by the railways in British cinema, featuring Art & Hue's signature halftone style (halftone is an age-old technique that uses dots to make up the printed image, similar to newspapers or comic books).
"Train of Events" Copyright © STUDIOCANAL Films Ltd. (1949). All rights reserved.
Copyright © Art & Hue® 2023. All rights reserved.