Jean Simmons Pop Art
Stylish pop art print of Jean Simmons.
One of British films most famous exports, Jean Simmons had such a successful career in Hollywood movies that you'd be forgiven for thinking she was American if you were only familiar with her later work.
Born in London, Jean became a student at Rank's Company of Youth (nicknamed the Rank Charm School) which produced many notable alumni including Diana Dors, Patricia Dainton, Anthony Steel, Christopher Lee, and Barbara Murray, to name a few.
In 1950, Jean starred in British drama "Cage of Gold" with Herbert Lom & Sam Kydd. Made by Ealing Studios, and directed by Ealing stalwart Basil Dearden, "Cage of Gold" premiered at the Odeon Marble Arch in London on the 21st of September 1950.
Other film credits include "Give Us The Moon" with Margaret Lockwood & Irene Handl; "The Way to the Stars" with Michael Redgrave, Stanley Holloway, & Basil Radford; "Caesar & Cleopatra" with Vivien Leigh, Cecil Parker, & John Laurie; "Great Expectations" with Valerie Hobson & Alec Guinness;"Hungry Hill" with Margaret Lockwood, Dennis Price, & Eddie Byrne; "Black Narcissus"; "Uncle Silas" in which Jean received top billing for the first time in 1947; an Oscar-nominated performance in "Hamlet" with Laurence Olivier & Christopher Lee; "The Blue Lagoon" with Donald Houston & Noel Purcell; "So Long at the Fair" with Dirk Bogarde, Honor Blackman, & Zena Marshall; "Trio" with Bill Travers; "The Robe" with Richard Burton; "Désirée" with Elizabeth Sellars; "Footsteps in the Fog" with William Hartnell; a Golden Globe-winning performance in "Guys & Dolls" with Marlon Brando; "Spartacus" with Tony Curtis; "Life at the Top" with Laurence Harvey; "Rough Night in Jericho" with Dean Martin; "Dominique" with Cliff Robertson; and her final film "Shadows in the Sun" with Jamie Dornan.
TV credits include "Heidi" with
Michael Redgrave
; "Jacqueline Susann's Valley of the Dolls" with
Britt Ekland
; "All for Love" with
Ian Carmichael
; "Hotel" with
Patrick Macnee
; and "Winter Solstice" with
Sinead Cusack
& Brian Blessed.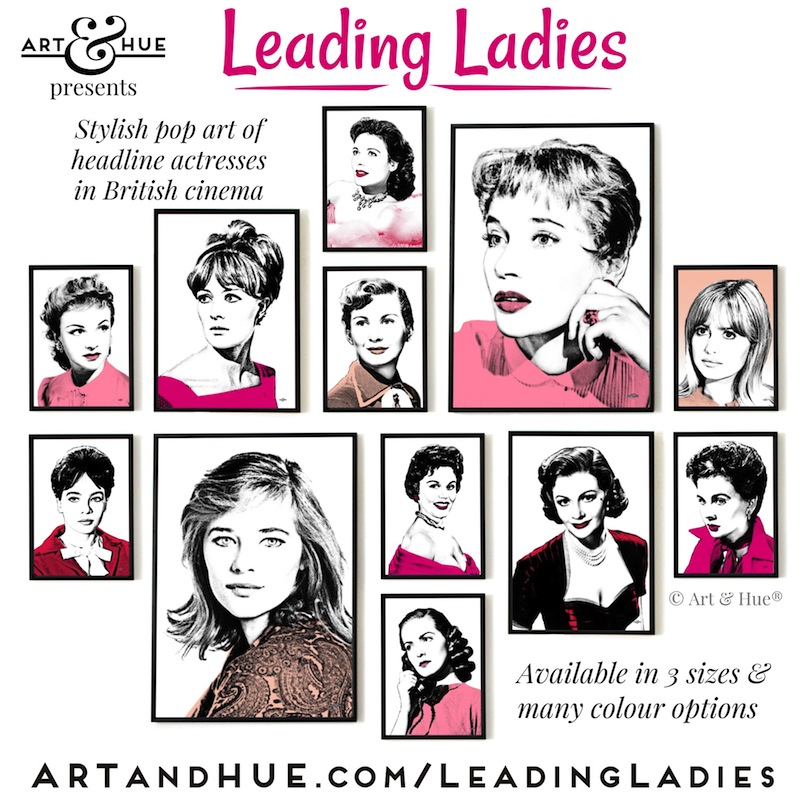 An official collaboration with Studiocanal, this print is part of the Leading Ladies pop art collection, featuring Art & Hue's signature halftone style (halftone is an age-old technique that uses dots to make up the printed image, similar to newspapers or comic books).
Exclusively by Art & Hue, the Leading Ladies pop art collection is available in three sizes and many colours, all printed on museum-quality archival matte card of 310gsm, made from 100% cotton, with fine-art pigment inks for longevity.
Available in A4, A3, and A2 sizes to fit standard-size picture frames. Please note that black frame is not included – for a guide on choosing a frame size take a look here.
Rewatch, or discover anew, the film on DVD from Amazon.
"Cage of Gold" Copyright © STUDIOCANAL Films Ltd, (1950). All rights reserved.
Copyright © Art & Hue® 2022. All rights reserved.