British Blonde Bombshells Group of 12 prints
All 12 prints from the British Blonde Bombshells collection by Art & Hue, also available
individually
.
Art & Hue presents British Blonde Bombshells, stylish pop art featuring iconic women of Mid-century British cinema.
Joining Margaret Nolan in the British Blonde Bombshells collection are Diana Dors, famous for the Carry Ons and Bond, Carole Lesley, Liz Fraser, Barbara Windsor, and glamour model Sabrina.
An official collaboration with Studiocanal, this print is part of the British Blonde Bombshells pop art collection, featuring Art & Hue's signature halftone style (halftone is an age-old technique that uses dots to make up the printed image, similar to newspapers or comic books).
Exclusively by Art & Hue, the British Blonde Bombshells pop art collection is available in three sizes and many colours, all printed on museum-quality archival matte card of 310gsm, made from 100% cotton, with fine-art pigment inks for longevity.
Available in A4, A3, and A2 sizes to fit standard-size picture frames.
Please note that black frames are not included – for a guide on choosing a frame size take a look here.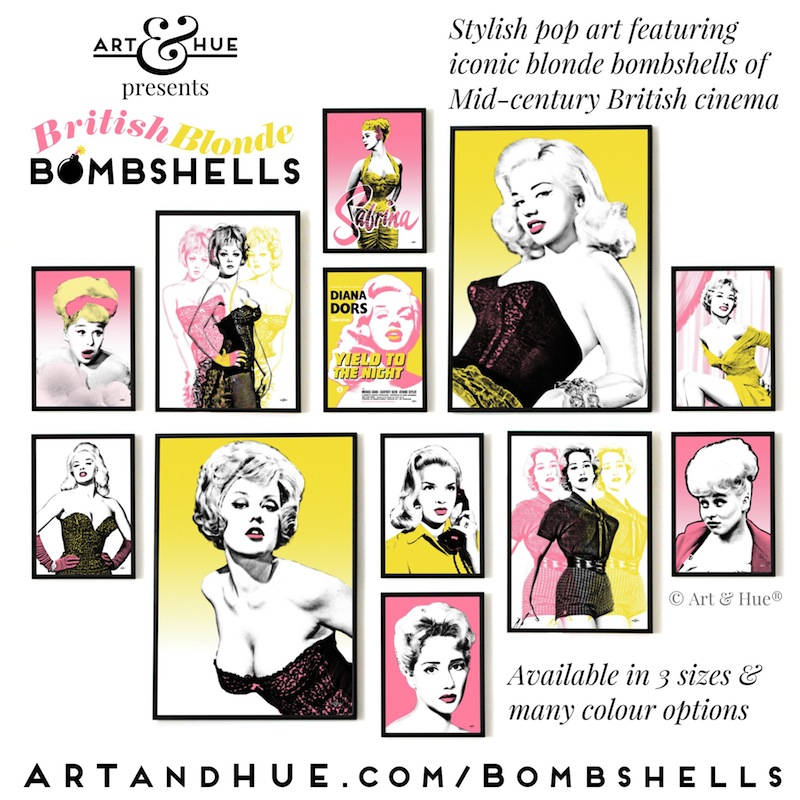 Rewatch, or discover anew, the films starring British Blonde Bombshells on DVD & Bluray from Amazon: "The Weak & the Wicked" (1954), "Yield to the Night" (1956), "These Dangerous Years" (1957), "Make Mine a Million" (1959), "Two-Way Stretch" (1960), "Sparrows Can't Sing"(1963), "Crooks in Cloisters" (1964), "The Great St. Trinian's Train Robbery" (1966), Copyright © STUDIOCANAL Films Ltd. All rights reserved.
Copyright © Art & Hue® 2021. All rights reserved.