Scooter Susan Hampshire
There's no more charming a sight than Susan Hampshire waving from her scooter moped from the film "Wonderful Life".
The film reunited Susan with Cliff Richard as they both appeared in Cliff's first film "Expresso Bongo" with Laurence Harvey.
To many TV viewers, she's known for "Monarch of the Glen" but before the popular drama serial, Susan had a wide and varied career, appearing in "The Three Lives of Thomasina" with Patrick McGoohan, "The Fighting Prince of Donegal" with Peter McEnery and Gordon Jackson, "David Copperfield" with Richard Attenborough, "Malpertuis" with Orson Welles, and "A Time for Loving" with Britt Ekland.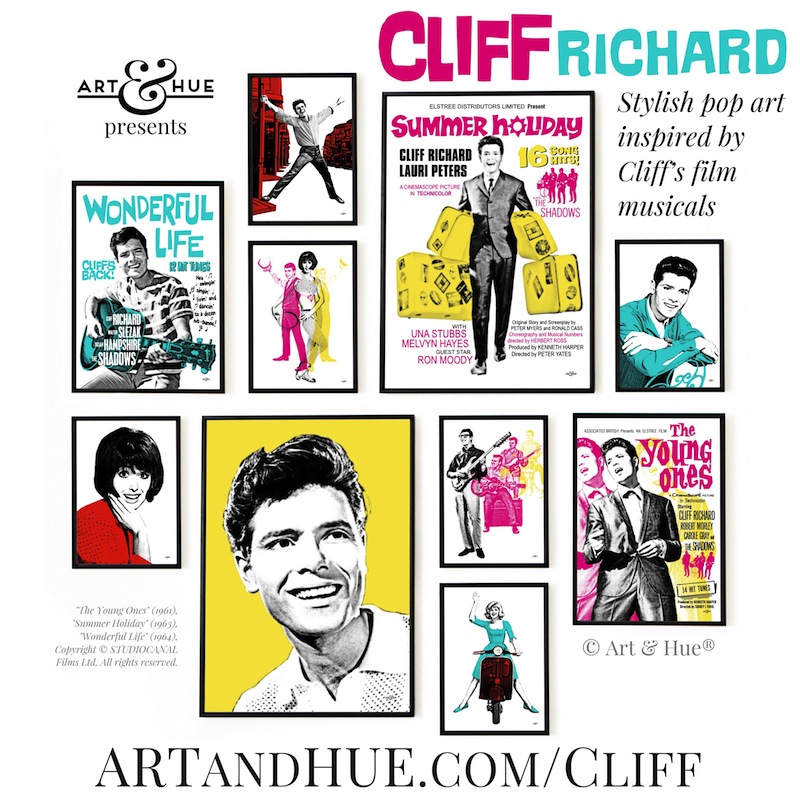 Scooter Susan Pop Art
An official collaboration with Studiocanal, Art & Hue has delved into the archives to uncover images from Sir Cliff's beloved film musicals, which have been transformed into stylish pop art prints.
Exclusively by Art & Hue, the collection is available in three sizes and many colour options, all printed on museum-quality archival card of 310gsm, made from 100% cotton, with fine-art pigment inks for longevity.
Available in A4, A3, and A2 sizes to fit standard-size picture frames. Please note that black frame is not included – for a guide on choosing a frame size take a look here.
Part of the Cliff Richard collection of stylish pop art prints inspired by Sir Cliff's film musicals, featuring Art & Hue's signature halftone style (halftone is an age-old technique that uses dots to make up the printed image, similar to newspapers or comic books).
"The Young Ones" (1961), "Summer Holiday" (1963), "Wonderful Life" (1964), Copyright © STUDIOCANAL Films Ltd, All rights reserved.
Copyright © Art & Hue ® 2019. All rights reserved.