The Shadows
A standalone group in their own right, The Shadows have always been closely associated with Cliff Richard from the early days when they were called The Drifters.
In this pop art print inspired by the film musical "Wonderful Life", The Shadows line-up features the core members Hank Marvin and Bruce Welch along with Brian Bennett and John Rostill.
The Shadows appeared with Cliff in "The Young Ones", "Summer Holiday", and "Wonderful Life", as well as the earlier film "Expresso Bongo".
The Shadows performed Norrie Paramor's iconic theme music for the British film noir "The Frightened City" starring Herbert Lom, John Gregson, and Sean Connery the year before his first appearance as Bond. The main theme from the Brit Noir film was a chart hit for The Shadows.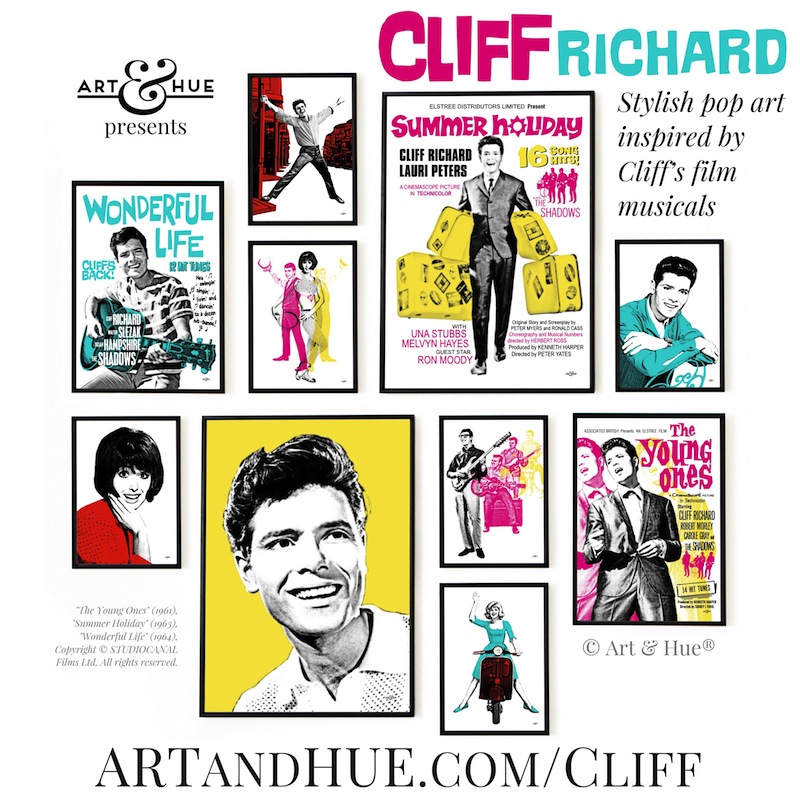 The Shadows represented the United Kingdom in the 1975 song contest with the song "Let Me Be the One". It finished in second place, pipped to the post by the Netherlands' entry Teach-In with "Ding-a-Dong".
The Shadows Pop Art
An official collaboration with Studiocanal, Art & Hue has delved into the archives to uncover images from Sir Cliff's beloved film musicals, which have been transformed into stylish pop art prints.
Exclusively by Art & Hue, the collection is available in three sizes and many colour options, all printed on museum-quality archival card of 310gsm, made from 100% cotton, with fine-art pigment inks for longevity.
Available in A4, A3, and A2 sizes to fit standard-size picture frames. Please note that black frame is not included – for a guide on choosing a frame size take a look here.
Part of the Cliff Richard collection of stylish pop art prints inspired by Sir Cliff's film musicals, featuring Art & Hue's signature halftone style (halftone is an age-old technique that uses dots to make up the printed image, similar to newspapers or comic books).
"The Young Ones" (1961), "Summer Holiday" (1963), "Wonderful Life" (1964), Copyright © STUDIOCANAL Films Ltd, All rights reserved.
Copyright © Art & Hue ® 2019. All rights reserved.