Wonderful Life
After the success of "Summer Holiday", both the film, second only to Bond's "From Russia With Love" at the box office, and the soundtrack album which spent 14 weeks at number one, 1964 saw Cliff starring in a third, and final, film musical with The Shadows.
"Wonderful Life" co-starred Susan Hampshire, Una Stubbs, Richard O'Sullivan, and Melvyn Hayes, and was filmed at Elstree and on location in Gran Canaria. Released as "Swingers' Paradise" in America, the film paid tribute to the history of cinema, from Chaplin to Bond.
Following "Wonderful Life", Cliff and The Shadows were reunited on film, after a fashion, when they appeared as puppets in the 1966 film "Thunderbirds Are Go".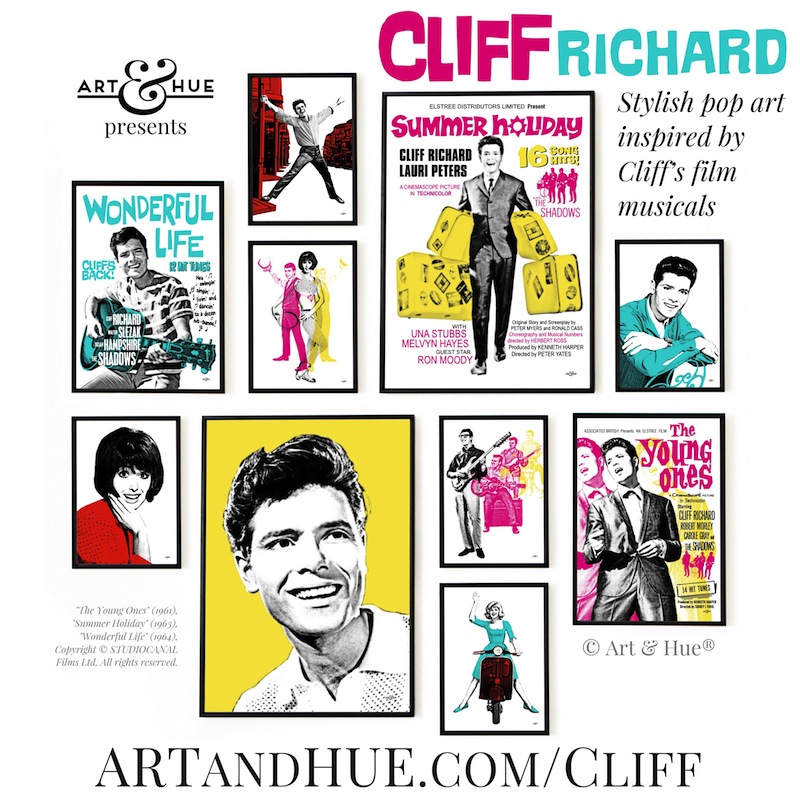 Wonderful Life Pop Art
An official collaboration with Studiocanal, Art & Hue has delved into the archives to uncover images from Sir Cliff's beloved film musicals, which have been transformed into stylish pop art prints.
Exclusively by Art & Hue, the collection is available in three sizes and many colour options, all printed on museum-quality archival card of 310gsm, made from 100% cotton, with fine-art pigment inks for longevity.
Available in A4, A3, and A2 sizes to fit standard-size picture frames. Please note that black frame is not included – for a guide on choosing a frame size take a look here.
Part of the Cliff Richard collection of stylish pop art prints inspired by Sir Cliff's film musicals, featuring Art & Hue's signature halftone style (halftone is an age-old technique that uses dots to make up the printed image, similar to newspapers or comic books).
"The Young Ones" (1961), "Summer Holiday" (1963), "Wonderful Life" (1964), Copyright © STUDIOCANAL Films Ltd, All rights reserved.
Copyright © Art & Hue ® 2019. All rights reserved.