The Young Ones
1961 saw the release of the first of Cliff's classic film musicals, tailored specifically around him to showcase his music and talents.
"The Young Ones", which sees Cliff and his pals putting on a show to save their youth club, features The Shadows along with Richard O'Sullivan and Melvyn Hayes, both of whom would go on to appear in further films with Cliff.
The film inspired the title and theme music of the anarchic BBC sit-com of the same name, starring Rik Mayall, Adrian Edmondson, Nigel Planer, and Christopher Ryan, who would go on to appear with Cliff in a single and sketch in aid of Comic Relief.
"The Young Ones" was hugely successful in cinemas and the soundtrack album topped the charts in 1961.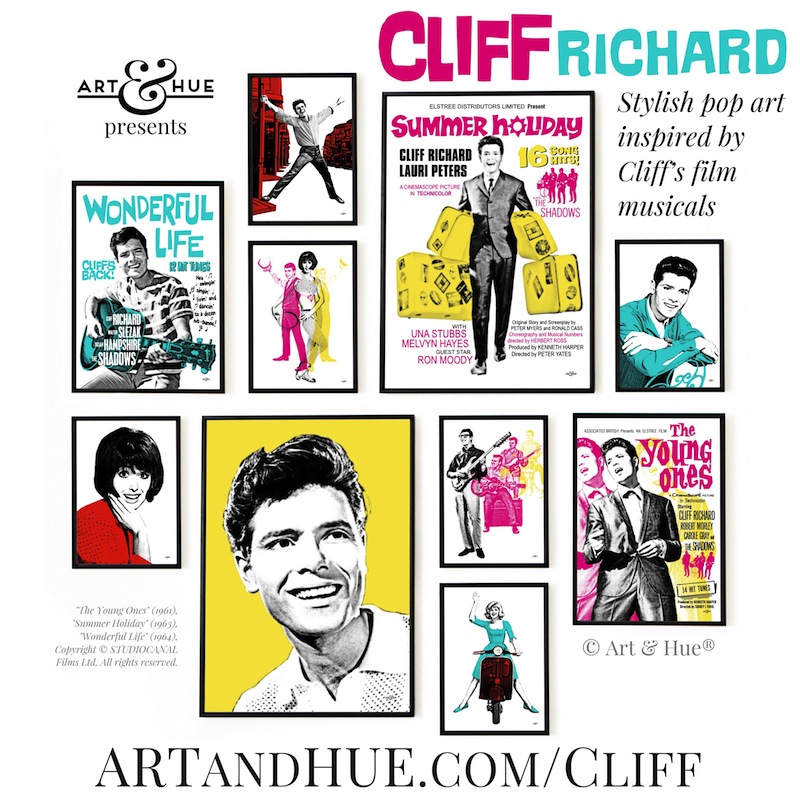 Song Contest
Taking place in London at the Royal Albert Hall following
Sandie Shaw
's win the previous year, 1968 saw the European Song Contest broadcast in colour for the first time.
Cliff Richard represented the United Kingdom for the first time and finished in second place with the enduring song "Congratulations".
The contest was won by Spain's entry Massiel with the catchy uplifting song "La, La, La".

Cliff would go on to take part in the 1973 contest with "Power to All Our Friends".
As well as performing twice at the song contest, Cliff's TV show helped select the United Kingdom's 1970 entry. Welsh singer Mary Hopkin's song was selected via "It's Cliff Richard!" where she performed six different numbers until the winning song, "Knock Knock, Who's There?", was voted for by the public via a postal vote.

The Young Ones Pop Art
An official collaboration with Studiocanal, Art & Hue has delved into the archives to uncover images from Sir Cliff's beloved film musicals, which have been transformed into stylish pop art prints.
Exclusively by Art & Hue, the collection is available in three sizes and many colour options, all printed on museum-quality archival card of 310gsm, made from 100% cotton, with fine-art pigment inks for longevity.
Available in A4, A3, and A2 sizes to fit standard-size picture frames. Please note that black frame is not included – for a guide on choosing a frame size take a look here.
Part of the Cliff Richard collection of stylish pop art prints inspired by Sir Cliff's film musicals, featuring Art & Hue's signature halftone style (halftone is an age-old technique that uses dots to make up the printed image, similar to newspapers or comic books).
"The Young Ones" (1961), "Summer Holiday" (1963), "Wonderful Life" (1964), Copyright © STUDIOCANAL Films Ltd, All rights reserved.
Copyright © Art & Hue ® 2019. All rights reserved.