Cliff Richard
might have first sung about his Living Doll in 1959 but it was the mid-60s that saw the fashion for doll-like features.
With models of the decade, such as Twiggy and Jean Shrimpton, exaggerating eyes to look like toy dolls, it seems only right that Sandie Shaw should win the 1967 Song Contest with her song" Puppet on a String".
From "Always Something There To Remind Me" to collaborating with The Smiths, Sandie Shaw has been a mainstay of the British music scene up until her decision to retire from the industry in 2013.
In 1967, the United Kingdom won the song contest for the first time when Sandie Shaw topped the scoreboard with "Puppet on a String". The song scored more than double the amount of points of the runner-up giving it one of the widest margins of victory ever seen in the contest.
Apparently persuaded to take part in the contest by Adam Faith, Sandie was already a popular singer across Europe having recorded many of her hit singles in French, German, Spanish & Italian.
Following Udo Jürgens' win for Austria in 1966, the 1967 contest took place in Vienna where Sandie triumphed with "Puppet on a String" which became an international hit selling millions of copies across the world.
One of the most successful British singers of the 60s, Sandie made history as the first female singer with three number one singles: "(There's) Always Something There to Remind Me", "Long Live Love" and "Puppet on a String".
In homage to Sandie Shaw scoring the first British win in 1967, Art & Hue has reimagined the British singer as a puppet herself, with a larger head and eyes similar to the marionette figures.
Also available as part of a UK Winners trio and a group of ten Songbirds prints.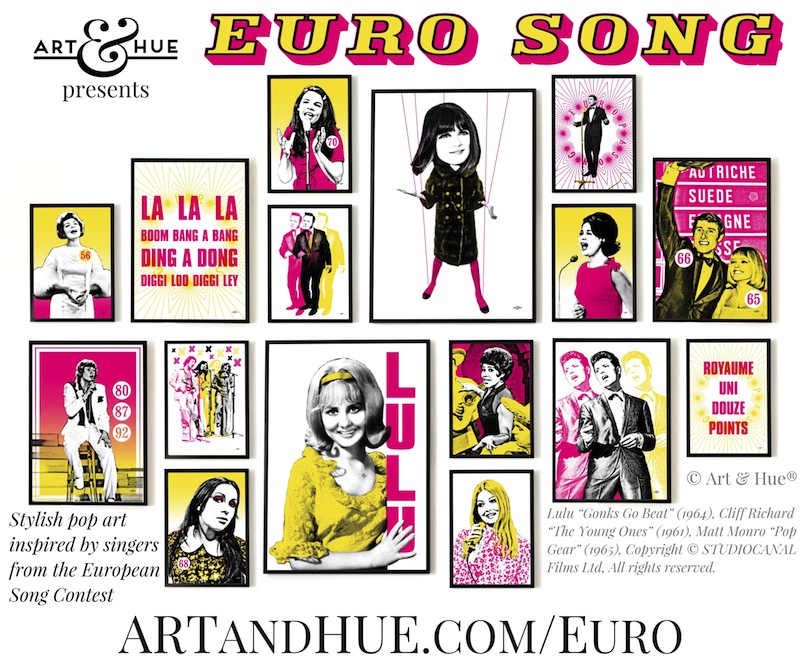 Euro Song
Originally created to bring the nations of Europe together after the Second World War, the contest has produced singers and groups who endure to this day, as well as creating its own brand of Euro-Speak song titles which transcend language barriers.
Exclusively by Art & Hue, the Euro Song collection is available in three sizes & many colour options, printed on museum-quality archival card of 310gsm, made from 100% cotton, with fine-art pigment inks for longevity. Also part of the 1960s Songbirds collection of stylish pop art prints inspired by female singers of the 1960s.
Available in A4, A3, and A2 sizes to fit standard-size picture frames. Please note that black frame is not included – for a guide on choosing a frame size take a look here.
Part of the Euro Song collection of stylish pop art prints inspired by singers from the European song contest, featuring Art & Hue's signature halftone style (halftone is an age-old technique that uses dots to make up the printed image, similar to newspapers or comic books).
Copyright © Art & Hue® 2018-2023. All rights reserved.