Black History Month
Black History Month
The 1st of October marks the start of Black History Month in Britain (in the USA it takes place in February).
Creating pop art inspired by the popular culture of previous decades highlights the historic lack of diversity but there were pioneering performers who combated bias, made their mark, and created history in the process. Here are some of the Black icons at Art & Hue from film, fashion, sport, history, & music:
Donyale Luna
Earl Cameron
Dame Shirl
Miss Ross & The Supremes
The Queen of Soul
Vikki Richards
Edson
Jazz Icons
Naomi Campbell
Paul Robeson
Lola Falana
The Ronettes
Cricketers
Baron Learie Constantine
George Headley
Old West Icons
Milly Scott
Joseph Bologne Chevalier de Saint-Georges
African American Actors & Actresses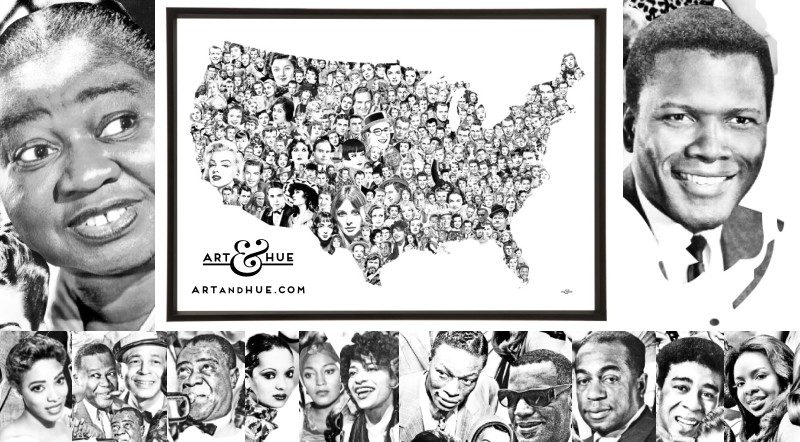 Black icons feature on the Movie Map of America, including the first African American to win an Oscar (Hattie McDaniel) and the first African American man to win the Best Actor Oscar (Sidney Poitier). They're joined by performers including the pioneering actor, producer & director Spencer Williams Jr., musicians and actors Satchmo, Nat King Cole, Ray Charles & Gladys Knight, and more… Movie Map of America
Design for Diversity
There are plans for new collections featuring Black icons so sign up to the mailing list to receive news when they're launched in the future.