Cowboy Couple Pop Art
Stylish pop art print of a cowboy couple, part of the
Gingham West
collection by Art & Hue.
It's now estimated that a quarter of cowboys in the Old West were African American, not they were represented fairly in Western films of the classic Hollywood era.
After the Civil War, a career as a cowboy was one of the few jobs open to African American men who, whilst they experienced widespread discrimination, found respect and equality within their crews.
Originally, the word "cowboy" was a pejorative term used by White cowhands for Black crew members but it's a testament to the impact made by African American ranch workers that the title of cowboy is the one that prevails.
The tales of famous Black cowboys (such as Nat Love, Jesse Stahl, Bose Ikard, George Fletcher, and Isom Dart) endure, but there are thousands of nameless African Americans, as well as Native Americans, Vaqueros, European and Chinese immigrants, who shaped the Old West.
Available in A4, A3, and A2 sizes to fit standard-size picture frames. Please note that black frame is not included – for a guide on choosing a frame size take a look here.
This print is part of the Gingham West pop art collection, featuring Art & Hue's signature halftone style (halftone is an age-old technique that uses dots to make up the printed image, similar to newspapers or comic books).

Also available as part of a
pair
, and a group of
10
.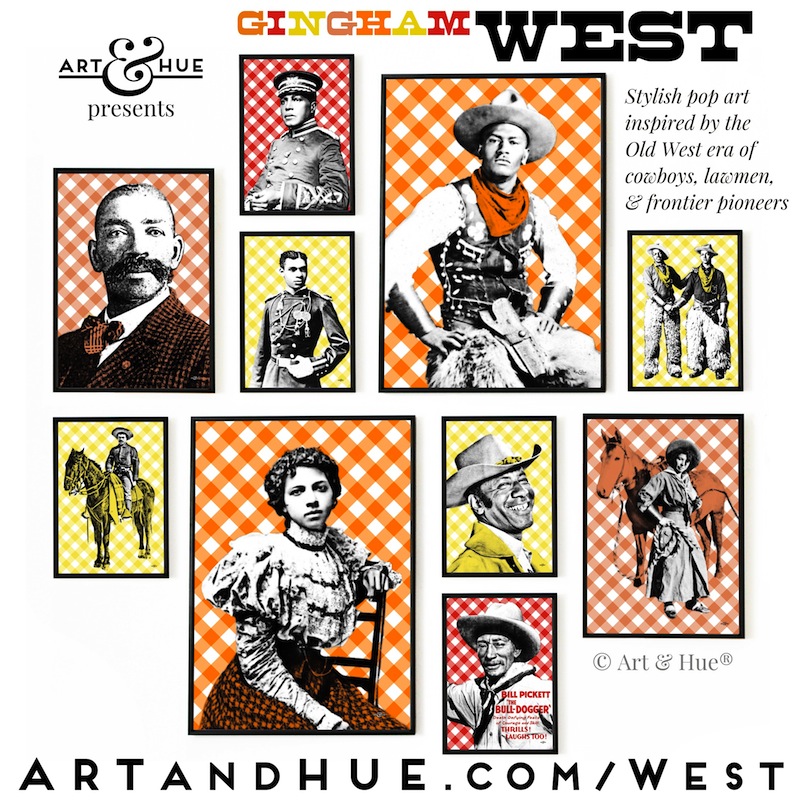 Exclusively by Art & Hue, the Gingham West pop art collection comes in 3 sizes & 20 colours, all printed on museum-quality archival card of 310gsm, made from 100% cotton, with fine-art pigment inks for longevity.
Copyright © Art & Hue® 2022. All rights reserved.