Patricia Roc Pop Art
Stylish pop art print of Patricia Roc.
One of the premier leading ladies of 1940s & 50s cinema, Patricia Roc starred in the crime drama "Suspected Person" with Clifford Evans, which opened at the Capitol Cinema in Aberdeen on the 27th of July 1942.
Other film credits include "The Divorce of Lady X" with Laurence Olivier and future Bond-film director Lewis Gilbert; "A Window in London with Michael Redgrave; "Dr. O'Dowd" with Peggy Cummins & Irene Handl; "The Farmer's Wife" with a piano-playing cameo by future director Gilbert Gunn; "My Wife's Family" with Joan Greenwood; "Let the People Sing" with Alastair Sim & Charles Hawtrey; "Millions Like Us" with Gordon Jackson, Basil Radford & Naunton Wayne; "Love Story" with Margaret Lockwood & Moira Lister; "Two Thousand Women" with Dulcie Gray; "Madonna of the Seven Moons" with Danny Green; "Canyon Passage" with Hoagy Carmichael; "The Brothers" with John Laurie, Duncan Macrae, & Morland Graham; "Jassy" with Dennis Price & Jean Cadell; "Holiday Camp" with an early film appearance of Diana Dors; "One Night with You" with Stanley Holloway & Christopher Lee; "Circle of Danger" with Ray Milland; and "Something Money Can't Buy" with Anthony Steel.
Withdrawing from the industry, Roc came out of retirement to appear in an episode of "Dixon of Dock Green" with Jack Warner & Doris Hare, and the first ever episode of "The Saint" with Roger Moore & Shirley Eaton.
An official collaboration with Studiocanal, this print is part of the Leading Ladies pop art collection, featuring Art & Hue's signature halftone style (halftone is an age-old technique that uses dots to make up the printed image, similar to newspapers or comic books).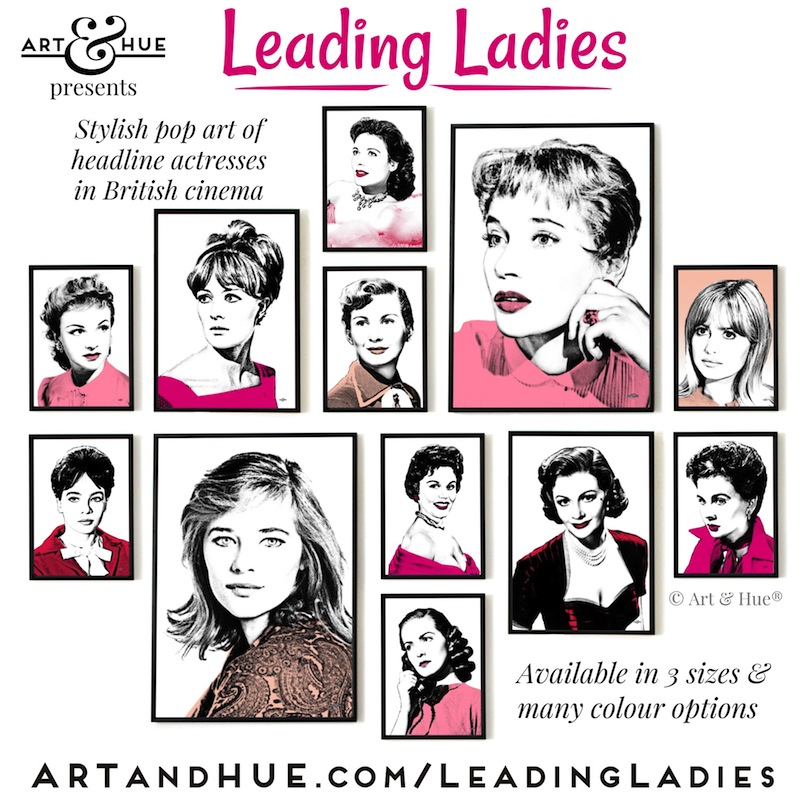 Exclusively by Art & Hue, the Leading Ladies pop art collection is available in three sizes and many colours, all printed on museum-quality archival matte card of 310gsm, made from 100% cotton, with fine-art pigment inks for longevity.
Available in A4, A3, and A2 sizes to fit standard-size picture frames. Please note that black frame is not included – for a guide on choosing a frame size take a look here.
Rewatch, or discover anew, the film on DVD from Amazon.
"Suspected Person" Copyright © STUDIOCANAL Films Ltd, (1942). All rights reserved.
Copyright © Art & Hue® 2022. All rights reserved.