Gilbert Gunn – Remembering the director on his birthday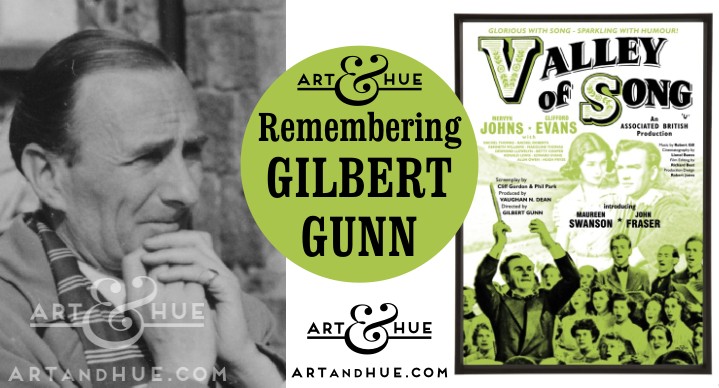 Remembering Gilbert Gunn, screenwriter & director, born on this day in 1905
Art & Hue is taking a moment to remember the screenwriter & director Gilbert Gunn on his birthday.
Born on the 24th of March 1905 in Scotland (Crossmyloof, Glasgow to be precise), it's of interest to note from Gunn's birth certificate that his father had the same name and was also a "writer" but in the old Scottish sense meaning a solicitor.

Not much is known about Gunn, despite him directing some very popular films which are still regularly shown on channels such as Talking Pictures. It could be said that Gunn helped launch many a career in film, from directing Rachel Roberts and Kenneth Williams in their first credited film appearances, to Adam Faith in his first leading film role.
Gunn started as a screenwriter, contributing scenes to several of the films he worked on as well as writing the screenplays of "Chamber of Horrors", "Landfall", and "Me & My Pal".
After directing wartime recruitment shorts for the Ministry of Information, Gunn was enlisted by Elstree, then called ABPC, to create & compile a documentary to mark 25 years of the studios.
Over the course of three months, Gunn watched hundreds of hours of film, sometimes twice, to devise and produce "Elstree Story", hosted by actor Richard Todd.
After "Elstree Story", Gunn was entrusted to direct "Valley of Song", the film adaptation of Cliff Gordon's radio play "Choir Practice".
Filmed at Elstree Studios and on location in Wales, the film marks the first credited film appearances of Rachel Roberts and Kenneth Williams. Coincidentally, Roberts & Williams both worked together in 1950 at Swansea repertory theatre under the directorship of Clifford Evans, who also stars in "Valley of Song".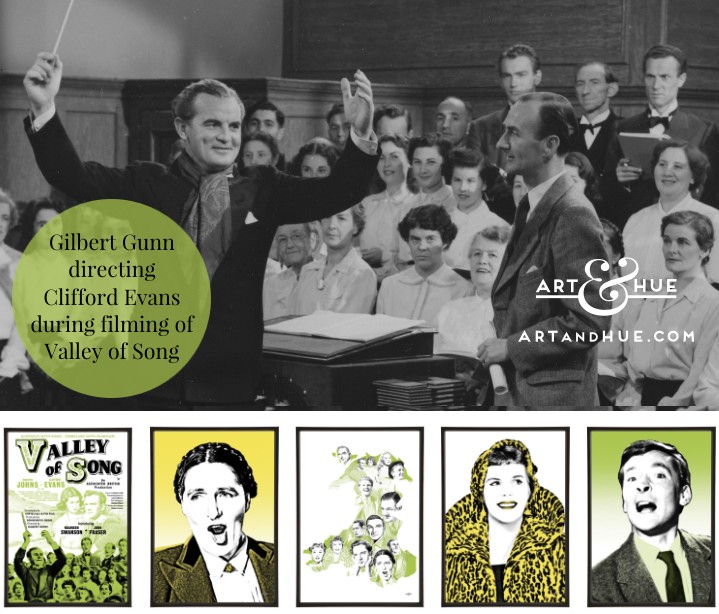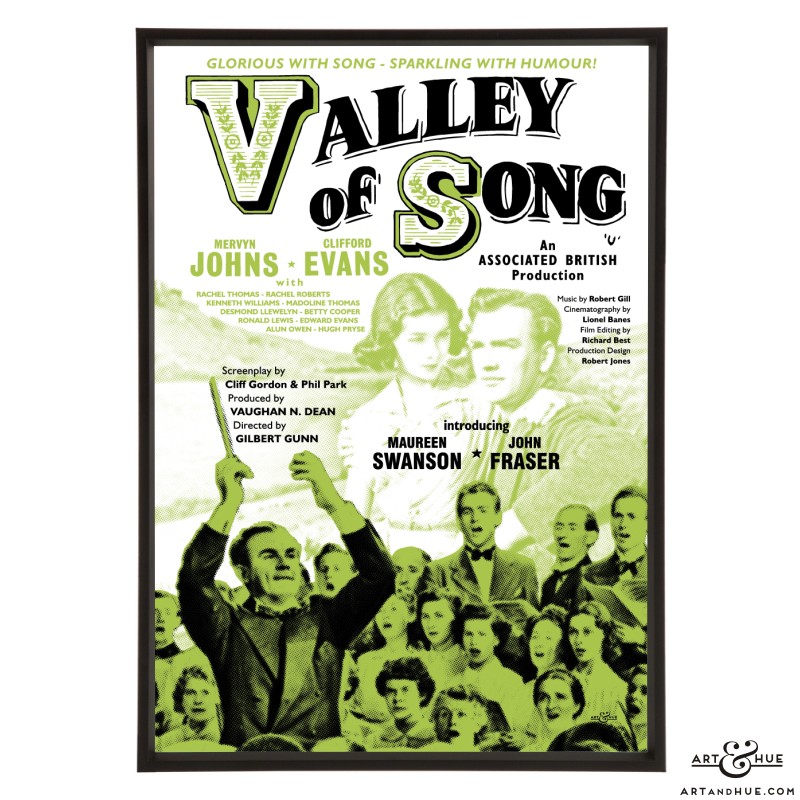 Gunn must have been a pleasant director to work with as
Kenneth Williams
, who was never one to hold back, wrote the following in his diary when he visited Elstree on the 24th of October 1952:
"To Elstree for my one line in Choir Practice directed by Gilbert Gunn. It was all over for me by 12 o'c. Very nice. My father was played by Kenneth Evans. Two Kenneths. Terribly funny really."
After "Valley of Song", Gunn was reunited with John Fraser to direct him in "The Good Beginning", after which he directed Zena Marshall in "My Wife's Family". This was followed by the sci-fi B-movie "The Strange World of Planet X" (released as "Cosmic Monsters" in the USA) and then "Girls at Sea" which Gunn also produced.

1959 saw the release of the army comedy "Operation Bullshine" directed by Gunn and featuring
Barbara Murray
,
Carole Lesley
,
Naunton Wayne
,
Dora Bryan
, &
Amanda Barrie
.
Gunn also directed "What a Whopper" with Adam Faith in his first starring film role. Adam had appeared in films previously, including "Beat Girl", but "What a Whopper" put him front and centre alongside Carole Lesley and a cast including Sid James, Charles Hawtrey, and Wilfrid Brambell (plus an uncredited brief appearance by Amanda Barrie).
Gunn only made one appearance on film, in the 1941 production of "The Farmer's Wife" as a pianist, presumably drafted in when the shout went up for a for a piano-player at ABPC studios.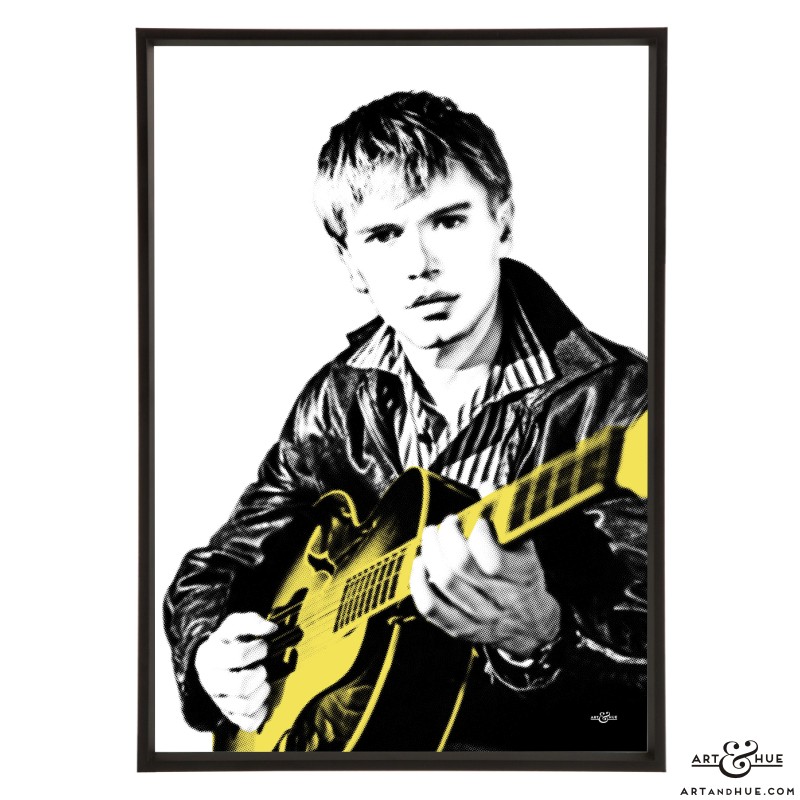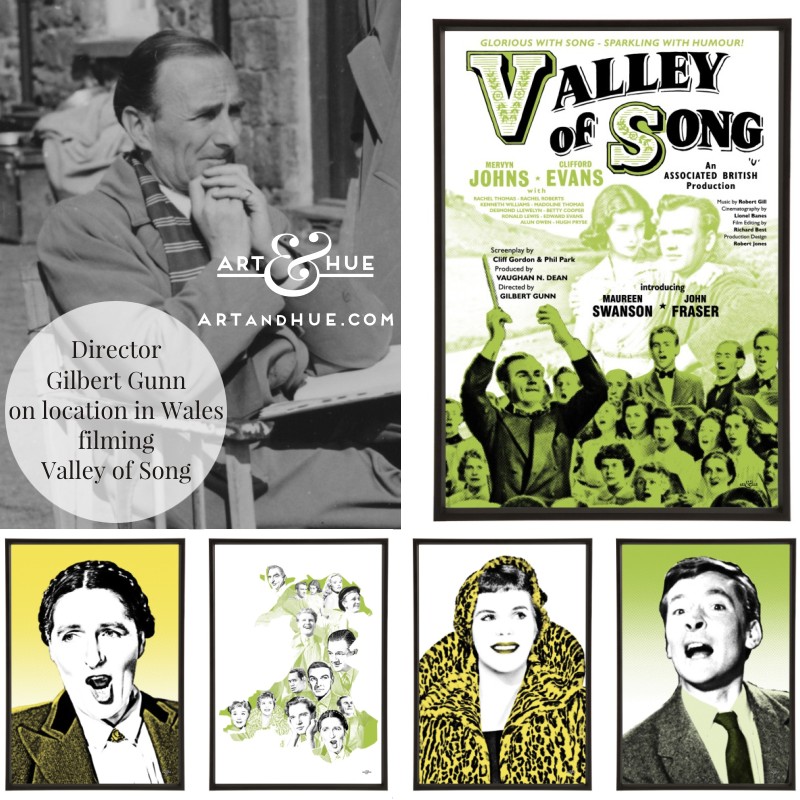 Gunn died at the age of 62 on the 6th of December 1967. Whilst the body of work he left behind may not be lauded or critically-acclaimed, it certainly provided an important showcase for up-and-coming stars and his films are still very enjoyed to this day, thanks to regular repeats on television and through re-issues of the titles on DVD.
If you'd like to watch some of Gunn's work, the following films are available to order on DVD or Blu-ray via Amazon: Elstree Story, Operation Bullshine, What a Whopper, The Strange World of Planet X, and Valley of Song.
Welsh Ffilm
Art & Hue had the pleasure to delve into Studiocanal's archives to create the Welsh Ffilm pop art collection which includes Gilbert Gunn's "Valley of Song" – discover the collection online here.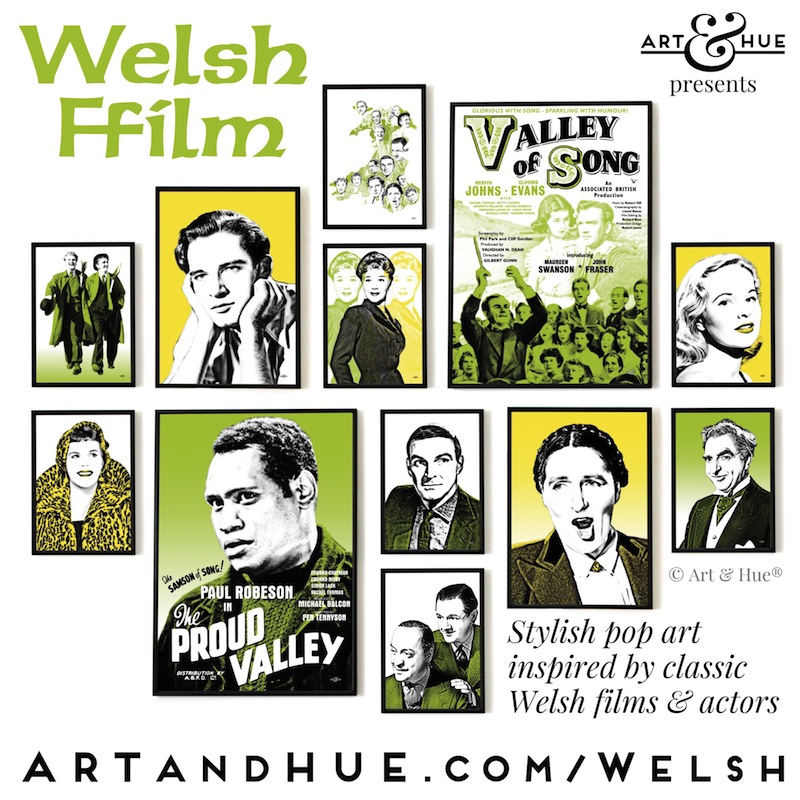 "Valley of Song" Copyright © STUDIOCANAL Films Ltd, (1953). All rights reserved.
Copyright © Art & Hue® 2021. All rights reserved.