Tom Courtenay stylish pop art print.
Tom Courtenay as Billy Fisher in "Billy Liar"
Making his professional debut with the Old Vic in 1960, Tom took over the title role in the stage production of "Billy Liar" from Albert Finney in 1961 and went on to star in the 1963 film version by John Schlesinger.
Courtenay won the award for Most Promising Newcomer at the 1962 BAFTAs following appearances in "Private Potter" with Fulton Mackay, and "The Loneliness of the Long Distance Runner" with Michael Redgrave, James Bolam & John Thaw.
Tom was nominated for the Best Actor BAFTA for his performance in "Billy Liar" and went on to be nominated for the Best Supporting Actor Oscar for his role in "Doctor Zhivago" with Julie Christie, Noel Willman & Alec Guinness, and Best Actor in "The Dresser".
Other film credits include "King & Country" with Dirk Bogarde; "Operation Crossbow" with Trevor Howard, Richard Todd, Sylvia Syms, John Fraser & Philip Madoc; "The Night of the Generals" with John Gregson, Gordon Jackson & Harry Andrews; "The Day the Fish Came Out" with Colin Blakely; "A Dandy in Aspic" with Laurence Harvey, Barbara Murray & Richard O'Sullivan; "Otley" with Leonard Rossiter; "To Catch a Spy" with Patrick Mower; "The Dresser" with Albert Finney; "Last Orders" with Michael Caine, George Innes & David Hemmings; "Flood" with Moira Lister; "The Golden Compass" with Daniel Craig & Christopher Lee; "Quartet" with Maggie Smith & Michael Gambon; "Night Train to Lisbon" and "45 Years" with Charlotte Rampling; "Dad's Army" with Bill Paterson; "The Queen's Corgi" with Julie Walters; and "The Railway Children Return" with Jenny Agutter.
Just some of Tom's many television credits include "A Rather English Marriage" with Joanna Lumley, for which Courtenay won the Best Actor BAFTA; "Little Dorrit"; "Unforgotten"; "The North Water"; "Mandy" with Diane Morgan; and "The Royle Family" Christmas special in 2008, with Caroline Aherne, where he was reunited with Helen Fraser to play Dave's parents.
Tom Courtenay Pop Art
Art & Hue presents Billy Liar, stylish pop art inspired by the classic 1963 film of the British New Wave.
Step into the colourful world of "Billy Liar" with this new pop art collection by Art & Hue, inspired by the seminal 1963 film.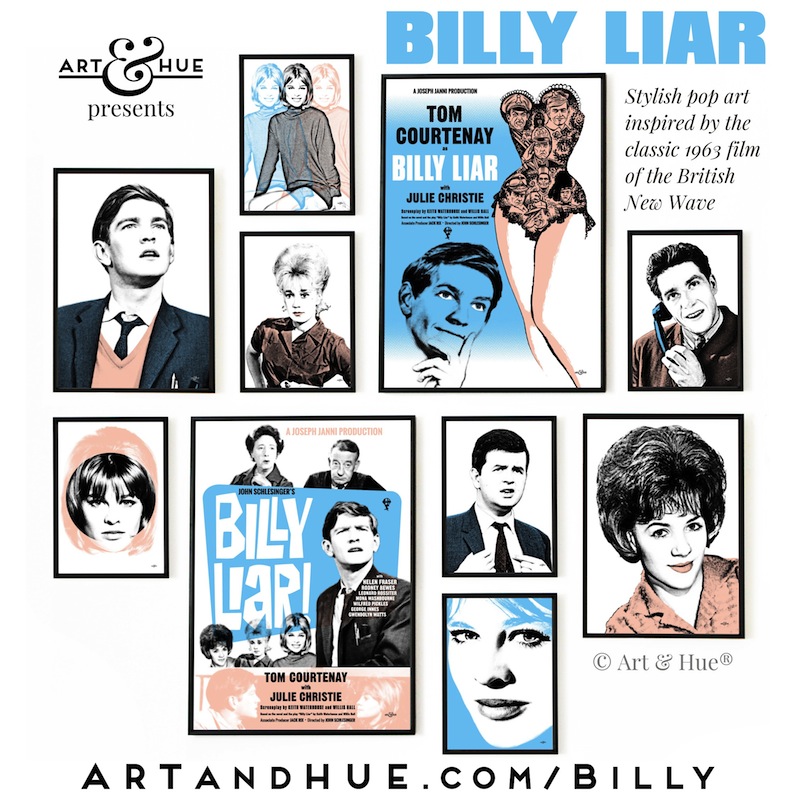 Considered one of the most significant and revolutionary films in British cinema, subverting the social realist and kitchen sink genres with its use of fantasy sequences and documentary-style location shooting, "Billy Liar" reflected the changing cultural and social landscape of Britain in the early 1960s and its influence can still be seen in contemporary cinema and television today.
Exclusively by Art & Hue, the "Billy Liar" collection is available in three sizes & many colours, printed on museum-quality archival card of 310gsm, made from 100% ethically-sourced cotton, with fine-art pigment inks for longevity.
Bring a touch of retro milk-bar chic to your home with these stylish and fun prints, perfect for any fan of pop culture or vintage cinema.
An official collaboration with Studiocanal to mark 60 years of the film's innovative storytelling and groundbreaking portrayal of Northern working class characters in 1960s Britain, Art & Hue has delved into the archives to uncover images from the iconic film "
Billy Liar
" which have been transformed into stylish pop art prints, featuring Art & Hue's signature halftone style (halftone is an age-old technique that uses dots to make up the printed image, similar to newspapers or comic books).
Available in A4, A3, and A2 sizes to fit standard-size picture frames. Please note that black frame is not included – for a guide on choosing a frame size take a look here.
"Billy Liar" Copyright © STUDIOCANAL Films Ltd, (1963). All rights reserved.
Copyright © Art & Hue® 2017-2023. All rights reserved.