Art & Hue presents Flash Gordon
The Flash Gordon pop art collection by Art & Hue was available for a limited time only and has now ended.
Flash Gordon Archive Page
Art & Hue had the pleasure to delve into the archives of the cult science-fiction film to create a collection of stylish pop art prints featuring the iconic Flash Gordon.
The classic film's icons were given the Art & Hue pop art treatment to create ten new prints, featuring Sam J. Jones as Flash Gordon himself along with Melody Anderson as Dale Arden, Brian Blessed as Prince Vultan, Timothy Dalton as Prince Barin, Mariangela Melato as General Kala, and Max Von Sydow as Ming the Merciless.
An official collaboration with brand owner King Features, the Flash Gordon collection was inspired by the 1980 cult classic with the Queen soundtrack, which itself is based on the long-running comic strip started by Alex Raymond in 1934.
In addition to the pop art collection to celebrate the 40th anniversary, STUDIOCANAL restored the film, scanned from the original 35mm negative, to produce a new 4k UHD Blu-ray featuring two engaging commentaries by Brian Blessed and director Mike Hodges. The 4K UHD Collector's edition, featuring many more extras and goodies, as well as the Blu-ray, DVD and digital is available online here.
Exclusively by Art & Hue, the collection was available in 3 sizes & many colour options, all printed on museum-quality archival card of 310gsm, made from 100% cotton, with fine-art pigment inks for longevity.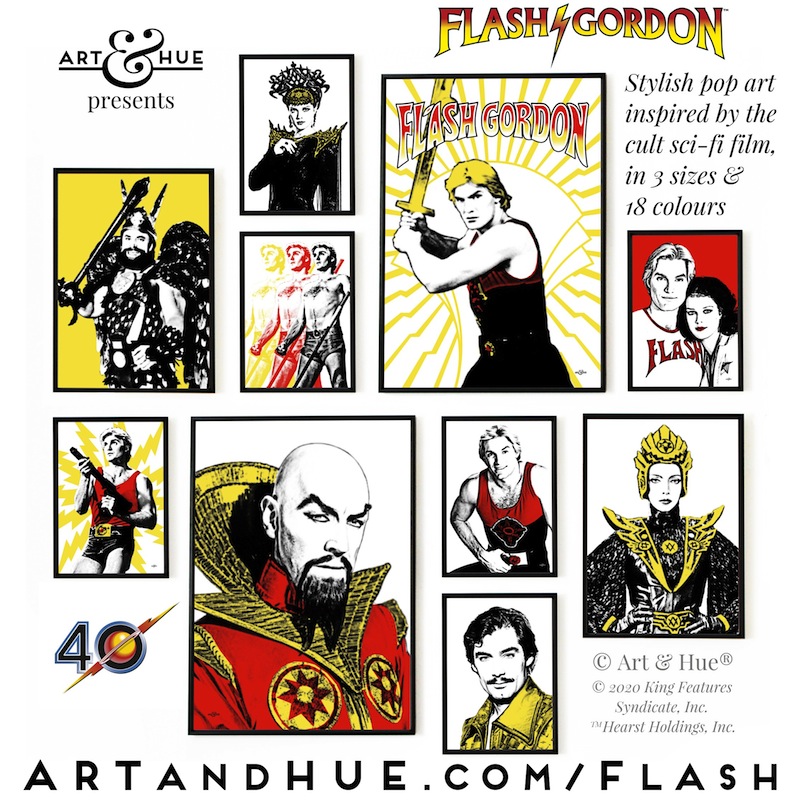 "Flash Gordon" © 2020 King Features Syndicate, Inc. TM Hearst Holdings, Inc. | Pop Art Copyright © Art & Hue® 2020-2022. All rights reserved. The Art & Hue collection of Flash Gordon pop art designs remain the worldwide copyright of Art & Hue® 2020-2022. All Rights Reserved. For licensing enquires, get in touch here.