Art & Hue presents London Life & Tatler
The London Life & Tatler pop art collection by Art & Hue was available for a limited time only and has now ended.
London Life & Tatler Archive Page

Art & Hue created London Life and Tatler, a collection of stylish pop art prints inspired by 60s magazine covers from the ILN archive, including Twiggy, Jean Shrimpton, and Vidal Sassoon.
The Tatler magazine first launched in 1901 as a weekly society journal, absorbing The Bystander in 1940, but when the Swinging Sixties arrived, the magazine was replaced by a new title more in tune with the decade – London Life.
In October 1965, and for the next fifteen months, London Life went on to document one of the most exciting periods of British popular culture.
It was the height of Swinging Sixties London during which Twiggy became the face of 1966 and movers & shakers emerged, all featured in the impossibly hip magazine. Short-lived it may have been, but London Life provided a precise snapshot of Swinging London at its peak.
Art & Hue had the pleasure to access the archives, in collaboration with the Mary Evans Picture Library and Illustrated London News, to remix magazine covers into stylish pop art prints, which were all available in three sizes and 20 colours, in Art & Hue's graphic style.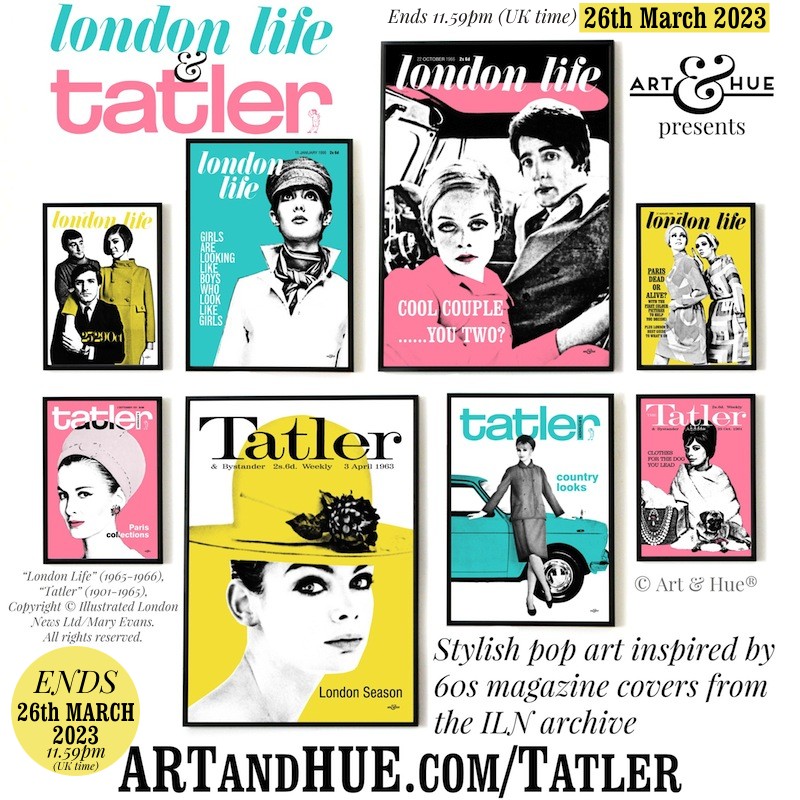 Launched in 2020, the London Life & Tatler collection has now come to an end. For other fashion inspired pop art prints which are currently available, take a look below or here.
"London Life" (1965-1966), "Tatler" (1901-1965), Copyright © Illustrated London News Ltd/Mary Evans. All rights reserved. | Pop Art Copyright © Art & Hue® 2020-2023. All rights reserved. The Art & Hue collection of London Life & Tatler pop art designs remain the worldwide copyright of Art & Hue® 2020-2023. All Rights Reserved. For licensing enquires, get in touch here.