Liz Fraser stylish pop art print.
One of British film's most beautiful actresses,
Liz Fraser
was also endowed with a natural talent for comedy. She was the performer of choice for
Tony Hancock
who cast her in episodes of "Hancock's Half Hour" between 1956 and 1960, as well as in his film "The Rebel".
Tony Hancock was one of Britain's top comedy stars, with radio and television shows bringing his unique humour into people's living rooms, and Liz's comical appearances alongside him made her a household name.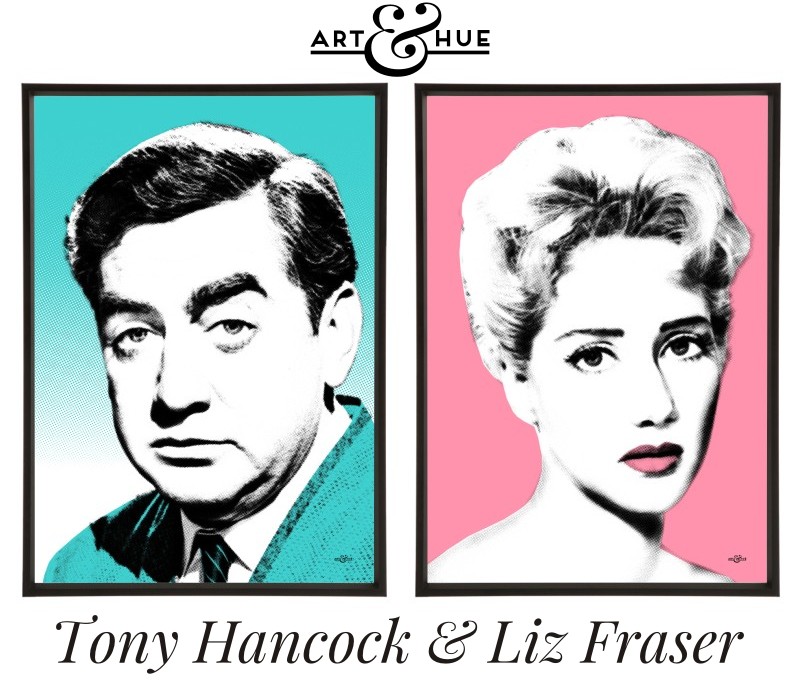 Liz Fraser's first film appearance was in the Ealing Comedy "Touch & Go" followed by "The Smallest Show on Earth" which also starred Peter Sellers and Margaret Rutherford. Liz was nominated for the Most Promising Newcomer BAFTA award for her first main film role in "I'm All Right Jack" which also starred Terry-Thomas, Peter Sellers, Irene Handl, Ian Carmichael, Richard Attenborough, and Dennis Price. She appeared in "The Night we Dropped a Clanger" with Cecil Parker & Hattie Jacques, "The Bulldog Breed" with Norman Wisdom and Michael Caine, "Desert Mice" with Sid James & Irene Handl, and "Doctor In Love" with Joan Sims, Irene Handl, Fenella Fielding, & Carole Lesley. "The Pure Hell of St Trinian's", with Joyce Grenfell & Sid James, was to follow before she was reunited with Tony Hancock in "The Rebel", which also featured Dennis Price & Irene Handl.
She appeared in "Double Bunk" with Janette Scott, & Naunton Wayne, "On The Fiddle" with Sean Connery, Alfred LynchStanley Holloway, & Barbara Windsor, "The Amorous Prawn" with Ian Carmichael, Joan Greenwood, and Sandra Dorne, and "Watch it, Sailor!" with Frankie Howerd.
Liz Fraser made her first appearance in the
Carry On film series
in "
Carry On Regardless
" which was followed by three more appearances, including "
Carry On Cruising
" and "
Carry On Cabby
". Despite only making four appearances in the Carry Ons, Liz is fondly remembered as being an integral part of the longest-running British film series.
Liz Fraser's many television credits include "Citizen James" with Sid James, "The Avengers", "The Professionals", and "Minder". She appeared in "The Benny Hill Show", "Jason King" with Peter Wyngarde, and continued to work throughout her life with her final credit in 2018 of "Midsomer Murders".
One of Liz Fraser's films is "Two-Way Stretch" with Peter Sellers, Irene Handl, Bernard Cribbins, and Beryl Reid. Very popular upon release in 1960, and still enjoyed to this day, "Two-Way Stretch" sees three prisoners plotting a diamond robbery. The film opened at the Warner Cinema London on the 11th of February 1960 before going on general release from the 14th.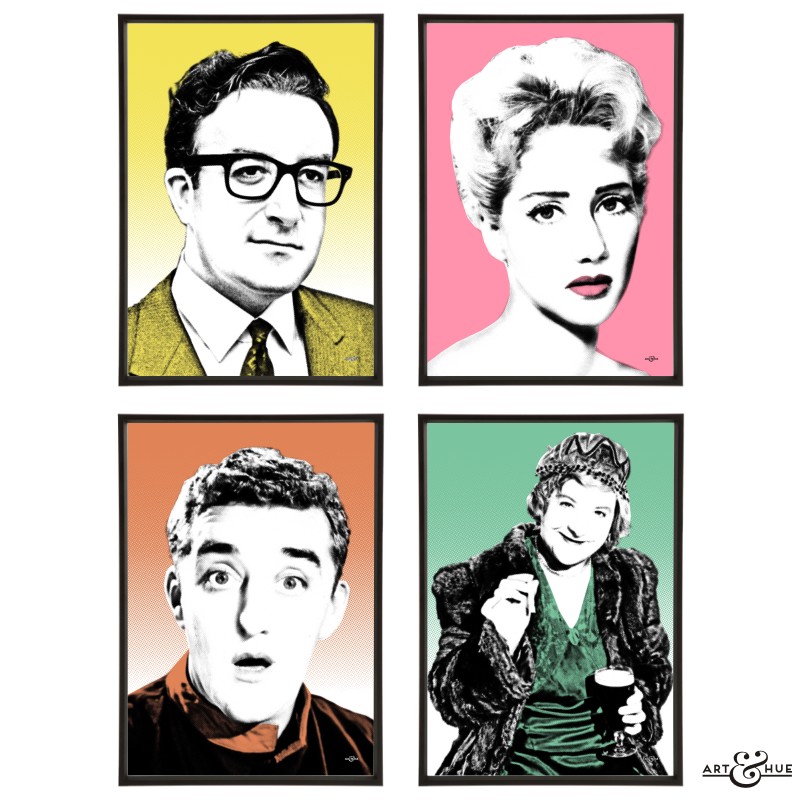 Art & Hue had the pleasure to delve into the archives for the film "Two-Way Stretch" to create this stylish pop art print of the beautiful Liz Fraser, available in three sizes and 20 colours.
Liz Fraser Pop Art
Available in A4, A3, and A2 sizes to fit standard-size picture frames. Please note that black frame is not included – for a guide on choosing a frame size take a look here.
An official collaboration with Studiocanal, this print is part of the Funny Women collection of stylish pop art prints inspired by classic British comediennes and comic actresses, featuring Art & Hue's signature halftone style (halftone is an age-old technique that uses dots to make up the printed image, similar to newspapers or comic books). As well as the Funny Women collection, discover the Funny Men pop art.
"Two-Way Stretch" Copyright © STUDIOCANAL Films Ltd. (1960). All rights reserved.
Copyright © Art & Hue® 2019. All rights reserved.