Art & Hue presents Beano Pop Art
Archive page of Art & Hue's stylish pop art prints inspired by the iconic British comic Beano.
The Beano pop art collection by Art & Hue was available for a limited time only and has now ended.
The Beano collection of stylish pop art prints by Art & Hue was launched in 2018 to mark 80 years of the classic comic.
First published in 1938, Beano has delighted generations of readers for 80 years and its cheeky humour is part of the British DNA.
An official collaboration with Beano publishers DC Thomson, Art & Hue's stylish pop art collection featured the beloved characters of Dennis with his faithful dog Gnasher, the Bash Street Kids, Minnie the Minx, Lord Snooty, Roger the Dodger, and Biffo the Bear.
Art & Hue had the pleasure of delving into vintage issues to create 12 new stylish & minimal art prints featuring the much-loved comic-strip heroes, which were all available in a choice of 3 sizes and 18 colours.
The full alphabet, from across 80 years of Beano's history, was available with, or without, personalisation to add a name or place for a special bespoke touch.
Exclusively by Art & Hue, all pop art prints are printed on museum-quality archival card of 310gsm, made from 100% cotton, using fine-art pigment inks for longevity.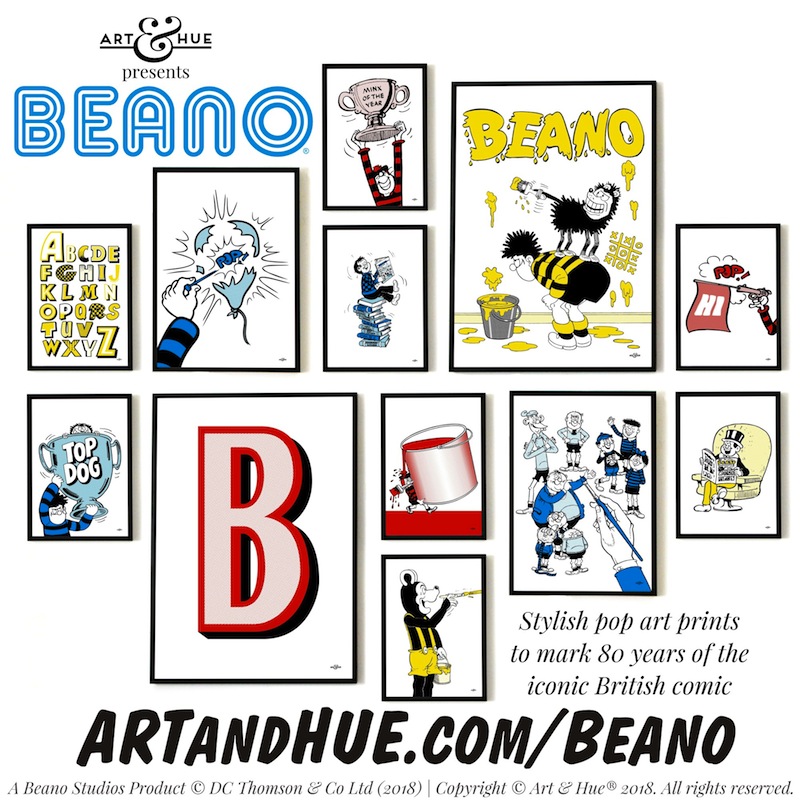 A Beano Studios Product © DC Thomson & Co Ltd (2018)

Pop Art Copyright © Art & Hue® 2018-2021. All rights reserved.