Art & Hue presents Aardman
AVAILABLE UNTIL 30/7/2020 ONLY!
Available to order up until 11.59pm on the 30th of July 2020 only (UK time) so don't miss out!
Art & Hue presents Aardman, a new collection of stylish pop art prints featuring beloved characters from classic animations, available in three sizes and 18 colour options.
The award-winning Aardman studio has enthralled and charmed multi-generational audiences all around the world with their stop-motion animations, including Wallace & Gromit, Shaun the Sheep, and Morph who first appeared on TV in 1977.
Morph originally caused mischief during Tony Hart's art show "Take Hart", an inspirational show for a whole generation of viewers, and continues to star in his own shows with his cream-coloured pal Chas.
The inventive Wallace and Gromit also feature along with Shaun the Sheep, who first appeared in the Academy Award-winning Wallace & Gromit film "A Close Shave". Shaun appears in four prints along with other members of his Flock, the Farmer, and Bitzer.
Morph, Shaun the Sheep, and Wallace & Gromit all get the pop art treatment, printed on museum-quality archival card of 310gsm, made from 100% cotton, using fine-art pigment inks for longevity.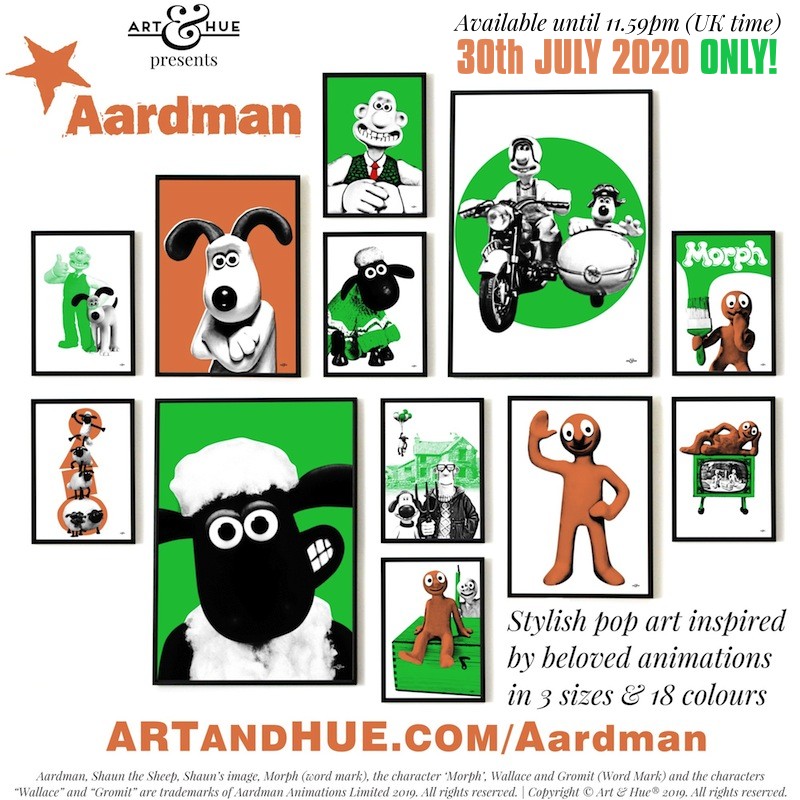 Aardman, Shaun the Sheep, Shaun's image, Morph (word mark), the character 'Morph', Wallace and Gromit (Word Mark) and the characters "Wallace" and "Gromit" are trademarks of Aardman Animations Limited 2019. All rights reserved.

Copyright © Art & Hue® 2019. All rights reserved.