Matt Monro
Stylish pop art of the British singer Matt Monro.
Nicknamed "The Man with the Golden Voice", Matt Monro represented the United Kingdom in the 1964 song contest.
His song "I Love the Little Things" was pipped to the post by Italy's Gigliola Cinquetti who won with "Non ho l'età".
At the same song contest in 1964, Indonesian-born Anneke Grönloh broke boundaries as the first non-White performer.
The previous year, Matt crooned the smooth closing song for the Bond film "From Russia with Love" and would go on to perform the title song for the 1966 film "Born Free", and "On Days Like These", the opening song in the classic 1969 heist film "The Italian Job".
Udo Jürgens' entry in the same contest in 1964 "Warum nur, warum?" so impressed Matt Monro that he released his own version as "Walk Away" with English lyrics. Monro went on to record more English versions of Jürgens' songs including his 1966 winner "Merci, Chérie", "Without You", "The Music Played", "Lovin' You Again" and "If I Never Sing Another Song".
Matt Monro was one of the many musical acts that performed in the film "Pop Gear".
Released on the 18th of April 1965, opening in cinemas including Studio One in Manchester, the film was one of a short spate of juke box films, like "Gonks Go Beat" with Lulu, that gave cinemagoers across the country the chance to watch the popular "beat groups" on the big screen and in full colour.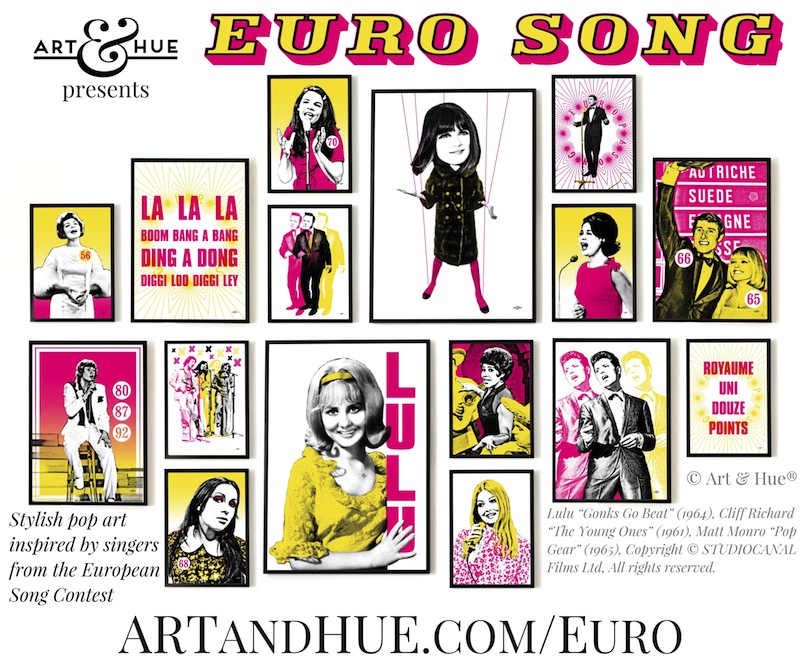 Also available as part of a
group
of four prints.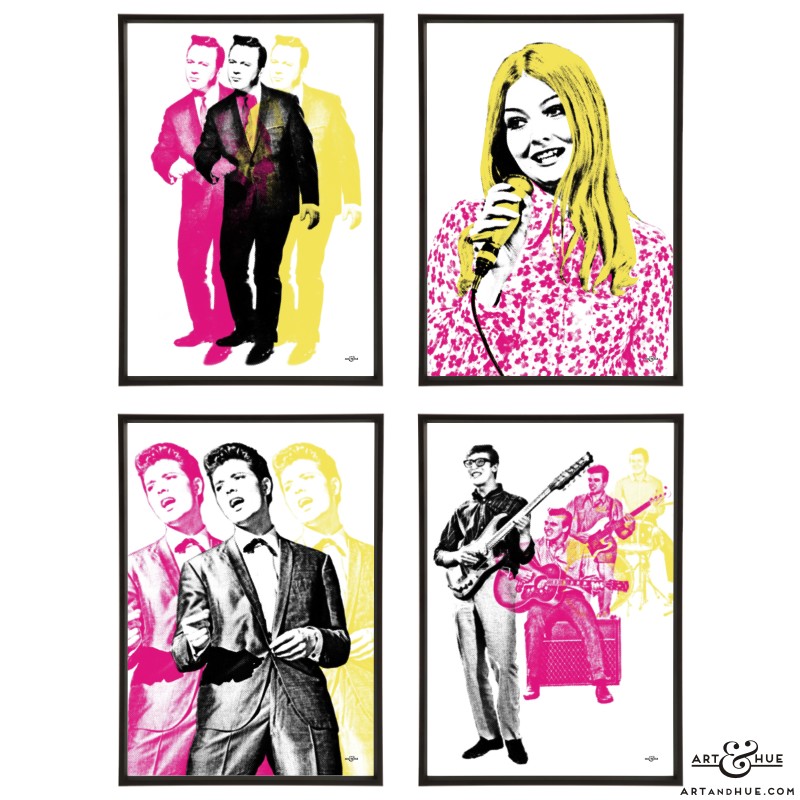 Euro Song
Art & Hue presents Euro Song, a collection of stylish pop art featuring singers from across the years in homage to the European song contest.
Originally created to bring the nations of Europe together after the Second World War, the contest has produced singers and groups who endure to this day, as well as creating its own brand of Euro-Speak song titles which transcend language barriers.
Exclusively by Art & Hue, the Euro Song collection is available in three sizes & many colour options, printed on museum-quality archival card of 310gsm, made from 100% cotton, with fine-art pigment inks for longevity.
Available in A4, A3, and A2 sizes to fit standard-size picture frames. Please note that black frame is not included – for a guide on choosing a frame size take a look here.
Part of the Euro Song collection of stylish pop art prints inspired by singers from the European song contest, featuring Art & Hue's signature halftone style (halftone is an age-old technique that uses dots to make up the printed image, similar to newspapers or comic books).
Matt Monro "Pop Gear" Copyright © STUDIOCANAL Films Ltd. (1965). All rights reserved.
Copyright © Art & Hue® 2016-2023. All rights reserved.