Amara Interior Blog Awards 2019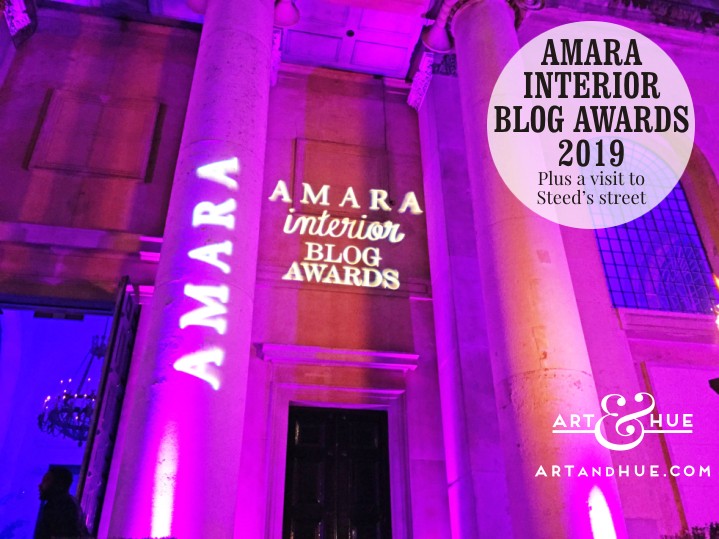 Regular blog readers may recall that Art & Hue was shortlisted for an Amara Interior Blog Award earlier this year, all thanks to everyone who voted to see Art & Hue go through from the nomination stage of approximately 35 blogs through to the final five.
Last week saw the awards ceremony itself take place at a grand venue near Great Portland Street called One Marylebone. Grade I listed by English Heritage, One Marylebone is one of only three London churches designed by Sir John Soane, and was most befitting of the special occasion.
Ahead of the ceremony, there was time to scout out my old stomping ground of Great Portland Street and Marylebone High Street, as well as a stop-off to snap John Steed's London address.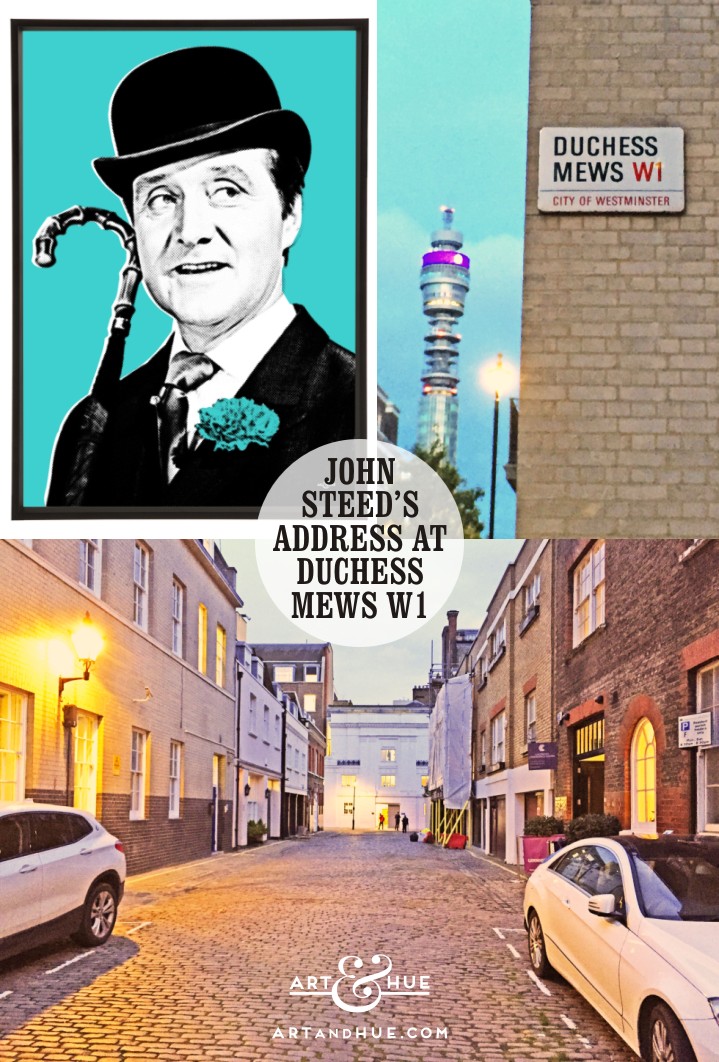 In "The Avengers", John Steed's address is given as 3 Stable Mews but, in reality, the exterior is Duchess Mews, located between Great Portland Street and Harley Street.
It's always a thrill to see locations from beloved films and TV shows with your own eyes, however many times, especially those from cult shows that hold a special personal meaning, as well as a place in TV history, such as "The Avengers".
50 years on since the final episodes of "The Avengers" were filmed on the mews, it still looks much the same.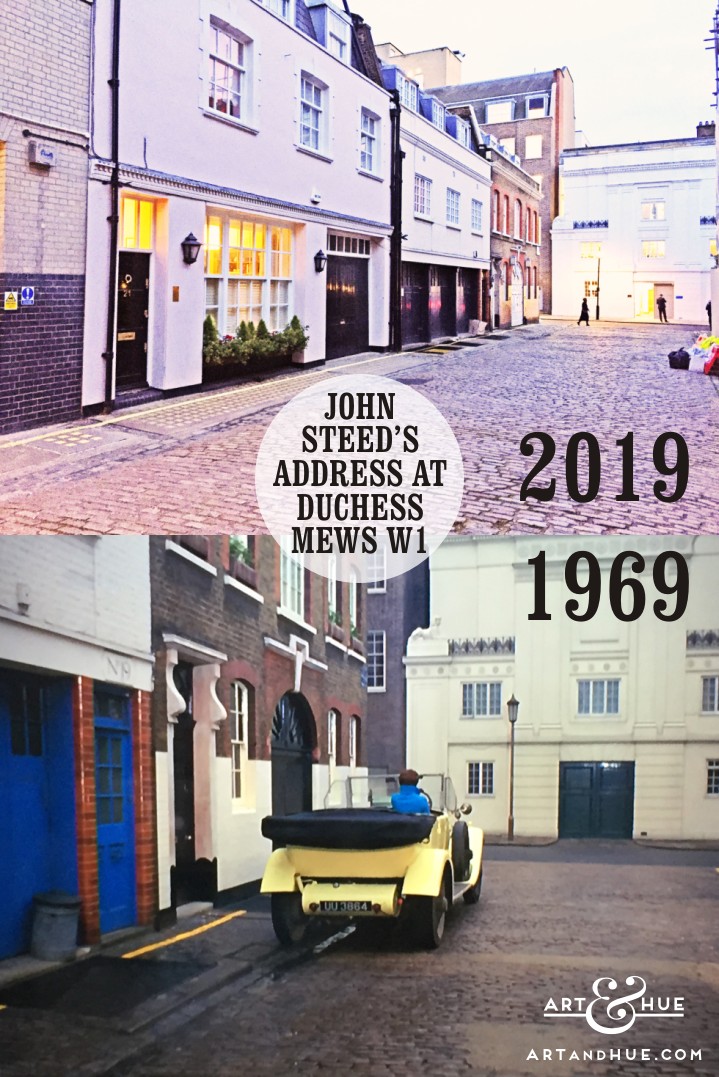 After a nostalgic hit of Steed's street, a much-needed trip to Marylebone High Street was in order for a top-up of fragrant goodies from Fresh. One of my all-time favourite brands, I've been addicted to their sugar products in particular for more years than I'd like to mention.
For a long time, this American brand was only stocked in Liberty's until they opened up their own boutique in Marylebone but nowadays it's widely available in John Lewis and other outlets, online and off.
However, if you find yourself in the vicinity, I would always recommend visiting the original Marylebone store, or their newer Monmouth Street shop, as the staff are incredibly helpful and will generously bundle samples into your shopping bag to test out whenever you purchase anything. Thank goodness for the sample of the Lotus Youth Preserve Rescue Mask as it was sorely needed the morning after the night before.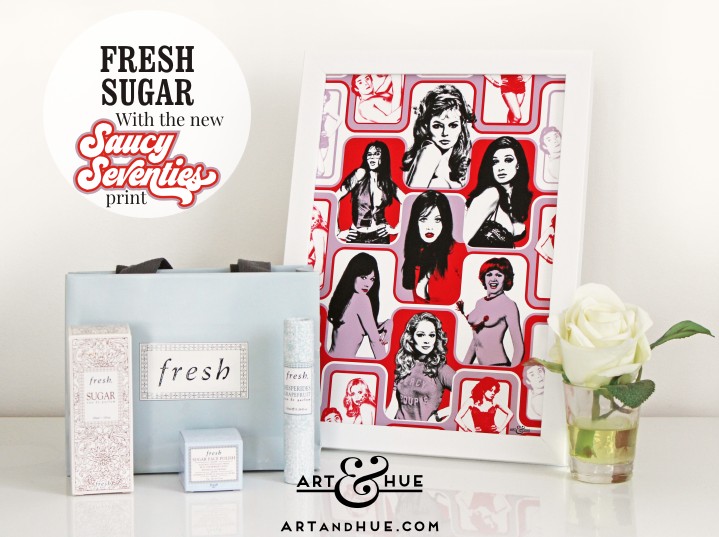 Saucy Seventies Wallpaper print from the new Saucy Seventies Pop Art collection, with Fresh goodies.
The night before in question is of course the actual Amara Interior Blog Awards ceremony. Following a drinks reception, attended by the shortlisted sites, sponsors, judges, and enthusiastic catering staff, the awards themselves got underway.
Presented by Sophie Robinson, who you may know as one of the judges from BBC Two's "The Great Interior Design Challenge", and Kate Watson-Smyth of the award-winning blog Mad About The House (designed by myself I should mention), they kept the ceremony fun and pacy, despite both apparently nursing winter colds.
It's the first time the pair have hosted the awards together – they originally met at the Amara Interior Blog Awards in 2015 when Sophie was hosting and Kate won an award – coincidentally the very ceremony at which I met Kate and then subsequently re-designed her website – and the duo have gone on to establish the popular interiors podcast The Great Indoors.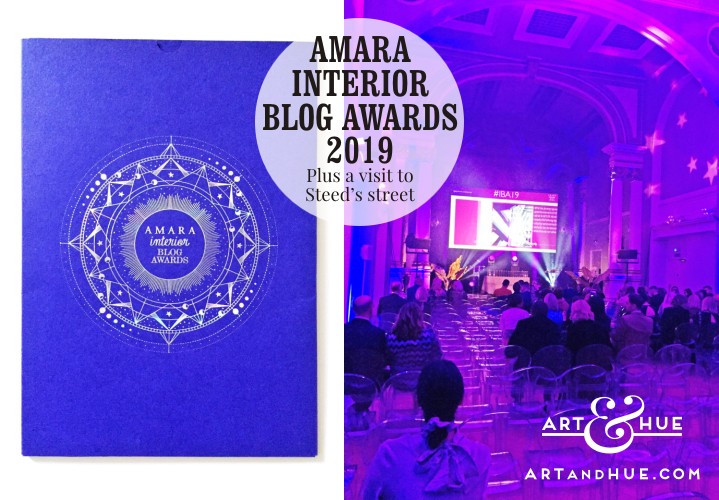 Amara Interior Blog Awards invitation & the grand hall as people started to take their seats for the Awards ceremony.
As I predicted in September, when I learnt that Art & Hue had been shortlisted, I had no particular expectation of winning against such great competition in the same category and, on the night, the judges awarded the title of "Best Company Blog" to 91 magazine. Congratulations 91!
However nice it may have been to win, it was genuinely amazing for Art & Hue to be on the shortlist of five in the first place – the way the Amara Interior Blog Awards are organised means that it takes public votes to get through from approximately 35 nominated blogs to the shortlist of five and that's all thanks to everyone who voted.
The Amara Interior Blog Awards night was a great occasion to catch up with bloggers, and meet new ones, including the lovely Anna & Sally of Green & Mustard, Kate of Mad About The House, award-winners Emma & Robyn of All Up in My Space, Delali of Decor by Delali, and Elena of +Deco, to name a few, as well as Sam Hood and all at Amara, the event organisers.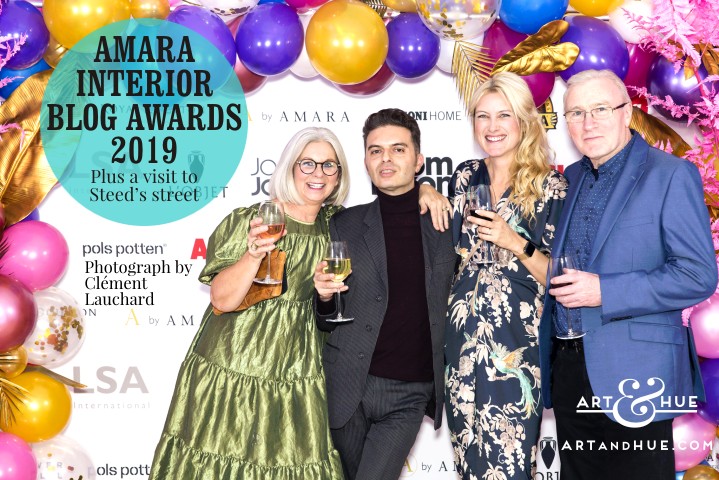 Lovely to meet Green & Mustard! Photo credit: Clément Lauchard
It's very special that Amara spend the time and effort to recognise the work of the blogging community through the Interior Blog Awards. Most blogging is conducted in isolation (well, presumably, to try and concentrate when writing) so it's wonderful to be able to meet and mix with bloggers over a glass (or more) of wine who share a passion for interior design, as well as try out the pieces of furniture that were on display from the headline sponsor Sofa Workshop.
Whilst the overzealous bar staff, and their constant topping-up of never-ending bottomless glasses of wine, made for a somewhat heady night out, it was ultimately fun and Art & Hue didn't come away empty-handed courtesy of an Amara goody bag including bits & pieces from Royal Doulton and Missoni Home.
Thanks to Amara and the Interior Blog Awards for a fabulous night out in London and huge thanks to everyone who voted to see Art & Hue make the shortlist of five, your support is much appreciated!