James I Pop Art
Stylish pop art print of King James I, part of the
The Tudors & The Stuarts
collection by Art & Hue.
The first monarch of the House of Stuart, King James VI of Scotland took the English throne in 1603 to become James I following the death of Elizabeth I. The longest-reigning Scottish monarch, the Jacobean era saw the Gunpowder plot and the English translation of the bible, which became known as the King James Bible. James VI & I reigned until 1625 after which his son Charles I ascended to the throne.
Also available as part of a group of 7 & 12.
Available in A4, A3, and A2 sizes to fit standard-size picture frames. Please note that black frame is not included – for a guide on choosing a frame size take a look here.
Exclusively by Art & Hue, the The Tudors & The Stuarts pop art collection comes in 3 sizes & 20 colours, all printed on museum-quality archival card of 310gsm, made from 100% cotton, with fine-art pigment inks for longevity.
This print is part of the The Tudors & The Stuarts pop art collection, featuring Art & Hue's signature halftone style (halftone is an age-old technique that uses dots to make up the printed image, similar to newspapers or comic books).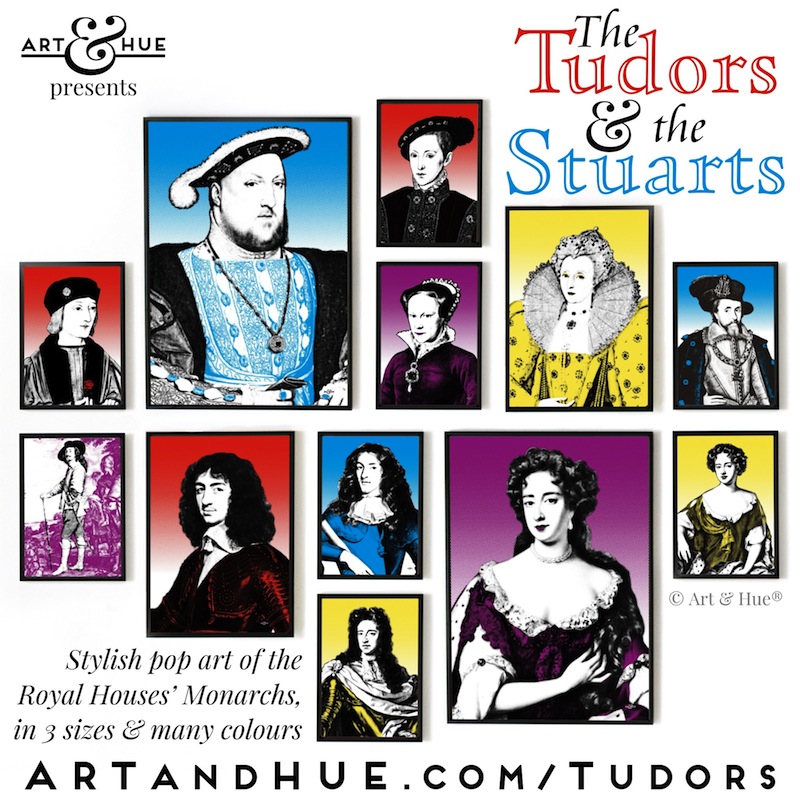 Copyright © Art & Hue® 2022. All rights reserved.