Françoise Hardy is an icon of 1960s pop and the epitome of French chic. From her debut in 1962 with "Tous les garçons et les filles", Françoise moved from yé-yé and representing Monaco in the 1963 European Song Contest, through to collaborating with Blur and Malcolm McLaren.
In the 1963 contest, Françoise represented Monaco with the song "L'Amour s'en Va" (Love Goes Away) which she composed and performed.
Held at Television Centre, as the previous year's winner France had declined to host it, the winning song was a hit in Europe and went on to win the prestigious Grand Prix du Disque award.
Still recording, Françoise released her 28th studio album in April 2018 as well as a new compilation in 2020. In addition to music, Françoise has acted in cult films including a cameo in "What's New Pussycat?" (the madcap romp with Peter Sellers, Capucine, and the song by Sir Tom song) and has inspired many fashion designers as a muse. from Paco Rabanne & André Courrèges to Nicolas Ghesquière & Rei Kawakubo.
Also available as part of a European group of four prints and group of ten prints.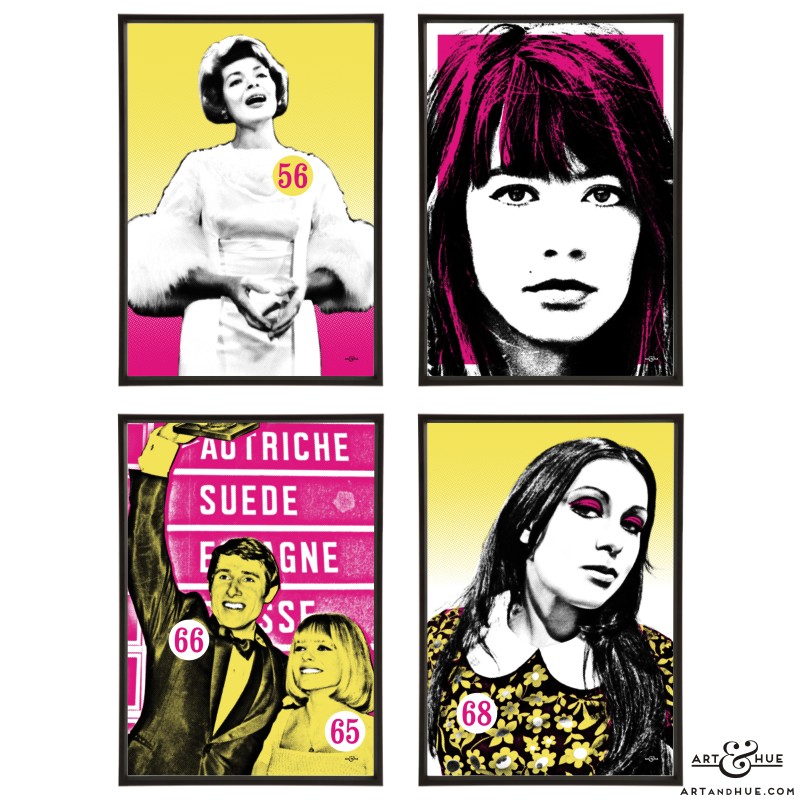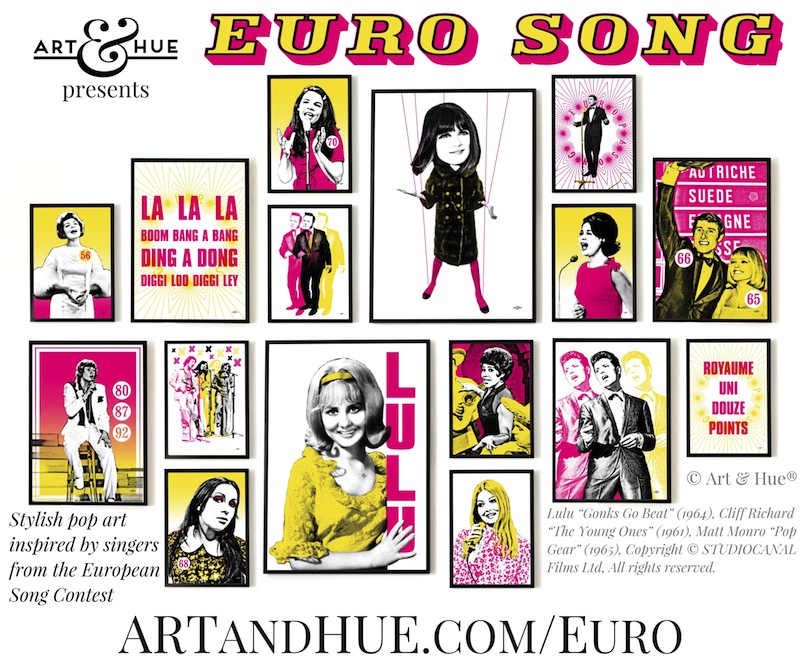 Euro Song
Originally created to bring the nations of Europe together after the Second World War, the contest has produced singers and groups who endure to this day, as well as creating its own brand of Euro-Speak song titles which transcend language barriers.
Exclusively by Art & Hue, the Euro Song collection is available in three sizes & many colour options, printed on museum-quality archival card of 310gsm, made from 100% cotton, with fine-art pigment inks for longevity. Also part of the 1960s Songbirds collection of stylish pop art prints inspired by female singers of the 1960s.
Available in A4, A3, and A2 sizes to fit standard-size picture frames. Please note that black frame is not included – for a guide on choosing a frame size take a look here.
Part of the Euro Song collection of stylish pop art prints inspired by singers from the European song contest, featuring Art & Hue's signature halftone style (halftone is an age-old technique that uses dots to make up the printed image, similar to newspapers or comic books).
Copyright © Art & Hue® 2018-2023. All rights reserved.