Bernard Cribbins stylish pop art print.
With a career spanning over seventy years,
Bernard Cribbins
has been a mainstay of British film and television, and a major part of childhoods across generations.
From television, including The Wombles and Jackanory, to films, such as the Carry On Films and "Daleks: invasion Earth 20150 A.D.", Bernard has been a profilic actor since his acting debut in 1956.
Acting in theatre, film & TV; narration; hit comic songs, including "Right Said Fred", with production by The Beatles' George Martin; Cribbins has entertained across mediums and is still working to this day at the age of 90.
Bernard appeared in two episodes of The Avengers, one Emma Peel episode with Diana Rigg and Liz Fraser, and one Tara King episode along with John Cleese, as well as the 1966 Dr. Who Daleks film and the David Tennant-era TV series of Doctor Who.
Bernard's credits included parts in the final Ealing Comedy "Davy", "The Railway Children", "Carry On Spying" and "Crooks in Cloisters", both alongside Barbara Windsor, "Carry On Jack", "Nothing Barred" with Naunton Wayne, "The Fast Lady" with Julie Christie, "Fawlty Towers" with John Cleese, and many more.

One of Bernard Cribbins' films is "
Two-Way Stretch
" with
Peter Sellers
,
Irene Handl
,
Liz Fraser
, and
Beryl Reid
. Very popular upon release in 1960, and still enjoyed to this day, "Two-Way Stretch" sees three prisoners plotting a diamond robbery. The film opened at the Warner Cinema London on the 11th of February 1960 before going on general release from the 14th.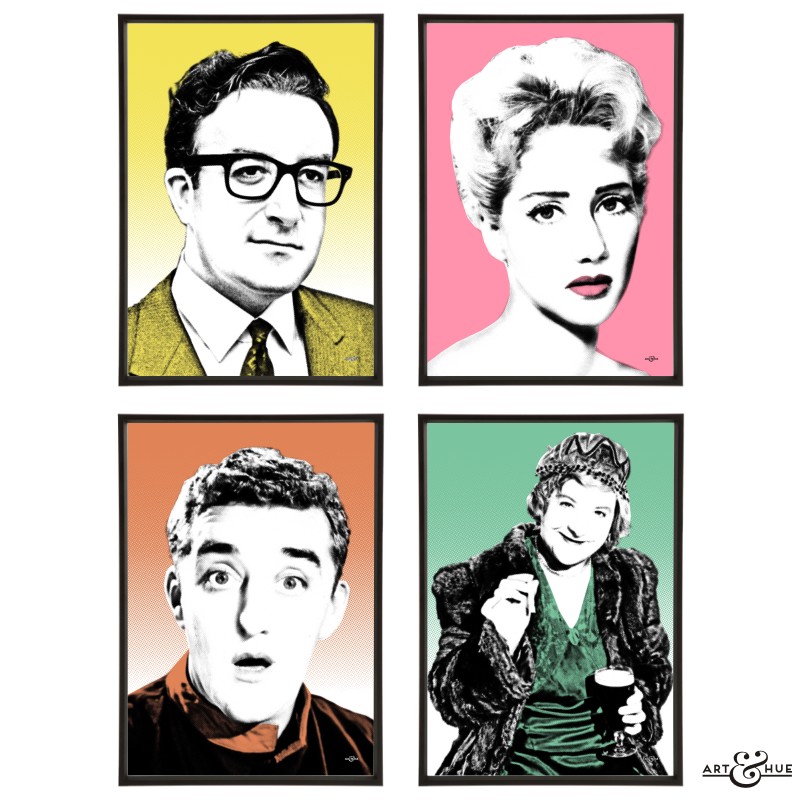 Rewatch "Two-Way Stretch", or discover it anew, on DVD.
Art & Hue had the pleasure of delving into the archives of the film to create this stylish pop art print of the beloved actor from "Two-Way Stretch", available in three sizes and 20 colours.
Bernard Cribbins Pop Art
Available in A4, A3, and A2 sizes to fit standard-size picture frames. Please note that black frame is not included – for a guide on choosing a frame size take a look here.
An official collaboration with Studiocanal, this print is part of the Funny Men collection of stylish pop art prints inspired by classic British comedians and comic actors, featuring Art & Hue's signature halftone style (halftone is an age-old technique that uses dots to make up the printed image, similar to newspapers or comic books).
"Two-Way Stretch" Copyright © STUDIOCANAL Films Ltd. (1960). All rights reserved.
Copyright © Art & Hue® 2019. All rights reserved.