Arnold Schwarzenegger
It's appropriate for Arnold Schwarzenegger to get the triple Art & Hue treatment as he's had three successful careers – bodybuilder, actor, and politician. As a young man growing up in Austria, Arnie started training in the gym and was inspired by the films of muscleman
Steve Reeves
.
He's won many bodybuilding competitions from 1965 onwards, including the Mr. Olympia contest seven times. His bodybuilding career led to an acting career, with early parts in "Hercules in New York", "Scavenger Hunt", and "Stay Hungry" followed by leading roles in "Conan the Barbarian", "The Terminator", and "Predator".
His influence on popular culture has been impactful and his iconic movie lines have become part of our everyday language.
From 2003, Arnie had a third act as a politician, becoming Governor of California until 2011, during which time he signed the first American act to cap greenhouse gas emissions.
Since then, Arnold has returned to acting, reprising his participation in the Terminator film series, and is set to reunite onscreen with Sarah Hamilton in "Terminator: Dark Fate" in November 2019.
Arnold Schwarzenegger Pop Art
Exclusively by Art & Hue, the
GYM
collection is available in three sizes and many colour options, all printed on museum-quality archival card of 310gsm, made from 100% cotton, with fine-art pigment inks for longevity.
Available in A4, A3, and A2 sizes to fit standard-size picture frames. Please note that black frame is not included – for a guide on choosing a frame size take a look here.
Part of the GYM collection of stylish pop art prints inspired by bodybuilding, featuring Art & Hue's signature halftone style (halftone is an age-old technique that uses dots to make up the printed image, similar to newspapers or comic books).
Also available as part of a group of ten prints, and a pair.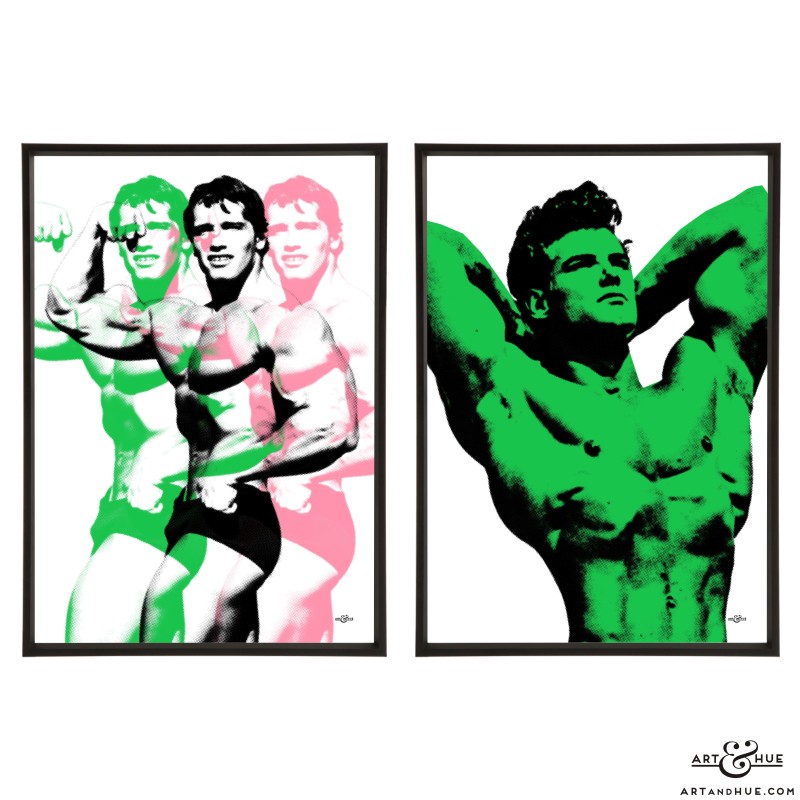 Copyright © Art & Hue ® 2019. All rights reserved.