From Le Tour Art collection by Art & Hue, Podium 1964 stylish pop art print available in three sizes and 19 colours.
Podium 1964
In 1964, Jacques Anquetil won his final French Tour, securing his place in the cycling history books as the first to amass five wins.
Also on the podium in this print is Raymond Poulidor who was known as "The Eternal Second" as he was thwarted by Anquetil and later by Eddy Merckx. Anquetil never failed to beat Poulidor in the Tour but Poulidor's underdog status made him more popular with the public.
The rivalry with Anquetil, and later Merckx, saw Poulidor finish the Tour in second place three times, and in third place on five occasions.
In third place on the 1964 podium is the Spanish cyclist Federico Bahamontes, the first to complete a "career triple" in winning the "King of the Mountains" classification in all three Grand Tours.

Also available as part of a
pair of prints
: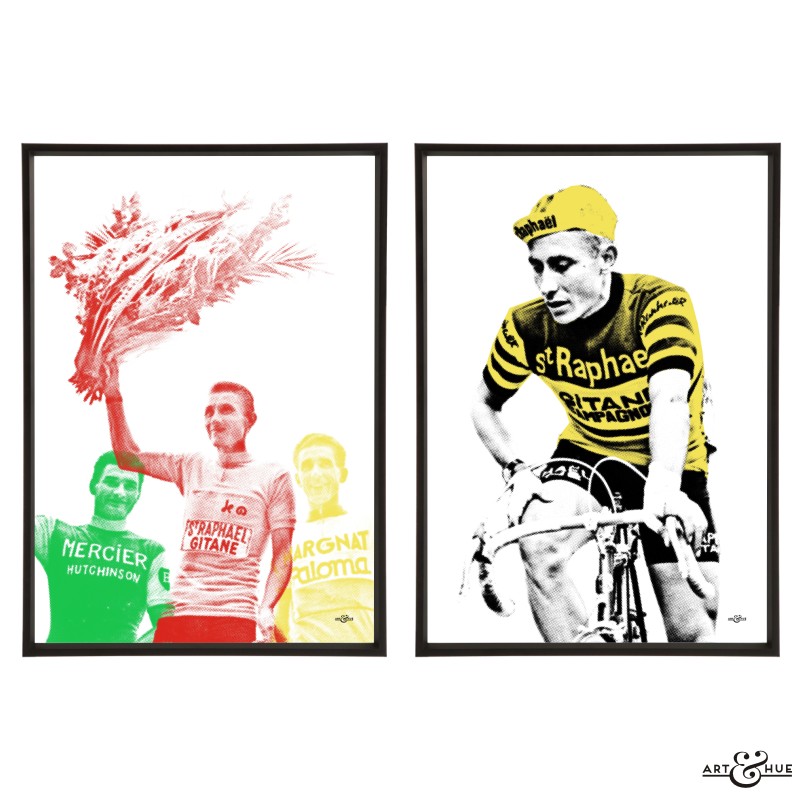 Podium 1964 Pop Art
To mark 100 years of the yellow jersey, Art & Hue has created a new collection of stylish peloton pop art inspired by Mid-Century cycling, available in three sizes and 18 colours.
Available in A4, A3, and A2 sizes to fit standard-size picture frames. Please note that black frame is not included – for a guide on choosing a frame size take a look here.
Exclusively by Art & Hue, this print is part of Le Tour collection of stylish pop art prints inspired by Mid-century cycling, featuring Art & Hue's signature halftone style (halftone is an age-old technique that uses dots to make up the printed image, similar to newspapers or comic books).
Copyright © Art & Hue® 2019. All rights reserved.