From Le Tour Art collection by Art & Hue, Jacques Anquetil stylish pop art print available in three sizes and 18 colours.
Jacques Anquetil
One of the all-time sporting greats, Jacques Anquetil was the first ever cyclist to win the Tour five times, in 1957, 1961, 1962, 1963, &
1964
, a feat later equalled by
Eddy Merckx
.
With a natural sporting elegance and determined single-mindedness, that was occasionally misinterpreted by some fans as offish froideur, the sometimes hostile reception he would get from race-watchers did not hinder the great sportsman from successfully winning and setting records.
He was the first rider to win the French Tour four successive times, breaking Bobet's record of three, and in 1962, Anquetil won at a record speed not beaten until 1981.
The first to win all three Grand Tours, Anquetil won the Italian Giro twice, in 1960 & 1964, and won the Vuelta a España in 1963.
Named France's champion of champions by L'Équipe in 1963, Anquetil was appointed France's highest honours of the Chevalier de l'Ordre national du Mérite in 1965, and the Chevalier de la Légion d'honneur in 1966.
On the 19th December 1963, the BBC programme "Sports Review of 1963" saw Anquetil win the Overseas Personality of 1963, as voted for by viewers.
Also available as part of a pair of prints: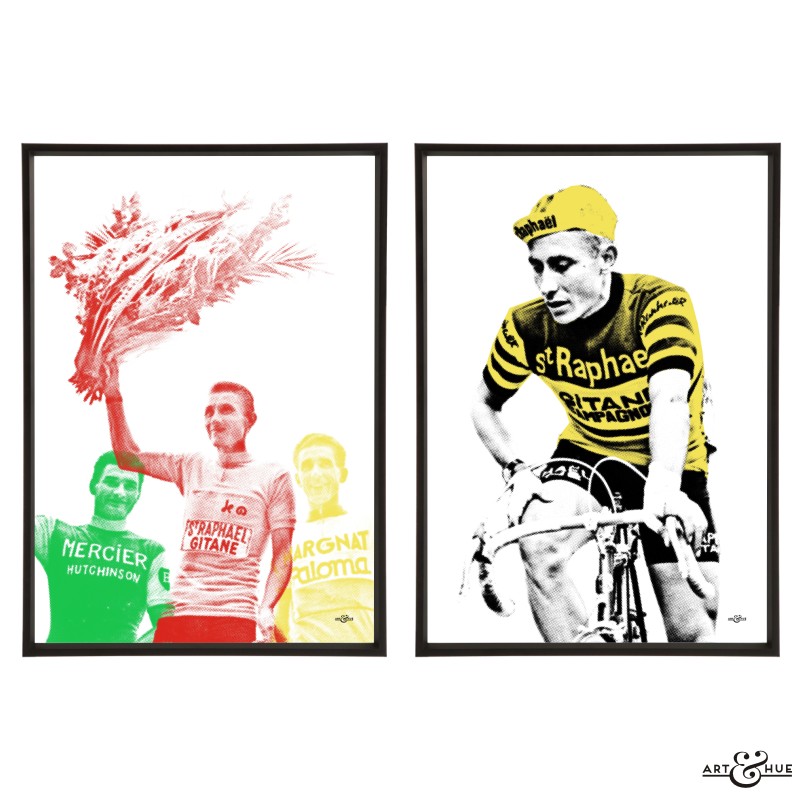 Jacques Anquetil Pop Art
To mark 100 years of the yellow jersey, Art & Hue has created a new collection of stylish peloton pop art inspired by Mid-Century cycling, available in three sizes and 18 colours.
Available in A4, A3, and A2 sizes to fit standard-size picture frames. Please note that black frame is not included – for a guide on choosing a frame size take a look here.
Exclusively by Art & Hue, this print is part of Le Tour collection of stylish pop art prints inspired by Mid-century cycling, featuring Art & Hue's signature halftone style (halftone is an age-old technique that uses dots to make up the printed image, similar to newspapers or comic books).
Copyright © Art & Hue® 2019. All rights reserved.